Boardroom 3: Unlocking the Value from start-ups- A Corporate view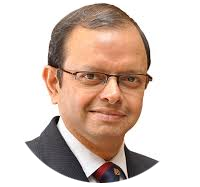 Ganesh Natrajan,
Executive Chairman and Founder of 5F World
Themes of Discussion:
– How can smaller companies scale and partner with larger companies?
– Is there a value for large companies to engage with start-ups? How do we engage?
– What are the Best practices and Dos and Donts while engaging with start-ups
– What do members in the discussion believe start-ups and young entrepreneurs can do faster, better, cheaper and more innovatively when compared to doing it in large organizations.
What fundamentally differentiates start-ups from large organization?
– Large companies begin with resource allocation rather than looking at areas of problem they looking to address. Start-ups can focus on problem statement, which is more exciting.
Potential Areas of Collaboration
– Larger companies and especially mid companies, with limited budgets, can look to start-ups as their nimble and innovative partner  which helps them in outsourcing R&D and new solution development.
–  Large companies could provide a sandbox for start-ups to implement their solutions and even invest in start-ups (Invest in 10 start-ups, 8 fail, 2 succeed and take them off – a ROI approach)
– Mostly Start-ups are not fully aware about the complexities of the market in which they enter. Despite which they look to create value. Large companies can hand-hold these start-ups to take the product/service to the masses.
– Large companies are willing to invest in start-ups and fail rather than doing it internally. It is much easier to do it that way. Incubation centres  are a strategic move by large corporations to harness the power of innovation globally.
– Due to agile nature of start-ups, large companies can look to contract start-ups to address customer issues relatively quicker when compared to having internal team address the same issue. (Models: Joint IP, System Integrator or own a stake in the start-up)
– A leading online payments company used India's start-up ecosystem for product discovery/market research to identify a product best suited for India market.
– One of the world's largest retailers gave access to Data and other assets to start-ups to help them train their AI algorithms.
– Joint go-to market to address large company's customer problem.
Use cases:
– A leading NBFC has worked with a large software major to identify multiple start-up hotbeds across the world like Israel, the US, Singapore, London and India and set-up a formal process to identify start-ups who could participate in their ecosystem.
– Many of the GICs in India are open to partner with the start-up eco-syste,m.
– Large software firms are also beginning to support and invest in start-ups and take them to market with their solutions
Challenges
– Scaling a start-up beyond the point where solving the initial problem on which the start-up was formed becomes both difficult and challenging.
– Biggest Challenge for large companies to associate with start-ups is that of mentorship. Most companies fail to mentor the start-up founding team to drive them in the right direction.
– Certain amount of maturity is required from large companies to look at start-ups. Most companies are plagued with regulatory framework and gatekeepers that prevent the start-ups to move. Large companies need to have a strong tech mindset and support innovation at the start-up level..
Other Points
– Start-ups are more willing to experiment and without worrying on scalability. This approach allows them to be more innovative.
– Start-ups have higher risk appetite than large companies. They keep adapting and re-inventing during the progress.
– Large companies have institutionalized mindsets while start-ups have beginner mindset. Most large companies approach problem as we've already addressed it.
– An Indian IT major uses innovative solutions offered by start-ups for addressing internal issues and/or efficiency improvement.
– To look at Start-ups, Large companies need to develop a culture that foster innovations.
What is expected of Nasscom?
– Many large companies are still wanting to learn various ways to associate and engage with start-ups. They have joined India Angel Network not to invest but to learn.
– NASSCOM can be a valuable bridge between large and small and pave the way for a global exemplar in collaborative innovation.