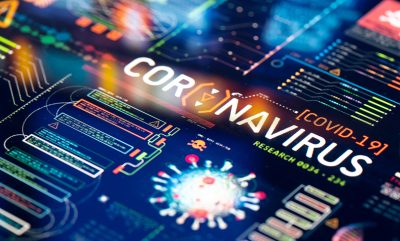 source:- https://www.biospectrumasia.com/news/46/15811/assistive-diagnostic-ai-tool-to-tackle-covid-19-in-malaysia.html
No one would have believed, that the AI (Artificial Intelligence) which emanated from the myths, stories, and rumours being bestowed with intelligence and consciousness, would help the human species combat the deadly virus "COVID-19". The root of the AI can be traced back to the 1940s, with the advent of programmable digital computers. In these tough times, AI is being the right hand for humans not only in the identification of  COVID-19 but also in precautions. From the hospitality industry to the export industry.
"In the fight against COVID-19, AI offers an important arsenal of weapons," said Erick Brethenoux, research vice president at Gartner.
Impact of COVID-19 on the economy, on the whole world, on each person living on this earth is so lucid that it cannot be forsaken at any cost. But in this battle AI is the weapon which has made a lot of things better and easy for humans to get going and not giving up.
Elaborating on the areas in which AI is helping humans to defeat COVID-19 are:-
Supply chain
ICRA the rating agency said the disruptive impact of covid-19 on the supply chain will come out to be as negative for the Indian economy. Where 70 % of respondents in this rating revealed that they have or are most likely to face turmoil. Furthermore, 35 % said there were no alternatives sources of input material. But giving up is no option, thus AI is being used  to track down the commodities in demand. This will help the companies move towards making the supply of such products available to the public.
Detection of Covid-19
DRDO partnering with an Ahmedabad-based textile association has taken steps to track patients who are under quarantine. A group of 20 scientists has developed the app called:- SAMPARCH acronym for Smart Automated Management of Patients and Risks, in the first week of April. This was first offered to the Uttar Pradesh government and then to various state governments to enable the use of AI to dawdle the spread of COVID-19. Reports revealed that the app only needs the location of the patient and their photos.
Facebook using AI
Facebook is using AI to combat COVID-19 misinformation and detect harmful memes. Report on Monday released by Facebook revealed how the combination of AI and human fact-checkers is being used to enforce its community standard. There is a lot of work going on to create the model which can detect the hatred related information as well as some misleading information that can be harmful in such fragile times.
"AI NOW PROACTIVELY DETECTS 88.8 PERCENT OF THE HATE SPEECH CONTENT WE REMOVE."
AI tools by doctors
Mr. Rizwan Malik who had an interest in AI, identified promising AI based chest X-ray systems called qXR from Mumbai-based company "Qure.ai", to alleviate the problem of long queues of patients waiting six and more hours for a specialist to look at their x-rays. This X-ray system came up to be highly useful during the COVID times, where the most severe cases exhibit distinct lung abnormalities. This system has helped many doctors to triage COVID-19 patients.
AI integrated with the surveillance system
In this scenario where COVID cases are increasing day by day, Telangana CM Mr. K. Chandrashekhar Rao has asked the officials of various departments to take stringent measures to control the spread of COVID-19. The Technology wing of the police department is deploying AI to enforce the compulsory wearing of face mask. The software coming up will be linked to CCTV cameras installed across the city to identify face mask rule violators. Alert will be sent to the central command control centre at the state police headquarters for those not wearing masks. The police personnel on the patrol will jump into action as soon he/she gets the details of the exact location of the violator.
There is no stop to human creativity. All of these measures are the result of creativity, and one such product of human creativity is AI, which is helping us win the battle against COVID-19. With so much development taking place in terms of technological advancement, many are being used for the betterment of the human being. Let's hope and work towards more such innovative systems and AI.
reference:-
https://www.technologyreview.com/2020/04/23/1000410/ai-triage-covid-19-patients-health-care/
https://government.economictimes.indiatimes.com/news/technology/telangana-as-covid-19-cases-surge-police-to-deploy-ai-to-detect-face-mask-rule-violators-in-hyderabad/75695200
https://yourstory.com/2020/05/coronavirus-ai-help-plan-consumers-businesses
https://economictimes.indiatimes.com/industry/auto/auto-components/coronavirus-supply-chain-shock-will-have-negative-impact-on-indian-auto-component-sector/articleshow/74966259.cms?from=mdr
https://analyticsindiamag.com/drdos-ai-arm-launches-samparc-app-to-track-covid-19-patients/
About the author:-
Kirti Kumar is a budding HR professional currently pursuing PGDM in HR and Marketing at New Delhi Institue of Management. She looks forward to opportunities that can hone her skills. She is agile in her attitude with versatility in her action.