Voice of Manufacturing – Helping Business to Navigate Economic Downturns
Global manufacturing and supply chains are continuing to be impacted by the COVID19 pandemic. Though a lot of factories & logistics providers are seeking to resume operations, they continue to face labour shortage, procurement & transportation delays and regulatory uncertainties.
Industry 4.0 (Industry Digital Innovation Consortium – IndDIC) from NASSCOM CoE – IoT & AI organised a webinar on the 23rd of April 2020, that entailed calibrating a New Normal for manufacturing, circumventing the supply chain bottleneck, financial outlook and amicable adoption of emerging technologies for revival post lockdown.
The webinar saw an extremely fruitful and engaging participation of around 200 attendees from various size of industries – large, medium and small scale from various shades of manufacturing domains such as automotive, auto-ancillary, pharma, medical equipment, metal & alloys, heavy engineering and many more. The industry leaders shared their apprehensions and worries on post Covid pain points on business & operations revival that were addressed with plausible measures for business continuity.
NASSCOM CoE IndDIC brought out Key Challenges from an Industry adoption outlook under crisis like workforce planning, production & procurement strategies, building resilient supply chains and business operations maintaining safe guidelines.
Revival Challenges – Industry Outlook
Selection of market with respect to demand and financial crisis situation – In every recession, organisations find themselves in poorly charted waters because consumers set stricter priorities and reduce their spending. Thus as revenues start to drop, the primary agenda of businesses is to cut costs, postpone investments and find a better way for closure of existing deals.
Reduced workforce & production capacity
Amidst the COVID-19 outbreak, social distancing & safety measures put an additional pressure on manufacturers as 40%-50% of the workforce is unavailable to perform their respective functions on-site and even at their supplier's end.
Uncertainty in supply chain and sales operations planning issues that lead to cash liquidity
The supply chain remains staggered at present. The target is to obtain optimal solutions during process operations preserving stock level, liquidity and satisfying customers. This also impacts the cash flow management model; Thus, a robust framework would help in operational planning and financial activities
Pressure for Zero-defect/quality assurance and efficient production
Further Lower margins now, calls for increased quality improvements to reach a "near zero "perfection in product and process development. Manufacturing of complex products with many components require methods like Six Sigma, lean to improvise production.
BS-VI compliance wef April 1st, 2020 and development of capabilities
The government has proposed to make BS-VI emission norms mandatory for quadricycles which is aligned to European standards. Various testing including those related to durability are in process.
Lack of preparedness for automation & I40 cyber/physical
Adoption of Industry 4.0 would be one of the calls for demand for operational efficiency, prevent sudden machine downtime, deliveries in Just-in-Time and customisation of products in line with the customer's requirement.
Embracing the new normal in line with business preparedness there were key insights shared by the industry leaders. Federation of Indian Industry (FII) shared the frame of reference focusing on the MSME sector that needs to be recapitalised. In addition, few of the indicators for survival in this sector pertains to
Increasing the NPA norm to 1 year
Refurbishing of overdraft up to 50% in under normal cases and up to 75% in special cases which would ideally categorise under emergency clause
Design of Working Capital Term Loan package (WCTL) comprising of repayment in 7-10 years with 2 years moratorium.
Automation Industry Association (AIA) depicted the pivotal role of technology amidst this crisis in identifying the pain-point in manufacturing and how to address it through digitisation/connectivity.  This level of disruption is paving way for strategic actions. While automation would be a much-desired intervention, implementation of digital solutions for demand prediction, production planning, energy optimisation would enable in unlocking the supply chain through a well-designed framework.
Pro-India shared a supply chain framework to circumvent the current crisis of inbound material flow & outbound flow of finished goods that would enable us to unlock the intricacies and revive faster operations.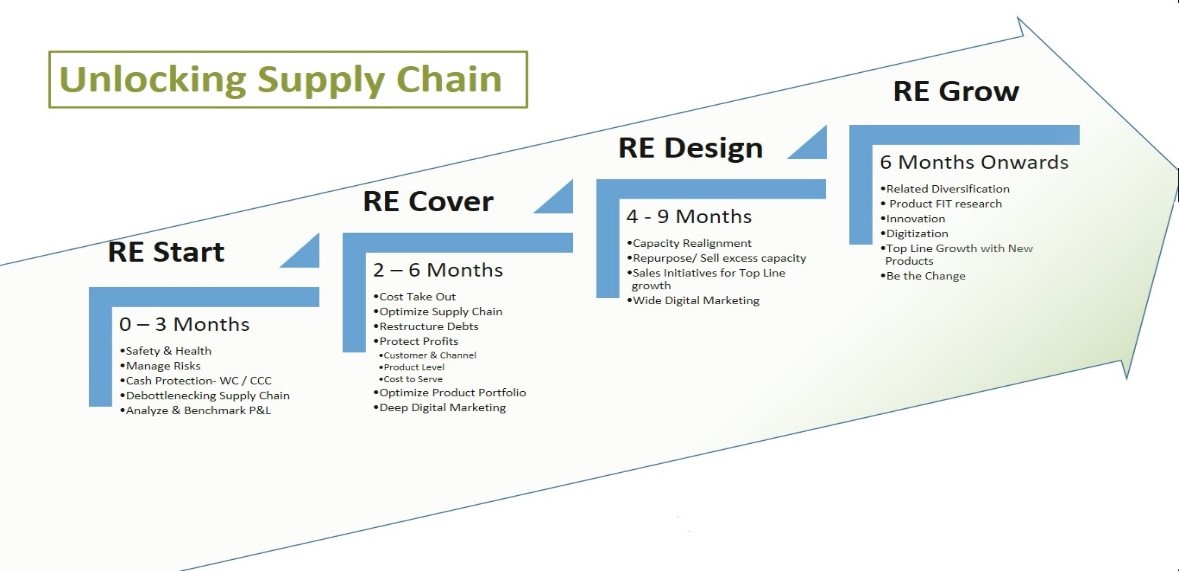 The RE Grow would pertain to innovation, digitization achieving top-line growth with new products and related diversification. Apart from the industry-led viewpoints, NASSCOM CoE IoT and AI also shared few of the key aspects of 'Preparing Factory for Revival with Digital Solutions' complying to the current challenges and maximizing production. A design thinking approach enabling digital adoption is a notable plan that should be followed hereafter in achieving returns on deployment and increasing efficiency.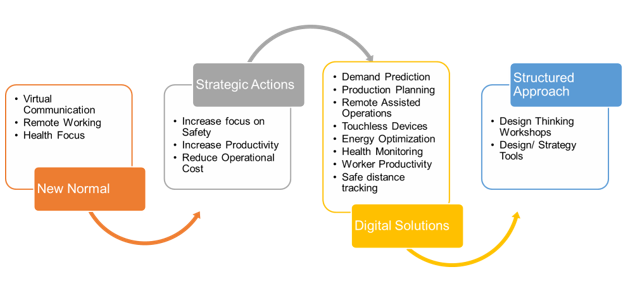 Empowering manufacturers with adoption of Industry 4.0 is critical and needed to be prioritized. Marshall Machines illustrated the use of technologies that are easily accessible and have considerable return on deployment
Retro-fitting Smart / Connected Factory (Role of Industry 4.0) – Cloud based Universal Machine Monitoring (UMM) is one such Indusrty 4.0 implementations of Marshall Machines – A plug & play solution that takes required data from machine to secure cloud (Microsoft Azure) through dedicated IoT Box plugged into any machine (CNC or Non-CNC) with any type of control (CNC, PLC or simple switchgear) used for machine downtime tracking through instant alerts as well as through generated reports, drives factory operations by analyzing the health of the machine,  Original Equipment Effectiveness (OEE) in enabling efficient operations.
Furthermore, the significance pf Predictive Maintenance was also highlighted. People expect Just-in-time supplies; Thus, a business can't afford machines to break down suddenly. Detect symptoms of the machine through the IoT enabled sensors and predicting the occurrence of the downtime is the need of the hour. Detection of symptoms is independent of human judgement where multiple variables can be used to detect potential problems. Combination of internal & external sensors are used; The combined input of the sensors is used to predict faults and accordingly taking collective action. One of the types of action also include Insights by Marshall Machines to detect underlying problem not visible to a human eye. An example of this is Machine Accident Information System – MAIS which is a Patented technology of Marshall.
The webinar provided manufacturers/businesses with insights of the industry which would enable to make dynamic, proactive decisions in response to rapidly changing circumstances. Industry and the economy are in a vulnerable territory, each day finding newer ways and concepts to address the risks of globalisation and supply chain disruption. This can only be mitigated by building a road-map in line to the new normal.