Manufacturing under lockdown – NASSCOM CoE IoT & AI Webinar
The COVID-19 outbreak poses unprecedented challenges to business, government and the larger community. NASSCOM Center of Excellence IoT & AI organised the need of the hour webinar addressing the key drivers and intricacies of carving out a Manufacturing ecosystem. Insights shared by the industry leader along with the startups addressed the post COVID pain points and the plausible measures for business continuity. A quick poll to gauge customer insights based on challenges faced under crisis like workforce, planning production, lack of system at place and safe distance guidelines facilitated this virtual event.
Key Takeaways:
Rise of Digital under Manufacturing lock-down – Embracing the new normal comprising virtual communication, remote working and most importantly focusing on health. This level of disruption is paving way for strategic actions. While automation would be a much-desired intervention, implementation of digital solutions for demand prediction, production planning, energy optimisation would enable a design thinking approach pulling in a lot of design strategy tools and conducting design thinking workshops.
Accelerate adoption of advanced technologies – The MSME sector should prioritise and accelerate adoption of AI, IoT and Analytics enabling Industry 4.0 ecosystem to integrate customers and vendors to the digital platform
Deployment and Investments – Due to lower CapEx at this juncture, call for action to introduce cost efficient worker productivity and reduce operational cost.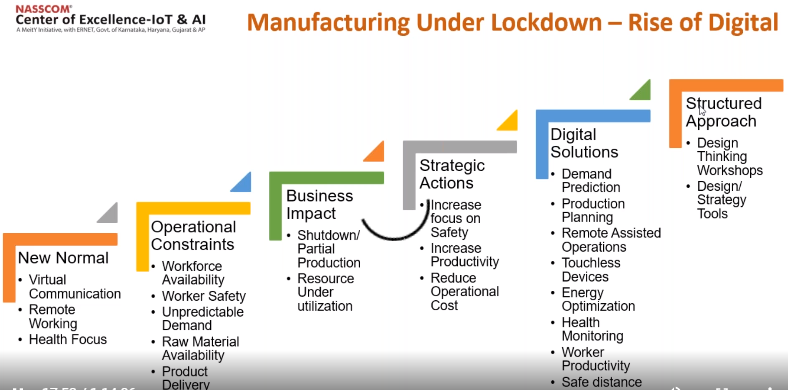 Challenges of Manufacturing Eco System and Possible Interventions:
Business Re-purposing – Lot of the beverage and liquor companies are switching to hand sanitise production; Energy major and few other manufacturing companies converting productions into masks and Personal Protective Equipment (PPE); Automotive sector focusing on the production of ventilators
Combinatorial solutions through Industry 4.0 – Adoption of IoT and other Industry 4.0 tools and application of Artificial Intelligence algorithms to address asset failure, uncertainties in manufacturing influenced by data, unlocking value using data and AI in process quality, preventive machine failure by analysing machine data to identify patterns and predict issues. Prescriptive maintenance through IIoT devices prevent from unplanned plant shutdown and reduce cost, scope of deployment of industrial robots in case of electrical & chemical hazards and working in inert environment
Other implications of AR/VR/XR in addressing manufacturing operations in lock-down – Defining Extended Reality, an umbrella term which is a blend of AR & VR and a vivid demo by Plutomen to solve specific issues on remote installations, reduction in travels, compliance inspections from remote location, addressing cost operations by downtime reduction. In addition to other functional activities like training, on-boarding, building an immediate reference manual etc.
Workforce Management post lock-down – This entails the IoT solutions developed by Alluvium IoT Solutions for manufacturing plants enhancing their safety & productivity including different factors like location, environment and health data
Manufacturing in times of social distancing – Social distance monitoring have been a prime concern now. Indolytics solutions have devised solutions in terms of workplace detection sensors, touch free attendance that works both internal and external to the plant facility, indoor positioning system to monitor visitors and other related stakeholders.
Title of the Webinar – Manufacturing Under Lock-down
Industry Speaker – Amit Saluja, CoE Center Head, Gandhinagar
NC Chakrabarti, VP & Head, Smart Manufacturing Technology, Reliance Industries Ltd.
Startups – Plutomen, Indolytics and Alluvium IoT Solutions