#TechFightsCOVID19: Staqu Leads The Way In Assisting Enforcement Authorities In Tracking Essential Service Providers & AI based Community Screening
India is currently under a complete lockdown as a precautionary measure to avoid the spread of COVID19. The death toll has crossed 100 , and 4,500+ cases. When the lockdown was initially announced, there was considerable confusion over procurement of essential items and movement across towns and cities for medical emergencies, so the government authorities stated they would issue 'curfew passes' for those involved in the delivery and procurement of essential services and items.
Gurugram-based startup Staqu was able to largely help with the rapid dispensing of e-passes, using AI.
Another one of their landmark projects was with the UP Govt, which uses Staqu's AI-based video analytics platform to monitor CCTV cameras in prisons across the state for thermal screening of the prisoners. Now, the company has modified its landmark AI offering and related technology solutions in the fight against COVID19
Company: Staqu
Location: Gurugram
Team: Atul Rai, Summit Nayak, Chetan Rexwal, Anurag Saini, Pankaj Sharma
Website: https://www.staqu.com/
Thermal Camera based Community Screening

Staqu's has launched AI-based video analytics based solution that can aid with the video monitoring of patients and those kept in quarantine. Additionally, Staqu's thermal camera based solution, can alert the system if anyone is found with a body temperature above 37°C on the basis of heat signatures directly through the thermal cameras. It can also pick up symptoms such as sneezing and coughing. The startup claims that the solution has a range of up to 100 meters and can identify multiple people at the same time. Some of the other solutions include AI-based monitoring for quarantine and isolation escape alerts, patient activities, group and crowd alert.
Curfew E-Pass, Officer Dashboard Manager, Printable Pass & Verification Platform: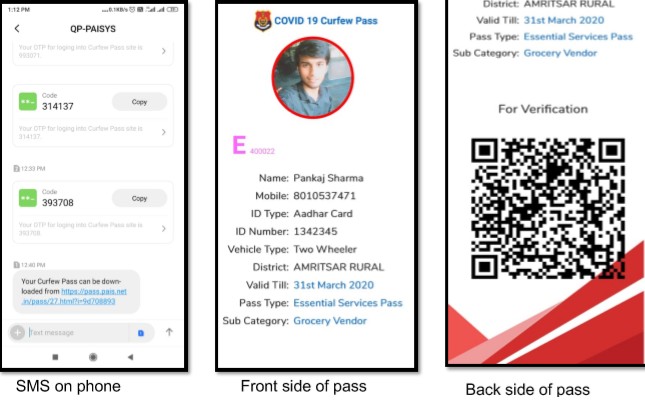 Staqu offers four offerings – all of which can provide a verified e-pass to a vendor or seller of essential items.
ePass requests AI based filtering: Any person who falls under the category of 'Essential Services' can apply from the authorized URL for the e-pass. He is required to fill his name, address, and upload a form of government ID (Aadhaar, PAN card, Voters ID). Once the form is submitted, Staqu's facial recognition & OCR based algorithm is used to detect fake IDs and forms having inconsistent data and only the accepted forms are sent to the authorities for manual approval.
Admin Dashboard: The authority has a web-based dashboard to monitor the submitted epass requests. The same panel can be used to see the passes allocated from each district on a daily basis and other details.
Digital Pass: Once the officer verifies the pass, the a URL will be sent via SMS to applicant's mobile number. He can download and show to police officers on duty. The pass will contain personal details of the applicant, color-based category sign and a QR code for verifying the user – while maintaining social distancing. An officer on duty can check the pass by using a QR code scanner.
This application is currently live in the states of Punjab and Uttar Pradesh, and is being used by the police departments in these two states. In five days, 2,35,670 e-passes have been applied, and 86,774 passes have been accepted.
If you are developing a tech-based solution to combat #COVID19 or are seeking such solutions for deployment, contact Sanjeev Malhotra (sanjeev@nasscom.in) or Shantanu Gaur (shantanu@nasscom.in)