Technological solutions to fight against Coronavirus
Amidst this pandemic, everybody is standing united to fight against COVID-19. Irrespective of their professions people are coming together to build technologies that can help in fighting against COVID-19. Everybody is trying their best to contribute to society in one way or the other. From government to start-ups no stone is left unturned to save the humans from this contagious disease. From COVID-19 detecting device to Chabot providing assistance and Robots are being introduced so that the onus on the doctors and police force is mitigated. This time Startups are being looked forward to,  for providing innovative and useful solutions to the problems caused by COVID-19.
Taking a look at some of the technologies that are being introduced in these strenuous days:-
1. MyGov corona helpdesk has been launched by the Indian government with the help of tech firm Haptik. MyGov is a chatbot that can help answer the queries of people about COVID-19, within some seconds. Within 2 weeks, this chatbot has been used by 1.7crore users in India. This is can be used by WhatsApp users for free just by saving 9013151515  in their contacts list and send a message to get a response. It gets nearly 20lakh users each day and can go up to 1-1.5 crore users. Chatbot supports English and Hindi and is working on adding more languages.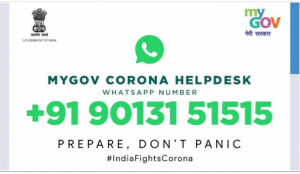 2. AarogyaSetu is an app launched by the government of India. The Ministry of Electronics and IT launched this app on 2nd April 2020, Thursday which helps people identify the risk of getting infected by COVID-19. It calculates the interaction of the person with others using cutting edge Bluetooth technology, algorithms and AI(artificial intelligence.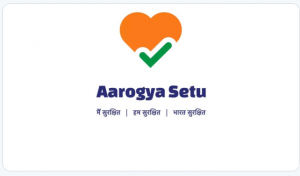 3. ROBOTS:- robots who were just the dreams are coming true during this disease as researchers at IIT are developing two robots to be used for the patients who have been kept into isolation wards. These robots are being responsible for providing Food and medicines to patients, also for the collection of contagious waste. Their prototype will get ready within two weeks, which will be followed a test. Furthermore, the institute is providing an advanced research centre and laboratory for COVID-19, for the northeast region to test CODI-19 as well as other harmful diseases that can be present in humans.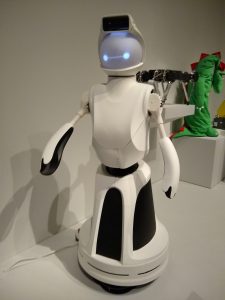 4. Akshay Singh, VP, enterprise, and strategy at Droom explained that after 14 days of quarantine when people will run back to their works and enjoyments they still need to be safe as the accumulation of the bacteria and frequently touched surface was the major cause of the spreading coronavirus. Thus, to obviate this possibility Startup Droom has launched a corona shield that provides antimicrobial surface protection. The firm has claimed that this corona shield has been proven effective against Severe Acute Respiratory Syndrome(SARS) and similar droplet-based
virus for up to four months. The shield is priced at Rs 499 for 2 wheeler bike or scooter and Rs 999 for a hatchback.
5. IIT Guwahati alumni founded Marut Dronetech private limited( a startup) which has introduced a drone for spraying disinfectant in public spaces. It has been recently positioned in Telangana to disinfect the Mukarampur area.
6. Founders against COVID ( which is a tentative name given to the start-up) be made up by Mayank Bidawatka(co-founder vocal), Mekin Maheshwari(co-founder Udhyam.org), Urban company, Aprameya Radhakrishna. They are in the process of developing a Quarantine app-to track the patients who are in hone quarantine and those who have tested positive. Mr Bidawatka told the ET digital that he had thought of opening a map view that can identify the location where the affected patient so that the area can be marked as unsafe or risky area. This will help citizens to avoid going to the risky spots. Mr Radhakrishna suggested creating a tool that can allow authorities to track the patients affect by COVID-19. They are planning to make the self-reporting option available where the one who is feeling the symptoms can report themselves to authorities. But the app is in its early stage and there is a concern related to the risk of the data privacy breach and will be able to launch once this is fulfilled.
7. A startup named "staqu" which is a Gurugram based AI-powered. Is working towards the launch of a "new thermal camera" which detects the individual body temperature of more than 37-degree Celcius and alerts the system. This Thermal camera is being built under a video analytics team JARVIS examine the heat and identifies suspects patients This is a handy device that can be used in crowded places like airports, railways stations, malls, etc. it removes human intervention needed while detecting COVID-19. This can be a helpful technology to reduce the risk of spreading COVID-19 and keeping humanity safe.
There are many more technologies coming up. organisations like department for promotion of industry and internal trade (DPIIT) and Startup India are launching competitions for the nascent entrepreneurs to come up with their innovative solutions to fight against the COVID-19.