Can Fintech Bring Revolution in Banking Industry?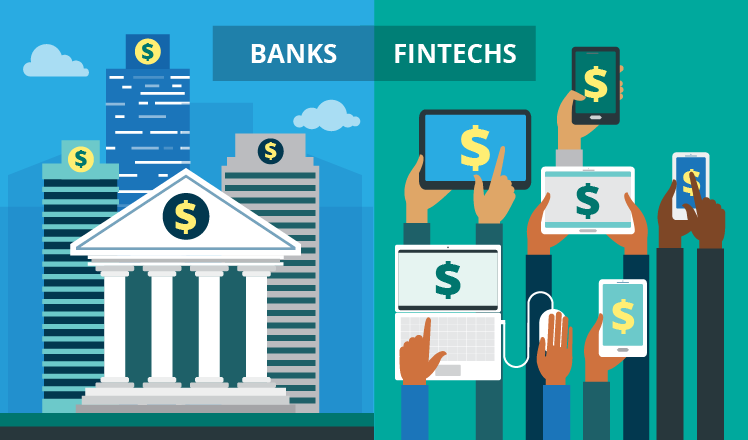 With Fintech in the trend, and all the startups coming up, we look at how such companies are actually using the disruptive technology to cater to the Banking Sector! We need to look at how these companies will impact the consumer experience and how these BANKS would react to the same! Digital platforms, mobile, internet banking, and payments bank have revolutionized the sector in a substantial way. "The Digital India Moment" has also given the much-needed impetus to the digitization efforts in the banking sector.
Banking industry emerged somewhere around 10,000 years ago and since those times banks have embraced the technology to be updated with the ever changing trend.As of now, due to improved technology and millennial preferences , and their increased comfort with digital technology , they are more inclined towards "SIT BACK AT HOME AND DO TRANSACTIONS" !
That means people are preferring more of electronic transactions .Due to this  , bank branches began to shrink with square footage declining by 50%-65% as banks moved more products and services online , particularly to mobile applications. If this trend continues , this evolution will bring the number of branches down by half over the coming years as the main motive of banks have now become customer preferences over and their efficiencies.
But the question How Banking Industries are leveraging their services via FINTECH ?
BANKING COMMUNICATIONS THROUGH BOTS(AI)- Nowadays , Banks have started using AI technology to automate routine banking tasks for customers, such as resetting passwords, checking account balances, transferring funds between accounts or paying monthly bills. For example : The state bank of India , introduced its online bot names SIA(State Bank Intelligent Assistant). It can handle up to 10,000 inquiries every second, or nearly 864 million queries in a day. Using machine learning and a large set of commonly asked questions, SIA is one of the world's largest deployments of AI in consumer-facing banking.
BIO-METRICS- As the technology advances, so does the chances of cyber-attacks, hacks, and frauds. However, to minimize this , banking sector is  moving towards bio metric technology. Bio metric authentication is a powerful tool to ensure top-class security of customers' account and capital.
Peer-to-Peer Lending Services- Some private banks use native credit models and data sources to provide consumers and businesses with faster and easier access to capital and funds. They provide online services to directly match lenders with borrowers who may be individuals or businesses. Examples are  Shiksha Financial, GyanDhan, and MarketFinance. They tie up with different banks to explore this opportunity.
NEO BANKS- They operate digitally, providing basic banking services without any physical branches. These digital financial companies offer financial services that cost consumers less. That means, for example, fewer fees and more transparency. These Fintech companies are changing the way people save, bank, budget and spend their money. Example – Payzello in India
WIN WIN FOR FINTECH AND BANKING
Along with the customer-facing investments to improve product delivery and customer experience, banks have been exploring and testing ways in which technology can improve back office operations. Experience is the key in the digital age. I  believe the future of the banking industry depends on the ability to deliver a delightful experience to the customers.
At the end of the day , its all about TRANSFORMATION , REVOLUTION , INNOVATION !
BRIEF PROFILE
Palak Bhatnagar is a student , pursuing PGDM in Finance and Business Analytics at New Delhi Institute of Management , New Delhi . She is a finance enthusiast , a versatile person who likes to explore . She is a keen learner with an objective to learn and grow.