#TechFightsCovid: Top 5 Digital Payment Methods – A Boon Amid Crisis
The COVID-19 pandemic has indeed affected markets and industries across the globe sparing none. The payments industry is not spared either – but with a pinch of positivity – with digital payments seeing a huge uptick since the covid-19 outbreak.
Cash exchange and exchange of physical banknotes and coins is a big threat to the spread of the covid-19 virus and has led to huge public concerns about viral transmission via cash.
Even WHO spokesperson has reportedly recommended people to Avoid use of physical banknotes and coins and use digital payments where possible.
As a result, the adoption of the digital payment solutions is increasing at a rapid pace. In India, per say, RBI has encouraged people to use digital payment services amidst the covid-19 outbreak.
As a result, a recent report found out that 42% Indians say have increased use of digital payments during lockdown.
This indeed is a positive sign for the digital payments industry in India. There are several digital payment methods that are gaining limelight in midst of the pandemic.
Let us look at the key ones that can turn out to be a huge boon to the consumers in middle of this crisis:
Top 5 Digital Payment Methods:
Contactless Digital Payments: The Near Field Communication (NFC) feature on the PoS terminal allow users to easily make contactless payment.
The customer can also choose to pay via their contactless credit/debit cards – virtual cards or through a Tap & Pay feature on a mobile application by tapping their smartphones on the PoS terminal.
Mastercard has already recorded a 40% jump in contactless payments in the first quarter of 2020.
In a very recent move, RBI has given a go ahead to allow tap-and-go functionality on all card payments, even exceeding the current limit of 2,000 Rs., further securing them with two-factor authentication – a move aimed at making all transactions contact-free.
Digital Wallets Based Payments – Digital payments through wallets is especially popular among the urban millennial due to innumerable cashbacks, offers and vouchers offered by these wallets.
Digital wallets can be safely loaded through linked bank accounts or cards and can be used to make payments at any time.
Some of the most prevalent mobile wallets include Paytm, Free charge, MobiKwik, etc. Paytm, alone, a major player in the sector, has been already witnessing a 20 per cent growth in digital payments as compared to the regular days amidst the covid-19 crisis.
UPI based payments – Unified Payments Interface (UPI), developed by National Payments Corporation of India (NPCI), is an instant payment system, facilitating inter-bank transfers and is regulated by RBI. This is a completely digital payment mode. A number of payment apps in India now provide UPI based payments like Google Pay, PhonePe, etc.
In midst of the Covid-19 crisis, UPI based payments saw a sharp rise in India. Of all the transactions, recharges and bill payments, retail banking transactions, shopping for essential services, direct-to-home, cable broadcasting services- saw the maximum use of UPI based payments
NPCI-run Bharat Bill Pay alone recorded 1.58 crore transactions in March, a 6.04% jump as against February 2020.
The figure below also presents a Heat Map of the Top 5 digital payment methods in India based on parameters like clarity of the digital payment method strategy at the overall industry level, maturity of the supporting infrastructure across the country, the number of solution providers of the payment mode, the regulatory support available, Security concerns related to payments through various modes, and consumer awareness of the various digital payment modes.
The analysis is based on varied secondary research information available and analyst interpretation and opinion.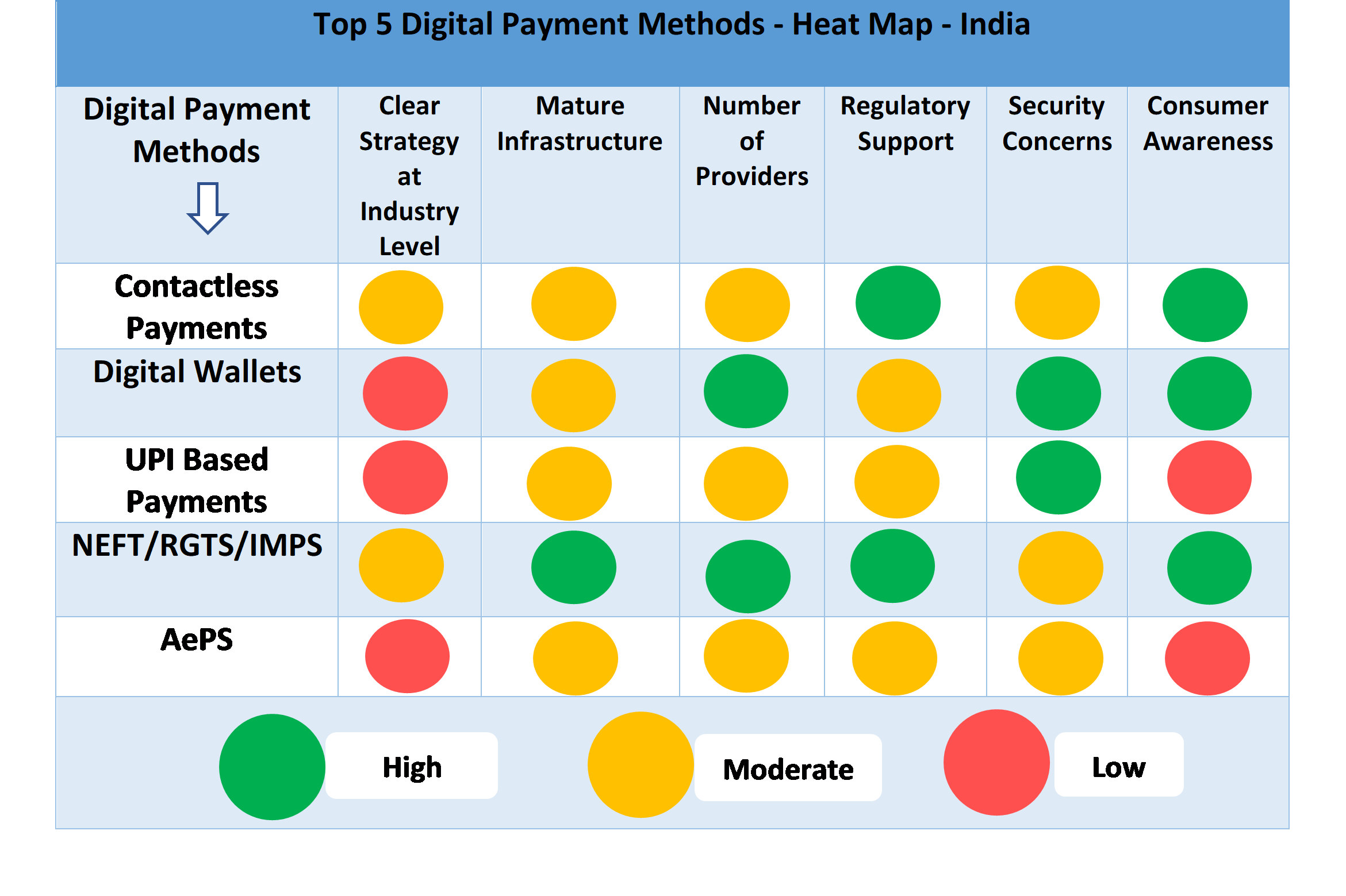 NEFT/RTGS/IMPS – National Electronic Funds Transfer (NEFT), Real-time gross settlement (RTGS), and Immediate Payment Service (IMPS) are online fund transfer methods offered by NPCI. Of these, NEFT and IMPS are the services which are available 24×7 throughout the year including bank holidays.
According to (RBI) data, the total value of RTGS transactions — the biggest online payment method offered by RBI — rose 34% across banks in March 2020 from the previous month amid the CV-19 crisis!
AePS – AEPS or Aadhaar enabled Payment System is a bank led model which allows online interoperable financial transaction at PoS (Point of Sale / Micro ATM) through the Business Correspondent (BC)/Bank Mitra of any bank using the Aadhaar authentication. It was launched by Government of India in a move to create a cashless India and to ensure financial inclusion of the underbanked areas like villages etc.
During the Covid-19 lockdown, post offices across the country have delivered more than Rs 412 crore mostly in rural and unbanked areas through a network of 1.36 lakh post offices which have been equipped with 1.86 lakh AePS devices.
This is a huge surge in AePS transactions especially considering that till now it had never seen such a huge adoption.
The Way Forward:
Digital payments are here to stay. According to a recent study, India is poised to lead the world in real-time payments volume over the next five years, with transaction volumes set to grow from 15.3 billion in 2019 to a staggering 52.8 billion in 2024.
Although, for the month of April 2020, India reported a slight dip in the volume of digital payment transactions, it was mainly due to a countrywide lockdown, making people only spend small quantities on bare essentials.
Now, once most parts of the country resume business activities, post lockdown, transaction volumes and values through various digital payment methods are also expected to see an upsurge, considering the fear of covid-19 through cash transactions persists.
Further, latest key initiatives like Facebook investment in Jio, Silver Lake Jio Deal, Worldpay Google Pay Collaboration etc. will also boost the digital payments ecosystem in India.
If you would like to discuss how different digital payment methods will be impacted during the pandemic, I would love to hear from you. Please comment in the box below or I can also be reached here.
About the Author: Shivani is leading FinTech research initiatives at NASSCOM, having close to 12 years of experience in research and consulting in the areas of banking & financial services, FinTech, and related technologies. In her current role at NASSCOM, she is closely working with the industry leaders, and other stakeholders in delivering strategic insights on digital transformation and articulating a roadmap in disruptive technologies for the Indian IT and FinTech industry.
References:
https://economictimes.indiatimes.com/small-biz/startups/newsbuzz/42-indians-say-have-increased-use-of-digital-payments-during-lockdown-report/articleshow/75141096.cms?from=mdr
https://www.cnbc.com/2020/04/29/mastercard-sees-40percent-jump-in-contactless-payments-due-to-coronavirus.html
https://www.zeebiz.com/companies/news-paytm-leads-digital-payments-growth-as-india-avoids-touching-cash-122140
https://www.drishtiias.com/daily-updates/daily-news-analysis/rise-in-digital-transactions
https://indianexpress.com/article/business/banking-and-finance/digital-transactions-rise-real-time-gross-settlement-rbi-6370110/
https://bfsi.eletsonline.com/india-post-delivers-cash-worth-rs-412-crore-in-doorstep-banking-revolution/
https://www.business-standard.com/article/news-ani/india-poised-to-become-world-leader-in-real-time-payments-volume-in-next-5-years-aci-worldwide-research-120040101942_1.html
https://www.business2community.com/tech-gadgets
https://www.pymnts.com/news/2020
http://www.businessworld.in/article/
Financialexpress.com
Moneycontrol.com
Finxera.com
Nasscom Research