#TechFightsCovid: Top Disruptive Fintech Technologies Amid CoVID-19 Crisis
Gazing through the window of your living room, amidst the corona virus pandemic which has impacted almost every part of the economy, have you ever pondered what can be the next big game changer? Digital-only interactions undoubtedly will be the new standard amidst the CV-19 crisis with almost every institution scurrying to transform digitally to ensure survival.
Fintech has the power to totally disrupt the Financial services market, helping the industry with the much-needed, Digital-First and Digital-Only set of solutions in these testing times.
Fintech players around the globe are rapidly using AI, digital payment systems, virtual assets, software solutions, and AR, to deliver better crisis management solutions like contact-less banking, Digital-Only customer service and payments, e-KYC and verification, credit rating analysis,  consumer behavior analysis, etc. across the FS industry.
Digital payments giant Paytm has already witnessed a 20% uptick in digital transactions since February, i.e. since the global outbreak of Covid-19. Demand for virtual cards too has already shot up by like 600% – clearly highlighting an uptick in Fintech solutions user base amidst CV-19 crisis.
Let's look deeper into the top disruptive technologies enabling fintech's crisis management solutions amidst CV-19.
Top Disruptive Fintech Technologies Amidst CV-19 Crisis:
Artificial Intelligence – Amidst the covid-19 crisis, financial institutions are increasingly looking to connect and serve their customers through digital channels. AI enabled chatbots, voicebots for customer services, account-opening and handling assistance, technical assistance, etc. is the need of the hour.
Several fintech players are using this space to grow manifolds. For e.g. Active.AI is a top fintech player increasingly deploying it's AI enabled virtual assistant solution for providing customized bot services to various banks across the globe.
Posh.tech, Spixii, and many other fintechs are also providing intelligent chatbots for critical customer-facing processes to banks.
Additionally, AI/ML can help automate deep-seated credit rating analysis to help banks expediate loans in crisis times when consumer credit flows and liquidity is hard hit.
Software as Solution (SaaS) – With a sudden surge in the demand for digital financial services, many big and small legacy banks are struggling to provide their banking services digitally with their legacy systems in place. Fintech players with ready to use SaaS solutions for core banking services are a huge savior here.
Agora Services is offering financial institutions a cloud-based SaaS offering that enables banking customers to utilize and manage accounts in real-time, without replacing their core banking system.
Similarly, Bankingly is a cloud-based, pay per real use online and mobile banking software tool – a ready to use SaaS solution for many banks.
Likewise, fintech players offering SaaS solutions for contact-less account initiation, e-credentialing, Jan Dhan accounts opening, e-KYC, e-verification, etc. also have a huge opportunity lined up in these testing times.
Digital Payments Systems & Virtual Cards – The recognition of the infection risk will likely accelerate the push towards digital payments across the world. IMPS, Mobile wallets payments, UPI enabled payments, AePS, NFC based contactless payments, virtual cards-based payments, are some of the top digital payment technologies that will be gaining the rounds amidst CV-19 crisis.
Along with it, the need for financial inclusion through digital payments solutions, feature phone enabled digital payment methods for the lower income strata, interoperability across digital payments methods would be areas ripe for innovation in current crisis times.
Fintech players like Paytm, PhonePay, PayPal, Circle, are already disrupting the market with their innovative digital payment solutions. Further, virtual card providers like Zaggle, Payoneer, etc. are also already recording a huge surge in demand.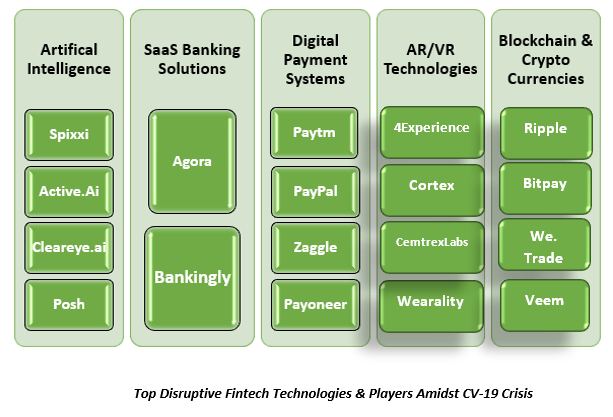 Augmented and Virtual Reality – Augmented Reality (AR), Virtual Reality (VR) and Mixed Reality (MR) are the next-generation computing processes that integrate sensors, big data, cloud, artificial intelligence (AI), and wearables. This technology can be extremely effective in creating transformational experiences for customers in markets, where they are scared to visit a bank due to the infection risk.
For e.g. CemtrexLabs, 4Experience, Cortex are some fintech companies providing AR, VR enabled solutions to FS industry.
Wearality is a key player that has already partnered with Mastercard to create a world where consumers can make purchases in Augmented Reality world.
Blockchain & Crypto Currencies – CV-19 crisis will embark a significant rise in the demand for virtual, fast, global, secure, cheap-to-use crypto currencies like Bitcoin, Stablecoin. Using blockchain based crypto currencies, funds can be instantly, directly, securely transferred to the digital accounts of customers globally.
This can especially be a breakthrough in cross-border payments and remittances where a blockchain based bitcoin transaction can be completed in as fast as 10 minutes as compared to a lag of 7-10 days through traditional methods.
Many fintech players like Ripple, Bitpay, We. Trade, Veem are already disrupting the market with their blockchain based solutions in these times.
Looking Ahead:
2020 has indeed begun on a challenging note for the financial services industry, including the fintech players, but players riding high on the use of disruptive technologies to provide innovative digital solutions will be the clear winners, as the increasingly socially distant global population looks to bank virtually amidst the CV-19 crisis.
Further, Neo-Banks or Digital-Only Banks, which provide the amalgamated benefits of these disruptive technologies will be the next showstoppers in the Fintech space with only a few of them such as Chime, Revolut, N26 and Compte-Nickel already having acquired a million-plus user base & a total transactions value running into $4-$18 Bn!
References:
https://irp-cdn.multiscreensite.com/
https://bfsi.economictimes.indiatimes.com/
https://www.livemint.com/news/india/covid-19-digital-payments
Secondary Research, Analyst Interpretations, Opinions