#TechFightsCOVID19: Contact-less Hand Hygiene Powered By IoT
As the world learns more about the Coronavirus and its rapid spread, one of the most crucial pieces of information is the importance of hand hygiene, given as to how rapidly this virus can get transmitted via hands.
The WHO and several other medical organisations worldover have been emphasising on maintaining hand hygiene. Several celebrities and business leaders too are doing their bit by promoting this practice by embarking on the "Safe Hands Challenge". The underlying rule is – wash your hands for 20 seconds atleast. This involves vigourous scrubbing of the palms, nails, fingers – as the lipid substance in the soap is known to break the protein surface of the coronavirus, rendering it weak and prone to destruction.
However, it was not too long ago that the reality of an impending water crisis was upon most nations. NITI Aayog's report went on to say that groundwater resources of most Indian metros will be depleted by 2022.
At a time like this, judicious use of water is essential.
MicroGO – a R&D based manufacturing company building safe & sustainable solutions, with a focus on hygiene.
Started In: 2016
Founder: Rachna Dave
Location: Chennai
Website: https://www.microgo.in/
Today's feature is on MicroGO, a Chennai-based R&D-driven manufacturing company that is building a pipeline of products focused on sustainability and hygiene. Among their suite of solutions is GOassureTM – an IoT-enabled device that assures hand hygiene compliance, while saving water. It follows a six step of hand hygiene and 25-second process to ensure thorough cleaning and disinfection of hands.
This solution has already been installed at several airports operated by the Airports Authority of India (AAI) including Chennai, Hyderabad, Calicut, Guwahati, Baroda, Pune and Kolkata, in addition to a host of enterprises and companies like the Taj Group, Tata Capital, BigBasket, Waycool and IRCTC.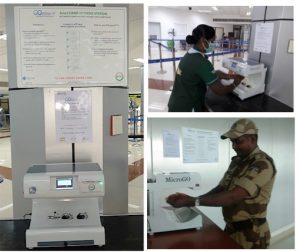 How Does GOassureTM Work?
Generally, hand hygiene is the first line of defence for any business. At a time like this, inadequate hand hygiene practices could well lead to a ripple effect on businesses, profitability and of course, health. While the onus of hygiene at workplaces and public spaces falls on all, it's the management and public officials who have to drive this practice and ensure the public and workforce follow suit diligently. Compliance and costs are usually the main reasons for inadequate hand hygiene in India. GOassureTM automates hand hygience, provides data & surveillance on the same and ensures a high degree of accountability, traceability in hygiene maintenance. The patent-pending technology assures minimum manual intervention and effort, while maximising automation and hygiene.
Successful Deployment at Chennai Airport:
"Here, at the domestic airport, we have kept more than 25 sanitizers placed. We have also placed 10 special, automatic sanitising machines."
Suneet Dutt, Director, Chennai International Airport
Here's a video of how Chennai Airport is being cleaned & sanitised regularly.
If you are developing a tech-based solution to combat #COVID19 or are seeking such solutions for deployment, contact Sanjeev Malhotra (sanjeev@nasscom.in) or Shantanu Gaur (shantanu@nasscom.in)