#TechFightsCOVID19: How Teleconsultation & AI Is Helping Doctors Assess More Patients Without Risk of Exposure
Coronavirus, which is causing the deadly COVID19, has affected more than 300,000 individuals and caused the death of more than 13,000 already. Declared a pandemic by WHO, this highly virulent and potent strain doesn't seem to show visible signs of slowing down.
Even as healthcare systems in nations like Italy, Iran, UK and USA are reeling under the strain of patient care, some other nations have managed to atleast catch up with the curve, if not move ahead of it and are pulling all stops to ensure this virus doesn't affect more people.
MyGov.in recently announced the COVID19 Solution Challenge, calling all innovators to present their innovative technology solutions that can help in the fight against COVID19. NASSCOM Center of Excellence IoT & AI is working closely with MyGov to identify these technology companies, and will be publishing a series titled #TechFightsCOVID19 – a comprehensive list of companies and their solutions.
mFine – AI-Powered Online Medical Consultation App
Prasad Kompalli, CEO & Cofounder
Started In: 2017
Location: Bengaluru
Website: https://www.mfine.co/
About: mFine is an AI-powered healthtech startup that provides online consultation through its app. An Assisted Intelligence Platform analyses symptoms and delivers a prognosis for a medical specialist to assess patients. With a combination of advanced technologies and an extensive network of hospitals and clinics, mFine is redefining customer experience in healthcare. Continuous connectivity through digital wearables, mobile apps and at-home services ensure convenience.
Recently, mFine partnered with several hospitals like Sunshine Hospitals, Srikara Hospitals, AIG Hospitals and Medicover Hospitals to execute virtual consultations with suspected COVID19 cases. Ever since cases began to rise in India, hospitals are facing a surge in patients reporting flu-like symptoms. Based on medical literature and first-hand accounts of doctors in other countries like China and Italy, COVID19 spreads pretty aggressively, and especially via humans. By offering virtual consultations, mFine is helping hospitals deal with the sudden increase in patients, many of whom could potentially be showing symptoms, avoid in-person interactions with medical staff, playing their role in helping "flatten the curve" and limiting interactions between infected people and healthy ones.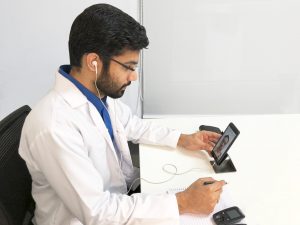 COVID19 Solution Using AI & Extending Teleconsultation:
Mid-March, mFine launched a preliminary screening for Coronavirus. More than 1200 users have been assessed and numbers are increasing – several people are ostensibly opting for app consultations. mfine's Coronavirus Assessment is built specifically to triage and diagnose coronavirus symptoms at the earliest – it allows doctors consult with patients over a digital voice or video link rather than in person, enabling them to see more patients without running the risk of exposure. During the consultation, the system collects basic information from the patients and triages severe cases through symptom mapping. The doctor interacts with the patient over audio and video, gives prescription and informs about warning signs like breathlessness, chest discomfort and dizziness. The doctors recommend a hospital visit if a patient is seen having any of the warning signs. For e.g. if there is a patient with breathlessness, he is recommended to visit a hospital. The system also follows up with the patient after 2 days of the initial consultation, to check on how the patient is recovering.
"This solution is deployed at some hospitals where the first level of interaction between the medical expert & the patient happens via mFine teleconsulation. To date, we have done 5,000 COVID19 teleconsultations, out of which 1% have been referred to government-run hospitals."
Additionally, mfine is also adding an AI system for recognising cough sounds from patients directly on the app. With this, it should make the triaging even more accurate. The AI allows users to record a sound of their cough and the AI system classifies the nature (dry, wet, lower or upper respiratory) and severity of the cough for the doctors to take the right course of action.
If you are developing a tech-based solution to combat #COVID19 or are seeking such solutions for deployment, contact Sanjeev Malhotra (sanjeev@nasscom.in) or Shantanu Gaur (shantanu@nasscom.in)