IndDIC: Embracing Industry 4.0 With Innovation & Scale
Setting Context – What Is The Future of Industry 4.0 In India?
 The Indian economy comprises of a wide range of industries across small, medium and large enterprises that play a vital role in the socio – economic development of the country.
In India, every organization has a different outlook towards industry 4.0 and are at different stages of evolution in Digital Transformation. Every organization operating today face a common challenge—the need for connected-ness and access to real-time insights across processes, partners, products, employees and customers in order to enhance productivity, ensure worker safety, Increased cost/operational efficiencies, ensure Higher Sales reach, operational flexibility, efficient process management.
Industry 4.0 has reached a new phase in the Industrial Revolution that focuses heavily on cyber-physical systems, interconnectivity, automation, machine learning, and real-time data. Sometimes, Industry 4.0 is referred to as IIoT or smart manufacturing that conjugates physical production and operations with smart digital technology, machine learning, and big data to create a more holistic and better connected ecosystem for companies with digitization being foundational.
With India's manufacturing industry having the potential to touch $ 1 trillion by 2025, accounting for at least a quarter of the nations' GDP and creating nearly 90 million domestic jobs, there is an ample amount of opportunity to develop a collaborative, industry-driven ecosystem to make an impact. For a sustainable ecosystem to be created that comprises of the complete industry value chain, it is important to have an amalgamation of key forces including the industry leaders, policy makers, startups/innovators, and industry associations – each wielding his own powerful expertise and playing a catalytic role in innovation-building.
NASSCOM Digital Centre of Excellence (NASSCOM CoE) coined IndDIC –Industry Digital Innovation Consortium – in collaboration with Foundation for Smart Manufacturing , FSM (an AIA-IIT Delhi initiative under the Samarth Udyog Program of Department of Heavy Industries)
IndDIC conducted the first industry roundtable to gather the immediate thoughts of prominent industry leaders on three broad areas:
Industry Adoption Landscape
Challenges for Adoption
Successful Industry Use Cases
It converged with :
Forming up the Strategy to Scale Innovation
Guiding Principle & formulation of Strategic Innovation Group
The culmination of thoughts and inputs  led to the building of a Strategic Roadmap for Decision Making. Read further for a detailed report.
Click this link to watch an exclusive video of the highlights of the roundtable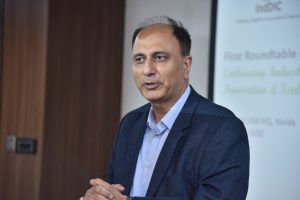 The session started with Mr Sanjeev Malhotra, CEO, NASSCOM CoE addressing a keynote to the eminent leaders of various participating organizations. He briefed about the NASSCOM CoE which was established in 2016, as an extension of the Digital India initiative, by MeitY with the goal to align innovation in technology adoption, and drive Digital Transformation through this novel idea across various industry domains. There are three CoEs in India – Bangalore, Gurugram and Gandhinagar – with the focused aim of building an ecosystem to identify industry use cases, establish strategic connections, nurture advanced technologies and promote scope for cross industry collaboration and co-creation.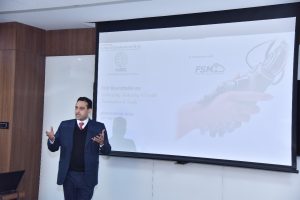 Further, Mr. Vivek Saha, Director & Head, Digital Transformation & Industry 4.0, NASSCOM introduced and briefed about IndDIC , its guiding principles & importance of building an ecosystem with multiple stakeholders that include global trade development centres, startups/MSMEs, Industry Adoption Groups, industry associations, policy & govt entities, research bodies, and a skilling division. He spoke about the need to have a focus and centricity on the industry adoption for building a sustainable ecosystem, suited to adapt to the ever changing needs of the industry. Specifically, this model has to encourage the concepts of coexistence & an integrated role play of the players involved –  the need of the hour is a collaborative, strategic decision making in order to nurture an innovation-first ecosystem. Vivek also spoke about the Digital Maturity Stages & where different players appear in the maturity map beyond basic Digitization stage.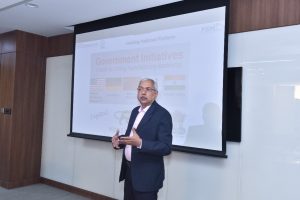 Mr. Anup Wadhwa, Director, Automation Industry Association FSM stated the government's interest in industry 4.0 and mentioned the government is fueling manufacturing initiatives such as Samarth Udyog.  However, there is a rising need to develop an industry collective that can be brand agnostic with Germany being one of the pioneers running several such initiatives successfully.  It is critical to have a flagship, India-centric eVolving National Platform initiative that will stand for the aspiration of the country to make world class products on the basis of innovation, with manufacturing at the very core and technology as an enabler.
Current Landscape On Industry Adoption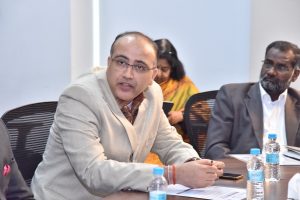 Mr. Amol Deshpande, Head of Digital – Tractor & Agri, Mahindra & Mahindra, one of the representatives from the direct user adoption group mentioned that investment and adoption of digital technologies is critical to stay ahead of the growth curve and is being looked at as a "high investment – high gain" area in organizations. This is a small yet incremental approach to adopt. Like ERP earlier, the perception is skewed in favour of high costs but the only way to make progress is to invest wisely in this space for better returns.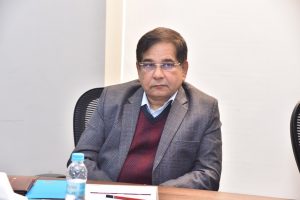 Mr. Anoop Chaturvedi, Former Sr. VP (Production Engineering), Maruti Suzuki India Ltd. Talked about how every major industry leader claims to be prepared for Industry 4.0, whereas the reality is manufacturing sector really has not witnessed a lot of disruption till date. He suggests that it requires a convergence of multiple factors like technologies such as AI, process automation, industry collaboration and constant communication to make effective the changes. He also talked about how it is critical to measure quality, productivity – based on the optimal utilization of resources be it human or machine. Moreover, cost of operations is also very important to an organisational structure – hence the question always remains the same– what is the RoI? For instance, considering the use of IoT for predictive maintenance, requires significant investment. From an industry perspective, focus areas of efficiency, disruption and technology are important. It is also necessary to analyze and gain an understanding of an industry first, the actual needs & requirements, the dynamic nature of the industry to accommodate technology applications, and ultimately produce a desirable result. The results from Amazon whose supply chain & warehouse management has been aptly complemented with the use of AI & ML could be explored further for better understanding.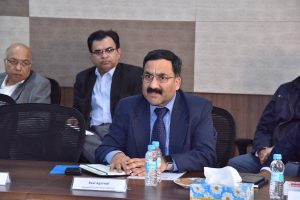 Following on a similar note, Mr. Ravi Agarwal, Managing Director, P&F stated the importance of exploring and understanding the markets first as every business caters to a certain market, and manufacturing forms the backbone of it. India being one of the biggest markets today with a high value chain proposition, if its own industrial capacity cannot service the market in the existing spectrum of cost & efficiency, it indicates tech players everywhere will need to be addressing this very challenge. Today, companies are looking at ways & means to expand production & supply capabilities for global competitiveness. He suggests that the imprint of digitization in manufacturing would need to be tackled seriously with an entrepreneurial mindset and not look at it as an exclusive or externalized offering in terms of Industry 4.0. Currently, piecemeal adoption is happening – but what is needed is to move towards an entrepreneurial mindset along with collaboration. Taking the example of mould manufacturing, which is a hardcore manufacturing arena that uses technology extensively to produce tangible results, economies of scale can create demand.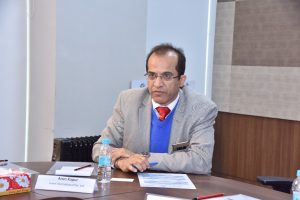 Mr. Arun Kapur, COO (Business Head), Luxor International stated how technology is making us market competitive. He gave an example from the automotive sector, where in a case of die casting, the metal was being manually loaded, due to which worker productivity could not be specifically narrowed down, leading to high markup of costs. However, when a robot was implemented to automate this entire process, it was observed that in a single hour, 2400 shots of die casting were produced, as opposed to the previous average of 1800. It comes down to the fact that a single entity had been able to ensure the best of all the three major parameters – cost, quality & delivery. While this appears to be an evident example of success in accelerating Industry 4.0's progress, challenges still exist. Some of the main issues include widespread adoption, lack of a standardized approach to measure metrics, and integration of a plug-and-play approach for technologies.
Challenges for Adoption Across Industry Value Chain
and
Demand & Supply – Industry Applications & Solutions
Mr. Neeraj Hans, Sandhar Technologies mentioned about the need of CFT for operations on the shopfloor which was crucial to operations. The focus was on bringing onboard tech to initiate a "smart line". Given that Sandhar works very closely with suppliers, today's solution makers need to focus on absorbing and integrating the inputs provided by supplies.  There is a need of supply chain – for scheduling, ordering, material track & trace progress and more.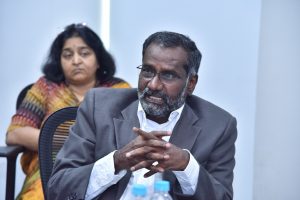 Mr. R Vivekanandah, CEO, Titan Engineering & Automation clearly spoke about the challenges that they faced during the technology adoption process at the client side. A Rs.300 crore company wanted Titan Engineering & Automation to look into their connectivity & software/hardware of CNC machine shops and assembly lines and had requested for information on the cost of product manufacturing of every single piece. The unfortunate realization was that there was no single platform available to do this job even though a lot of the data regarding the shop floor & assembly efficiency was available. Bringing onboard OEE visibility was a crucial step in Industry 4.0, to bring them all on one platform. What needs to be analyzed correctly, are the industry problems required to be solved. Some want flexible manufacturing for instant/quick delivery, while others seek quality & high productivity. The process needs to be understood well to identify challenges, and help in applying tech to address them.
Talking further about the initiative and the activities, Mr. Vivek Saha spoke of the strength of having use cases in this initiative which are a tangible, established method of measuring success. The top three use case areas were discussed and highlighted as focus areas for the involved participants.
Mr. Anoop Chaturvedi of Maruti added that one size does not fit all. The global manufacturing scenario is changing rapidly, and process automation is completely disparate. At a time, there are advanced manufacturing companies giving Chinese companies a run for their money while others are operating in less than favourable conditions. Morever, parameters change from industry to industry & even use cases, as the context, environment & challenges itself vary. A recent immersive VR implementation for one of their projects that comprised of industrial painting that has a high wastage, high toxicity potential, made precision inclusion a challenge. We used tech to address these specific, minute challenges. One has to solve this using existing info/knowledge about use cases. A factor to consider is the required maintenance and technical qualifications for this for which skilling has to be at par. He also stated, one of the biggest challenges plaguing the Indian manufacturing industry is scheduling & operations. Automotive and engineering companies want to avoid random expenses and are especially wary of experimental technology or operational activities and there is no common standard of communication for this industry as everyone speaks a different language. There has to be a simple, straightforward application element to be considered. When we're focused on so much inter-machine/people/equipment/process connectivity, huge amounts of networking need to be deployed, which additionally brings into play the element of security. One misstep causes a domino effect of mistakes. Maintaining standards is important, and if there exists a methodology that can be scaled, it can be referred as a baseline and adopted across industries.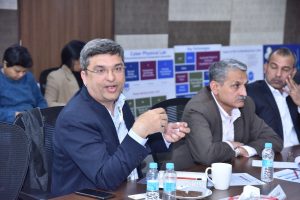 Dr. Rishi Bhatnagar, Aeris mentioned of one of their key offerings wherein M2M connectivity is addressed at the core of shop floor management. The platform is required to support different formats, industries, organizations. Upto 15 million devices connected on platform with 3.2bn messages being exchanged every day between the machines is a benefit from this platform. For greater interoperability and continuing the data flow, an integrated IoT stack as well is provided. However, the core challenge still remains in addressing the RoI for something meaningful to the organization, and exploring a one-fits-all approach with minor customizations.
Innovation at Scale – What's Impeding It?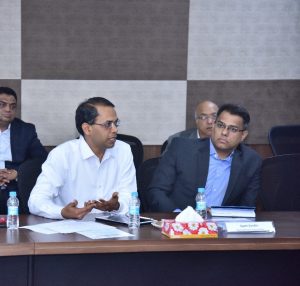 Dr. Sunil Jha, Prof, IIT Delhi and leading the AIFSM from IIT Delhi informs that Data definitely provides deep insights. There is only the need to develop a next generation network, modelled on Industry 4.0, while mapping all possible application areas to resolve the issues.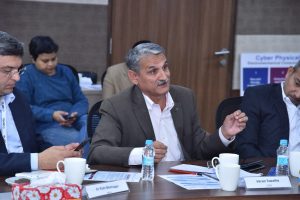 Being a person from the Communications and Network industry, Mr. Vikram Tewathia, Dy Director General, COAI informed that the 5G implementation is already in process, however, what the need to address the underlying ability to handle this data overflow is still existing. Coming to Industry 4.0, and the application of advanced technologies in telecom, early adopters of 5G will come into play for IoT device manufacturers & exploring low level latency. In telecom, while having access to important data, the industry leaders need the digitized and analyzed versions of this data.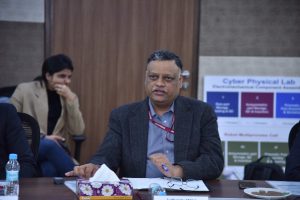 Talking about the initiative, Mr. Sudhanshu Mittal, Director, Technical Solutions & Head, CoE Gurugram highlighted a major challenge – a huge issue is the impeding rapid growth in this sector and the relevant skills. Startups/SMEs have a major role to play in Industry 4.0 but they often do not know their role and how to address it. For instance, they may have the necessary tools & expertise to develop an easier production process, but require immense amounts of guidance to implement, execute and derive the desired results.
Strategic Direction & Decision Making
The successful discussions during the roundtable has helped NASSCOM Center of Excellence to try and etch a roadmap to address these challenges, and take into consideration the valid concerns and observations provided directly from the industry.
With this, the key takeaways for our stakeholders are as highlighted below: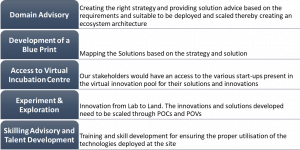 First Roundtable Attendees: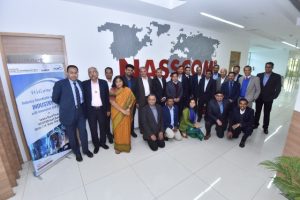 | | |
| --- | --- |
| Sharad Nigam | Director & Smart Manufacturing Lead, Hitachi |
| Ashish Nayan | Deloitte |
| Amol Deshpande | Head of Digital – Tractor & Agri, Mahindra & Mahindra |
| Arun Kapur | COO (Business Head), Luxor International Pvt. Ltd |
| R Vivekanandah | CEO, Titan Engineering & Automation |
| Anoop Chaturvedi | Former Sr. VP Production Engg, Maruti Suzuki India Pvt. Ltd |
| Shailendra Jha | Vice President, Reliance Jio |
| Dr. Rishi Mohan Bhatnagar | President, Aeris |
| Kush | CTO, SenRa |
| Vikram Tewathia | Deputy Director General, COAI |
| Syam Sunder | Director – Tech & Business Development, MSC Software Corporation |
| Uma Balakrishnan | Founder, Axcend |
| Sriram Paramanand | MD/Head – Network Architecture, Rockwell Automation |
| Neeraj Hans | Sandhar Technologies |
| Pratul Chandra | Independent Consultant |
| Yaduvar Goel | GPP |
| Sendil Kumar | Deputy Director General, Ericcsson |
| Vivek Saha | Director & Head, Digital Transformation & Industry 4.0, NASSCOM |
| Sudhanshu Mittal | Director, Technical Solutions & Head, CoE Gurugram |
| Amit Saluja | Director, Industry 4.0 & Center Head, CoE Gandhinagar |