India's Moment to Shine in the Long-Lost Manufacturing Space – Take 1 – Mobile Manufacturing
Anger, fear, or sheer practical business sense – call it whatever – but something tectonic, this time above Earth's crust, is happening due to Covid-19.
1000 odd companies have been reported actively discussing plans to shift their complete manufacturing base out of China! Huge! These are units manufacturing mobiles, electronics and components, medical devices, textiles, and synthetic fabrics. This has further added to the strong reshoring voices that have risen up due to Covid-19.
Let's just look at global mobile manufacturing patterns.
China rules the roost. By end of 2020, projections are that China will have produced 1.935 bn units = 38% of the global production of ~5.1 billion units (a Covid-19 dent will appear in the charts).
It was in year 2000 that China overtook world-leader USA in mobile phone production, by volume. In legal terms, China was the "country of origin" of those units produced.
With 38% of global volume in control, how will the large mobile phone companies, most of them American and Korean, dismantle their flourishing empire in China? Put this into more perspective – current US production capacity stands at 8% of the global output! South Korea is not in the top-10 list!
Interestingly, these companies indicate moving to India!! Where are we in the scheme of things?
Let's start from the start of this analysis – 1980. Then, India was part of the top six mobile phone producers; China was in too. By 1983, India had surpassed China, almost tripling production to 1200 units (what a simple world we were in!). 1986 – China was off the top-10 list, India had risen to the top-5.
Then, a steady decline and by 1991, India had dropped to the bottom of the list, and then off the list! Interesting, that China made a reentry into the list in 1991. At this time, US and Japan were the top producers. US did 64% of global production!
Fast forward to 2000, when China was surpassing the US, India was nowhere.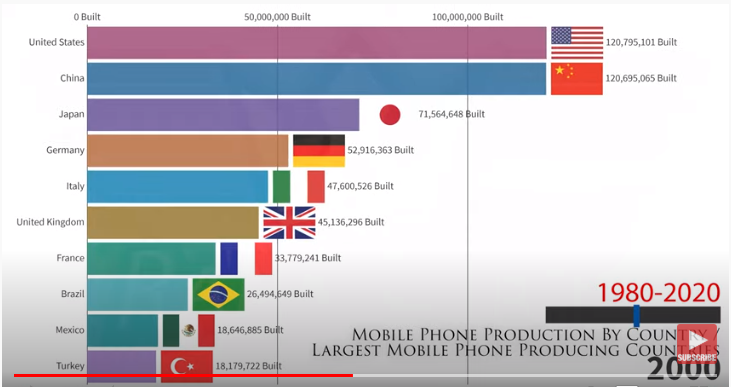 So, what happened in the last two decades?
India re-entered the list in 2002, and by 2005 – it became the third largest producer of mobile phones worldwide, after China and USA! India overtook US in late 2006, even better!
Today, India is the second largest producer, accounting for nearly 24% of global production.
What is the most spectacular part of this analysis?
China re-entered the list in 1991 and took 8 years to reach the top-2. India took 4 years…and that too when the production scale was growing exponentially.
Another interesting thing to note – the list of top-10 itself has changed dramatically. Now Indonesia is the 3rd largest producer, and UK, Germany, France, Turkey…etc..all hall of famers are nowhere! We have Russia, Brazil, Nigeria, Bangladesh and Pakistan in the list.
This is a dichotomy – why India as the hub of manufacturing?
India has the opportunity, but no longer the cost vantage! Same as China. Now both countries will sharpen their quality, expertise, experience, design, and service edge. They will smoothen the supply chain flow as butter. Who responds better to customer demand even before it emerges and enables sustainable trust will win!
For India, certain factors will hold crucial in a post-Covid 2019 scenario
Ability to build a nation-wide skills map for the complete range of electronic/sub-component manufacturing capabilities the country needs and has (AI/ML)
Ability to devise low-cost automation solutions to demonstrate automation capabilities to the world. Countries reshoring are basing it on the premise that robots in their own countries will prove to be the cheapest solution. Can we be cheaper than that? (AI/ML/Automation/Robotics)
Mass-scale energy optimization measures – interconnected grids to redistribute energy, alternatives plugged into grids, energy generated by end users – individual homes using solar devices or creating energy from waste – also connected into common grids (IoT/Edge/Blockchain)
High-scale predictive manufacturing and related processes – equipment failure, possibility of a golden batch, first-pass through, output segmentation to pre-plan distribution, worker physical and psychological well-being management, supply chain securitization through planned diversification, distribution networking, promotional swing prediction, and managing demand fluctuations and the famous bull-whips! (AI/ML/IoT/Cloud/Big Data)
Push for localization – to mitigate risks of broken global chains. Each state has the opportunity to become a self-sustaining unit. A lot of design thinking will go into this, but will bear immense fruits (Smart Clusters using all digital tech available)
Government of India has initiated a slew of measures:
INR 40,995 Cr of production-linked manufacturing incentive scheme for mobile phone manufacturing, specified electronic components, including assembly, testing, marking and packaging (ATMP) units – 4%-6% topline (sales) incentives over sales value for 5 years
INR 3,285 Cr scheme to promote domestic production of electronic components and semiconductors (SPECS) that are inputs to specialized electronic components, sub-assemblies and final products needing high value-add manufacturing – 25% incentive on CAPEX over 5 years.
INR 3,762.5 Cr allocated to creating Electronic Manufacturing Clusters 2.0 – for common facilities till 8 years.
Steps in times of Covid-19 crisis show the resolve to help India regain its lost manufacturing glory. Time will surely tell.
In the next post, we will visit the Auto industry and evaluate India's global vantage. There is no competition here…it is a quest to deliver the best for local and global consumption in a true free-market spirit. Let us know what you think India can do…India should do!
Sources:
Top Highest Mobile Phone Producing Countries (1980-2020): https://www.youtube.com/watch?v=Y7-VTuDFdu4
GSMA reports