NASSCOM CoE DSAI & FutureSkills Launch Faculty Development Programme in AI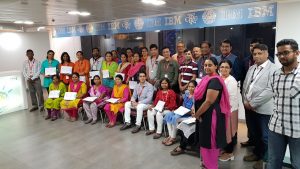 The advent of emerging technologies is recasting all industries and requires leaders to adopt new capabilities to gain competitive advantage. The Top FIVE Technologies worth investing going forward are as follows:
Internet of Things
Artificial Intelligence and Analytics
5G Connectivity
Serverless Computing
Blockchain
In the recent times, artificial intelligence has emerged from the confines of scientific labs and found various uses to impact our everyday life. It is expected that the data science and artificial intelligence industry in India (IT and non-IT industries) will be worth US $16 billion by 2025. As per a recent study by NASSCOM, there is a likely shortage of ~2,38,000 data science & artificial intelligence professionals over the next three years in the country.
About FDP
Broadening its resolve to democratize AI learning, the Faculty Development Program offers a comprehensive and a well curated schedule. It aims to provide the faculty in AI with the necessary exposure to real-life business problems by working closely with industry experts and providing access to latest tools and technologies in the AI space. This is a 125 hours of blended learning Program customised for the faculties of future. The focus was to ensure the faculties have enough time for self- paced learning which was approximately 100+ hours. The faculties were given access to NASSCOM's FutureSkills learning portal for the self-paced learning. Apart from the prescribed program the faculties also had access to short focussed learning nuggets to build familiarity with new topics.
The Faculty Program commenced in the month of September, 2019.
The self- paced learning was divided into 3 areas which were:
1) Foundation
In foundation, broadly topics like Overview of AI, Programming languages (R&Python) and visualization was covered.
2) Core
In Core, Topics like Predictive Modelling, Time series forecasting, Machine Learning and Optimization techniques were covered.
3) Deep learning
In Deep learning, topics like Vision, Speech, and Neural Networks were covered.
Once, the faculty completed the 100+ hours of self-paced learning an assessment was conducted to review and validate the progress of the Faculties. On successful completion of the course, the Faculties were awarded with certification of completion.
Post this, the faculties were exposed to 3 days Industry workshop conducted by an IBM expert in IBM's India Innovation Centre, Bangalore in the month of January, 2020.
In this workshop, the faculties were exposed to programming concepts, hands on experience working on live data/use cases.
This batch of Faculties had representations from Dayanand Sagar College of Engineering – Computer Science & Engineering and Department of Management Studies, GITAM University, BMS Institute of Technology & Management, Christ University and Dayanand Sagar College of Arts, Science & Commerce.
Please, reach out to Sudeep Kumar Das at Sudeep@nasscom.in who leads the Skilling Initiatives at NASSCOM, DSAI-CoE for further details .We look forward to receiving your nominations for the next batches which would tentatively start in April and November 2020.