#TechFightsCOVID: 10 AI use cases to help retail enterprises amid COVID-19
COVID-19 has had an unparalleled impact on the economy with a slowdown expected in most sectors including retail. In the short to mid-term, COVID-19 and subsequent nation-wide lockdown has further worsened the challenges faced by Indian retailers. With broken supply chains, it has led to a disconnected demand and supply making it difficult for retailers to cater to customer needs. It has also forced customers to rethink their purchase requirements and has led to a shift to contactless mode of deliveries, which is bound to become the new normal going forward.
Establishing the right balance between demand and supply becomes key for retailers
The Holy Grail for retailers is not only to identify the target customers and their real-time needs but also to proactively procure the right products to cater to the identified demand. This is even more critical amidst the COVID-19 pandemic, when due to broken supply chains there has been a massive demand supply mismatch.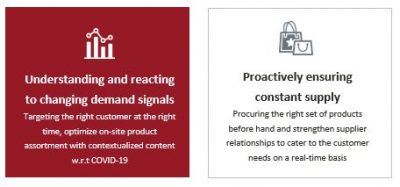 Digital enterprises that are utilising the data generated across the retail value chain and customer touchpoints to deploy AI-powered solutions have a significant edge over others. Here are my top 10 picks for AI use cases that can be a good starting point for retail enterprises (specifically amid the pandemic) in their journey towards becoming an intelligent enterprise. These use cases will definitely help retail enterprises survive the crisis and thrive in the long term.
Customer Segmentation – Use of AI for creation of customer segments and personas based on real time transaction, demographic and behavioural data, enabling retailers with dynamic pricing for its products, predicting customer behaviour to target and personalise communication, and create cross-sell models.
Demand forecasting – Using machine learning and leveraging contextual data to build models enabling retailers to optimise product availability, and gaining a better understanding of sales patterns and anomalies.
Store Assortment Optimisation – Customers are restricting their store time with the fear of COVID-19 and that makes getting the right product assortment critical. AI helps store-level customisation of assortments based on store data (returns, purchases, and receipts data). This can also be done for online stores to help increase customer retention.
Hyper Targeted Campaigns – It is critical for retailers to identify the right time to push a particular product to ensure maximum sales. AI-powered systems are helpful in suggesting the product and time slot in which it needs marketing.
Personalised Marketing – For successful hyper-targeted campaigns it is also important for retailers to ensure the right marketing channel and the right message. Based on a customer's past behaviour, AI-powered system picks the right way (channel, messaging, and discounts) of communication and sends personalised messages.
Fraud Detection – The risk of potential frauds also increases amid these trying times, with a huge volume of online orders. AI-based system can predict potential frauds based on customer profiles and past purchase/returns data.
On Time Delivery – With majority of customers opting for home delivery of products, it becomes critical for retailers to ensure on-time delivery. Predictive analytics and AI algorithms can help determine the most cost-effective and energy-efficient route to the destinations.
Omni-Channel Customer Service – With restricted access to physical stores, consumers are opting for Omni-channel services. By connecting experiences across channels, building customer knowledge through data and creating discussions within user communities, AI platforms help brands acquire, retain and grow relationships with their customers.
Customer Service Chat bot – The need for contactless deliveries has forced many consumers to opt for online purchases. The high volumes also result in larger volumes of queries and concerns. AI-powered chat bot can understand customer's queries and respond. It can understand a customer's emotion and can prioritise and alert human customer service agents to intervene.
Visual Workforce Monitoring – AI system to detect safety compliance of the workers. This is specifically important in the current COVID-19 times when hygiene factors are critical. If the system detects any violation of safety norms, it can alert and share images for review.
NASSCOM Research, NASSCOM CoE – DS&AI along with EY released a report titled "Indian Retail: AI Imperative to Data-Led Growth" focusing on AI opportunities in India's retail sector. The report provides a unique periodic table of 100+ AI use cases across the retail value chain. The use cases identified in this article are also a part of the report. The report also highlights best practices across retail enterprises that have implemented these use cases.
Download the report now: https://tinyurl.com/y9johts2