Demystifying Tech for the TECHADE: Big Data & Analytics (BDA)
With plethora of data at our disposal, big data and business analytics solutions are bound to witness an increasing enterprise-wide demand. This demand is expected to be led by strong executive-level initiatives targeted at faster, decision-contextualised, and predictive insights, which could be drawn from the available data. The data could be business data, consumer data, and machine-to-machine data, analysed on cognitive platforms, at decentralised locations, and often for real-time impact.
Big data analytics can help businesses make faster data-driven decisions, improve operational efficiency and reduce costs by understanding consumer behaviour.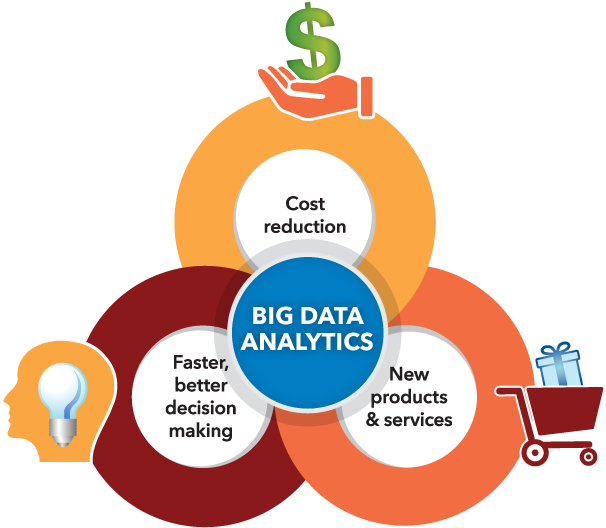 Source: SAS
Global State-of-the-Market for BDA
As per IDC, the global BDA solutions revenue stood at USD 189 bn. in 2019 and is expected to reach USD 274 bn. by 2022. As of 2019, IT services and business services accounts for more than 50% of the global BDA revenue, followed by BDA software and platforms and BDA hardware. More importantly, it is estimated that by 2022 more than 40% of the BDA software revenue will come from software hosted on public cloud, led by AI/ML platforms and cloud-native APIs.
Significant implementation of the technology has been witnessed in banking, professional services, public sector, discrete and process manufacturing, accounting for more than 50% of the overall global BDA revenue in 2019. Sectors expected to see the fastest growth comprise financial services, telecom & media, manufacturing, retail and personal & consumer services. The post-COVID scenarios are yet to be evaluated in terms of investments and returns.
Amidst COVID-19, when supply chains are disrupted, and consumers are re-evaluating their needs and monitoring their expenditures, businesses overhauling their current business models. Big data analytics can help understand consumer behaviour by drawing data-driven insights. This can help businesses focus on running tailored marketing campaigns by understanding different customer segments and their sentiments.
Adjacent market developments supporting BDA adoption
The shifts in BDA technology during TECHADE will lead to transformations in data management by enabling self-configuring, self-tuning AI-based data models. Combining AI with self-learning ML and NLP algorithms on open-source platforms will enable advanced analytics workloads to operate on public/hybrid cloud systems. Some of the key market developments that are driving BDA adoption include analytics at the edge, augmented analytics, AI-powered BDA, and NLP based continuous and real-time intelligence.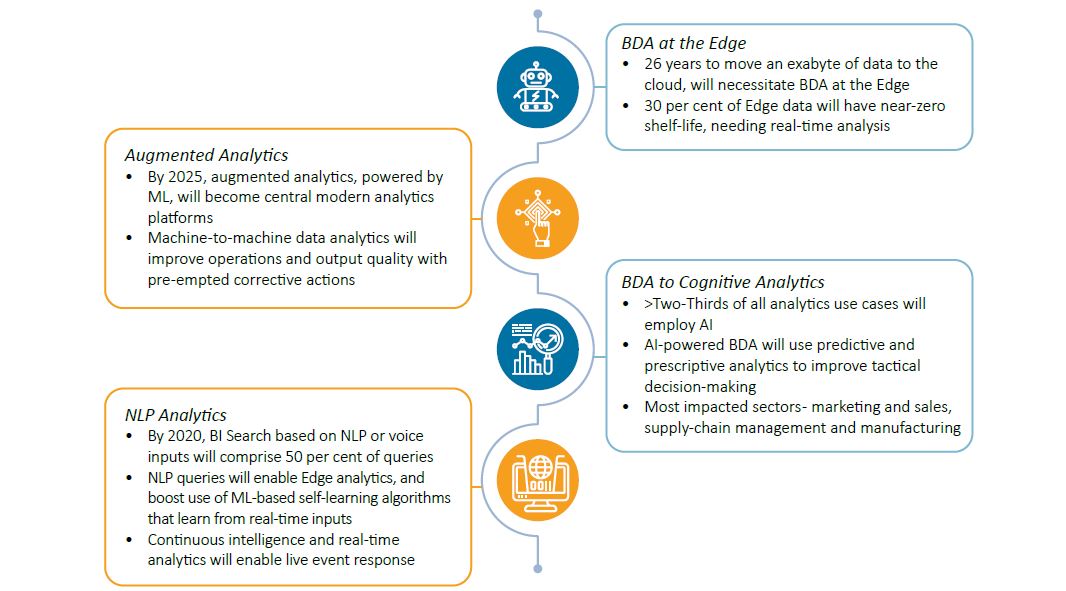 Evolution in BDA and enabling/dependent technologies 
Some of the key trends comprise augmented analytics, continuous intelligence, edge analytics, natural language query and generation. Here some of the BDA tech trends that will govern the TECHADE.

How do you think analytics can help us in the current situation? Share your thoughts and stay tuned for more on this topic and other emerging technologies.
Read our full section on TECHADE 2020 – Technologies driving global GDP in the decade to 2030 for more details.