India and the Golden Era of EngineeringNXT
Are we ready for $100 Billion ER&D services from India by 2025?
The time is ripe for India to open the doors to EngineeringNXT. A slew of new age technologies is taking center stage, spelling the beginning of the Golden Era for Engineering R&D Organizations in the country.
According to a report by NASSCOM and consulting firm Zinnov, Indian Engineering and R&D (ER&D) services and products contributed US$36 Billion to revenue, overtaking those of BPM that stood at US$35 Billion (total revenue from the technology sector stood at US$177 Billion)1 in 2018-19.
This trend is part of the steady progress demonstrated by India. In the decade between 1995 and 2005, India started delivering low-end engineering, like CAD/CAE, embedded software testing and validation services as part of what can be considered as Wave 1 of ER&D services.
During the Wave 2 period between 2005 and 2015, India competed with global providers in the product development, software development and system engineering space. This period was marked by acquisitions that strengthened the ER&D sector.
Now, in the decade between 2016 and 2025 we are at the cusp of the most interesting era, or wave 3.0 of ER&D services, where the dominant EngineeringNXT trends in new tech is turning India into the new frontier of Software & digital engineering at scale. With proven IP protection to global clients, highest level of information security standards and large pool of engineering software & digital technology talent, India is poised to accelerate the growth to a CAGR of 18-20% and revenue up to US$ 80-100 Billion by 2025.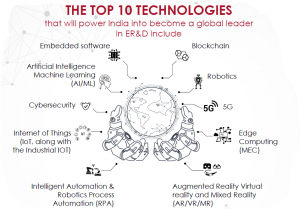 In fact, in seven of the Top 10 technologies, India has the largest number of engineers.
The signs of this change in the complexion of India's IT industry are starting to show up in a variety of ways. Late last year, Intel set up its second design center in Bangalore with an investment of INR 1,100 Crore with an intent of focusing on new age technologies such as AI and 5G. This is Intel's largest center outside the US2 and speaks for the confidence the chip maker has in the engineering talent available in India. Also, the Global India centers (GICs) developed about 4000+ Patents (Intellectual property) from the India centers leveraging the Intellectual arbitrage. These centers focus on software products, telecom products, medical devices, autonomous car software, avionics, etc.
The reason for this dramatic shift has a simple explanation that goes beyond the availability of the right talent. Take the case of automobiles. The auto manufacturing industry is shifting focus towards electric vehicles. This is making the accumulated manufacturing knowledge of internal combustion engines over the last 143 years redundant. The technology going into today's autonomous vehicles and connected cars has been disaggregated in terms of hardware & software, as product engineering providers for the industry can be anywhere across the globe.
It's clear that while China dominates the manufacturing and hardware side of electronics, India is going to dominate the software side. And the need for advanced software will continue to grow exponentially. While systems in aircraft run on 10 million lines of code, autonomous cars will run on 100 million lines of code. As the ever-prescient Marc Andreessen, co-author of Mosaic, the first widely used Web browser and co-founder of Netscape, said back in 2011 – "software is eating the world"3. And India is going to 3X the downstream impact of software and grow its revenues from EngineeringNXT to around US$100 Billion in the next few years.
The ecosystem to drive EngineeringNXT is rapidly falling in place. According to the NASSCOM-Zinnov report – The Indian Tech Start-up Ecosystem 2018, there were 1,200+ start-ups added in 2018 alone. The news on the start-up front is extremely encouraging—eight start-ups became Unicorns in 2018, the highest ever in a single calendar year. And the secret of this success? It is the rise of the multi-skilled Indian Engineering/Digital talent that is eclipsing the low-end work that India was once known for. EngineeringNXT is here – and it is changing the global perception of the Indian ER&D industry.
https://timesofindia.indiatimes.com/business/india-business/engineering-rd-beatsbusiness-process-management/articleshow/69737906.cms
https://economictimes.indiatimes.com/tech/ites/intel-sets-ups-second-largestdesign-centre-in-bengaluru/articleshow/66635984.cms?from=mdr
ABOUT THE AUTHOR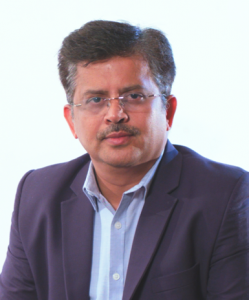 KARTHIKEYAN NATARAJAN
Global Head – Engineering, IOT and Enterprise Mobility, Tech Mahindra
Karthik has around 27 years of professional experience in Product Development, Globalization and digital transformation strategies. He has successfully implemented global engineering strategies for several Fortune 500 clients and has built global development centers across the regions. Karthik has been responsible for building market expansion strategies, partnerships, domain expertise and capabilities across the engineering industry verticals including Digital business transformation. Karthik is Co-Chair of Engineering Services Forum at NASSCOM. Karthik was recently recognized at World CSR Day as one of the 51 Most Impactful Smart Cities Leaders, an annual list that recognizes global leaders who are transformational agents for social change.