India Transforms: Power of 'Designeering'
The symbiotic relationship of Design and Engineering is truly dyadic. In development of many products and solutions, the duo's role is so intertwined that I often collectively refer to it as 'Designeering'.
I imagine that this zygote would serve as a powerful instrument to India's technological prowess and economical progress. India's entrepreneurial spirit, combined with technological innovation, should create meaningful solutions that transform everyday lives qualitatively.
Smart devices with variety of connection, cognition and interaction pave the way towards that mission. Numerous gadgets capture image pixels, record voice information, provide tactile feedback and even sense physiological activities. User-centric design and data-driven engineering offer significant efficiency and pertinent value-add to the end-users while they use these systems.
Today's world is getting richly connected, ushering in growth of intelligent ecosystem. My firm belief is that India could benefit immensely by building as well as by being part of such ecosystem at multiple spheres of life. In the new world, each and every human being potentially could be at the center-of-the-universe.
I enthuse design and engineering community of India to study deeply this world-wide change. I encourage people with 'designeering' acumen to define optimal processes that bind people-to-technology and implement wisely for the benefit of Indian populace. As Indian talent transforms Indian lifescape, it should also contribute towards shaping tomorrow's connected world.
ABOUT THE AUTHOR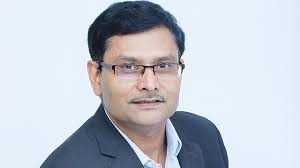 Dr. Aloknath De
Corporate Vice President, Samsung Electronics and CTO, Samsung R&D India