#TechFightsCoVID-19: Virtual on-Boarding of new recruits amid corona-virus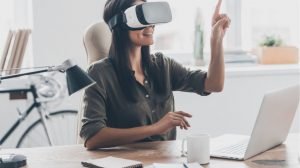 Havoc due to Coronavirus all over the world has increased the apprehension of jobs for both employees as well as employers. The current offer letter is into question, interns are being doubtful for their career. The future of thousands of people is on stake. Amidst all this, HR is coming out with great solutions with the help of the technology where they can obviate all these fears and can save the future of a plethora of people.
There are many companies within industries where certain roles are crucial to be carried out. For example, Amazon plans to hire 1, 00,000 warehouse and delivery workers to match the online orders during the outbreak.
HR is recommencing with all their HR functions such as recruitment, onboarding, payrolls even training and development. HR is preparing for virtual onboarding as a solution to recommence with the offer letters after the recruitment process.
Onboarding is a foundational building block for making an employee feel connected to the organization. Where physical presence completes half of the job in virtual onboarding there is no physical proximity but the virtual one. Extra efforts are to be made towards the onboarding process in the time of COVID-19
Research by the glass door, that great employee Onboarding can improve employee retention by 82%.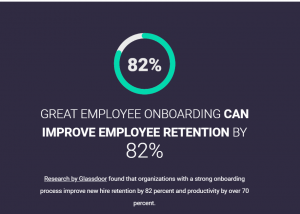 This makes perspicuous that why big IT giants– who have a record of hiring 2,05000 new employees in FY20 as stated by  NASSCOM, have moved towards the virtual onboarding process.
Accenture is taking forward all the offers made so far and will be making all the benefits available for employees from the date of joining.
Where the "my Wipro" journey starts with onboarding of a new employee, covering the entire lifecycle of an employee and concluding with offboarding. Wipro has confirmed to respect the offer letter of new employees.
Where Tech Mahindra is planning for the same virtual onboarding process will be the new shift in HR-tech
Virtual onboarding is a virtual part of the offline onboarding process, where employees need to assemble in the event room to start with the process, but here in virtual onboarding employees need to log in to with their computers to the invited virtual corporate platform.
Employees connect through a series of webinars and other rapport-building activities with HR. Employees can listen and interact with the leaders. Speeches may come from the companies' CEO as well. Employees receive the on-the-job experience through their actual positions and also they can be allotted 40-50 minutes in the voyage program.
Key points to be careful about during Virtual onboarding program are:-
Keep in mind to cart off the guards that stand between employees and their new environment.
Engaging employees with the organization's -culture familiarization.
Virtual enrolment, virtual presentation, virtual communication, virtual connection.
Provide the block for feedback from employees, through surveys.
Provide synchronous as well as synchronous sessions to employees i.e with a group as well as personal on coffee sessions.
Introduce coaching and mentoring program for each individual based on their SWOT for their personal development.
To make it a success HR needs to develop exciting and engaging activities during the program. They are required to keep track of each employee's progress. Chatbots can play a major role in instantly answering the queries juggling in the mind of new employees. The organization on their part has to provide employees with all the possible resources they can which can help the efficiency and effectiveness of the employees.
References:-
https://www.fastcompany.com/90480127/how-to-onboard-new-employees-when-youre-all-working-from-home
https://www.shrm.org/resourcesandtools/hr-topics/talent-acquisition/pages/dont-underestimate-the-importance-of-effective-onboarding.aspx
https://economictimes.indiatimes.com/tech/ites/only-a-few-it-cos-honour-job-offers/articleshow/75016916.cms
BRIEF PROFILE
Kirti Kumar is a budding HR professional currently pursuing PGDM in HR and Marketing at New Delhi Institue of Management. She looks forward to opportunities that can hone her skills. She is agile in her attitude with versatility in actions.