GCC 3.0: Spotlight on Digital, Partnerships, New Delivery Models & Future Skills
Over the last decade, India's GCC juggernaut has been firmly established – a journey that began as a back-office support centre has now emerged as the centre on innovation for many MNCs. Global macro-economic developments (H1-B visa issue, Brexit, etc.) are furthering the cause for offshoring to India and increasingly, MNCs are establishing India as their second largest delivery centre outside their headquarter locations.
India's GCC segment revenue stood at $28.3 billion in FY2019, a 21% share in total exports revenue and it employs over 1 million people. GCCs have matured to enable breakthrough innovation for their parent companies, thus providing a sustainable competitive edge. They are also setting the digital roadmap (AI/ML, Big Data Analytics, IoT, RPA, etc.) for their parent companies and are the key source of digital talent.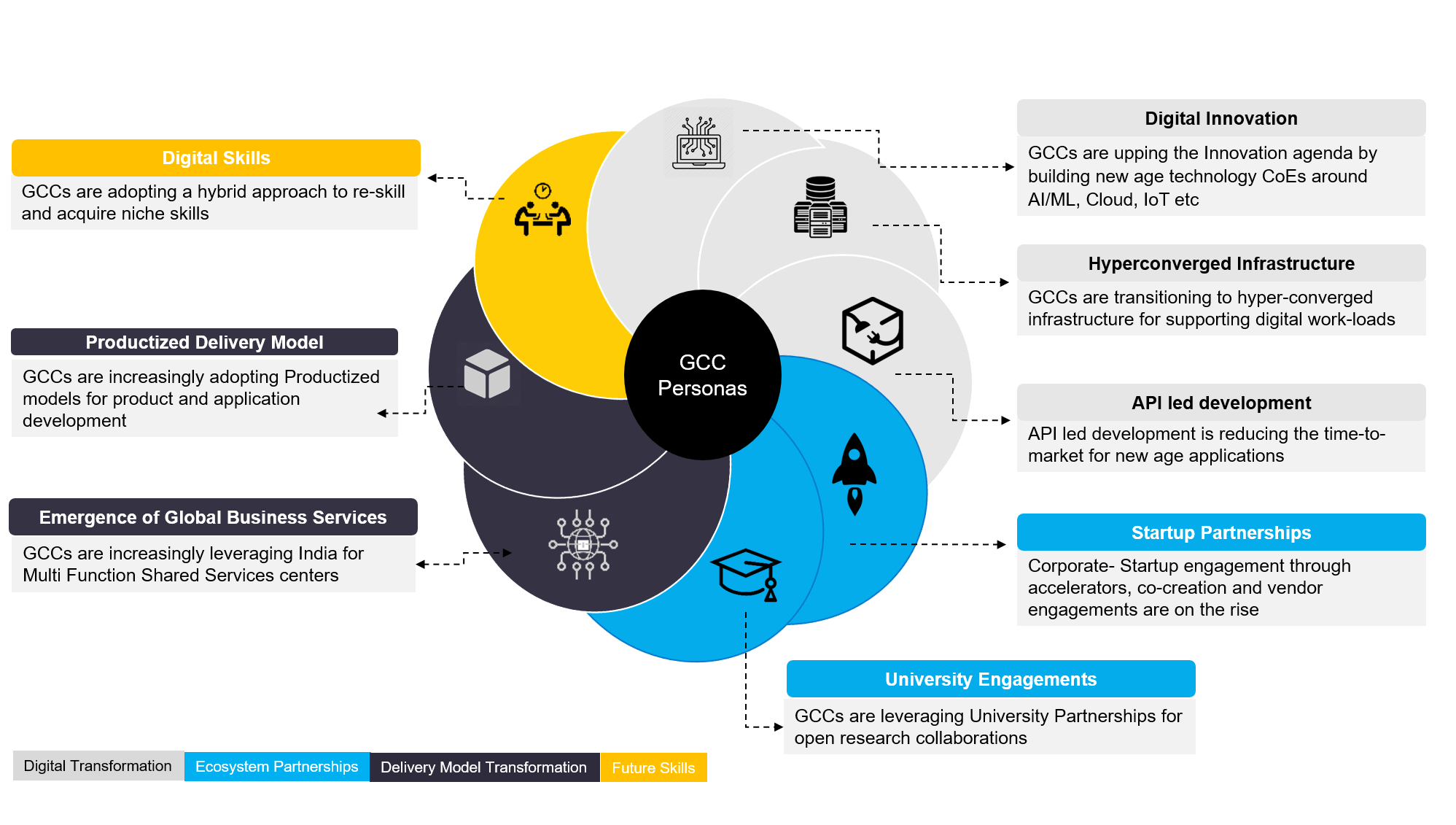 ER&D GCCs registered a ~11% growth due to increasing focus on products and platforms, and the rising penetration of digital and software across industries
IT-BPM GCCs grew ~8% driven by a focus on automation across infrastructure and process segments
AI, ML, IoT, Analytics and Cloud computing are key digital focus areas for GCCs in India
GCCs using a combination of federated, centralised, JV/M&A approach to augment digital initiatives
Increasing engagement with startup community – setting up Accelerators, partnership programs, etc. – another means of digital transformation and joint GTM strategies
In terms of geographic representation, North America headquartered companies account for 70% of GCCs in India followed by Europe (20%). APAC headquartered companies are also increasingly looking to set up GCCs in India. Currently, there are about 100 GCCs from this region; leading the charge are Japan, Singapore and China.
Often, new centres being set up in India are designed as Centres of Excellence (CoEs): In various digital technologies – analytics, blockchain, AI, etc. – focused on growing competencies; Strategic CoEs (product management, state-of-the-art labs) or Market oriented (developing products for emerging markets).
Going forward, GCCs have begun to showcase their autonomy as they increasingly take ownership of complete product portfolios and digital initiatives. They are also extending their span of control to become multi-function global centres.