Design Thinking – Maximising Industry 4.0 Innovation Through The Human-Centred Dimension
Industry 4.0 redefines the automation of the industrial system through digitalisation and aligning the value proposition of an organisation. Though there are umpteen number of ways to nominate transformation linking to the digital economy, systematising the role of design would be a delightful network of experiences for both the customer and the enterprise. The contribution helps to craft a digital road-map by highlighting the gap between the existing system and the simultaneous ongoing transformation, in addition to the interconnectedness of technology and design practices.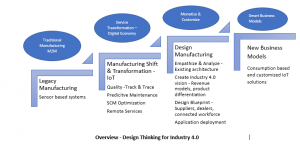 There is an immediate need within manufacturing to shift structurally from low value-added sectors to high value-added sectors. Hence to enable this transition along with spending on R&D, sectors would require adopting advanced digital technologies and build a connected ecosystem. The revolution under way would be around the real possibility of using all or most of the advanced technologies to achieve both the optimisation of production system and addressing the gap between manufacturing and digital spaces. Parallel to the availability of enabling technologies, the manufacturing system has evolved and been meshed with design thinking.
Design Thinking Approach – An immediate pattern
Design practices have a pivotal role now in the transformation journey. Industry 4.0 would involve the ability to operate in a disruptive manner that generates solutions aligned to a customer's specific problem. Thus, the people-centric design thinking process helps companies in bringing together all the intelligent technologies for redefining customer experience and building smart business models. Over a period, organisations would need a platform to tackle the complex business challenges, developing solutions with less iterations and monetising it at a later stage. Building a groundbreaking value proposition implies for a design thinking framework that can be implemented in any industrial sector. However, pinning on the use case remains a significant concern. Organisations should have a well-defined use case in place to apply the design thinking approach which pulls an idea through the execution stage.
This human-centred process reminds one of the famous quotes by Albert Einstein "We can't solve problems by using the same kind of thinking we used when we created them."
Industry Use Cases:
The design approaches have already driven innovation for businesses across sectors. Airbnb's innovative transformation journey typically signifies a step-up and the gradual growth curve from a failed startup to a billion-dollar business today that started with around $200 a week in 2009 to a projected revenue of $8.5 billion in 2020. Also, Netflix stays ahead of its competitors by following the design thinking process that helps them predict customer preferences and deliver services which is all done by "Empathising" with the audience. Home Depot is again another classic example of how it is driven by design thinking and helps innovate within their product teams. This helps to redefine their business performance by inclining its services to customer's key needs.