AgriTalk with Ritu Verma, Co-Founder and Managing Partner, Ankur Capital Fund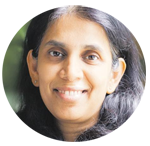 Ritu Verma is the Co-Founder and Managing Partner at Ankur Capital Fund. She has a PhD in physics and worked on investing in IP led renewable technologies globally. Ankur is a social impact driven fund that invests in business models that address core challenges in agritech, food, healthcare, skill development and education. Here we talk about her unique outlook and aproach to technology. 
How did the idea of Ankur Capital come about?
For me the motivation to embark on this adventure was born out of a desire to create a change. I had spent most of my life working on innovations, as a physicist, PhD, as part of innovation teams at Unilever and Philips bringing, soaps and TV's to the market around the world. I had even toyed with IP led investments at BASF looking at cutting edge renewable energy businesses. But the gap that these roles didn't fill for me was where are the innovations that could drive change for the bulk of the people in India and he issues they faced. As part of my old job I had sat at the homes of many folks at BDD chawl. The large bottles of Vaseline which were filled with a small sachets cream of told the story of the aspiration that existed in this market and my employer made good money tapping into that sentiment. But at the same time I was thrown out of offices when I came back to find innovations in renewable energy and told in no uncertain terms these were for the west not for India. So to me there had to be a middle ground – perhaps they didn't need to be game changing technologies, perhaps there were more relevant innovations that took into context the realities of the ground and built those into the businesses that could create impact on ground. So when Rema and I met we were mentoring such startups and to then setup a fund that could provide the fuel to make these actually realize the opportunities was an obvious choice.
Between Rema Subramanian and you, Ankur is one of the very few VC funds globally to be run by women. What is your perception of the funding ecosystem from a gendered point of view?
As you mention there are very few women in the ecosystem. We personally haven't felt any differences being women in the system but having said that getting to a better balance in the ecosystem whether it is funders or entrepreneurs or employees is important. Our women entrepreneurs do an amazing job. Our very first investment saw over a 10 x growth and gave us a timely exit was run by a woman. As we develop more role models I am pretty sure we will see many more women.
Your social impact focus via investments in healthtech and agritech is a brilliant idea. But has it also been a good business idea?
Definitely. Our thesis is focused on creating impact and if businesses don't thrive and grow then impact is not going to happen. And this is panning out. Our companies have leveraged over 6 times our investment amounts from a very diverse range of funders reinforcing the faith that money follows good opportunities. The companies have seen impressive growth demonstrating eh demand on ground for such products and services and we have had an exit which has delivered good returns to our LP's. So all in all the business case to invest in these markets is stronger than before and we should see exciting times ahead.
Funding in agritech is set to grow exponentially over the coming years. How is the sector different and what will you advise to the new funds coming in?
I think Agritech is one of the spaces that is underpenetrated and will grow in the coming years. In our opinion it is one of the last major sectors where technology has just started making inroads so there are vast opportunities. However it is important to understand that this sector has been around for ages, is highly fragmented and hence fiercely competitive. It is important for new entrants to understand this market and the context to find the opportunities that look at creating the disruptions that are long overdue in this market.
Cropin, one of the startups you invested in, is now operating in more than 20 countries. A few others are exploring offshore markets too. How do you see that shaping up? Can India replicate the BPM success story in agritech?
29 countries! Cropin has been an exciting investment and it is a great example of how agritech developed in Jharkhand has relevance globally. Agriculture markets have similar structures in many markets and for quite a large part of the globe farming is done by small family farms. In addition food is still dependent on land and sourcing needs to happen globally exposing large processors to countries with fragmented holdings. This fragmentation throws up similar challenges as farming in India and global supply chains need fairly similar solutions. Thus India has the opportunity to create many such agritech companies with global applicability. One of our other investees, Agricx, whose solution looks at using AI to standardize produce grading has a very positive response in Europe. Once again this goes to show that solutions developed in India can address agri related problems in many parts of the globe. In our view you are going to see may more examples.
What sort of interventions does the agritech sector need to scale up within India?
As Agritech is in its infancy it is important that it gets support from an ecosystem to scale rapidly – this includes partnerships, funding and appropriate policies. We are part of a set of co-founders in setting up a platform called ThinkAg, which is looking to provide the ecosystem where different stakeholders in the agri system come together to accelerate innovations. Today more and more corporates, SME's are looking at innovations to address their challenges and grow their businesses. The environment to get these existing businesses to partner with young innovations is ripe and just needs the right 'Grease' to get it going. In a short time we have seen overwhelming response and more importantly active partnerships that have been forged.  In parallel, it is important that funders have a place they can go to – to accelerate their understanding to take on these investments. Once again having all key stakeholders in one place allows knowledge transfer and building so that the ecosystem can attract the capital to scale.