Agritech Case Study Series: Jivabhumi
Product Name: FOODPRINT™ – Digitising agriculture for a safer, transparent and traceable food supply chain
Name of Organization: Jivabhumi Agri Tech Private Limited
At the helm: Srivatsa Sreenivasarao and Anil Nadig
Year of Incorporation: 2016
Website: https://foodprint.farm and http://jivabhumi.com
Core technology used: Blockchain, Cloud, Mobility.
PROJECT DETAILS
1. Tell us about your product/solution in brief.
FOODPRINT™ is a produce aggregation and food traceability solution which aggregates the farm produce and implements food traceability using technology such as BLOCKCHAIN to capture the information of the produce at various points in the supply chain such as production, processing and distribution. It is an intelligent platform which is aimed at digitizing agriculture to solve food safety and supply chain traceability using technology. FOODPRINT™ captures comprehensive information about the commodities right from growers, growing information, pre-and post-harvest, transportation, warehousing etc. and pushes the same through a BLOCKCHAIN to generate a digital identity for a physical commodity and eventually build traceability to prove provenance and movement of commodities from farm to factory/fork. Our farmers use our mobility enabled technology on the field to track the produce from sowing until harvesting and our co-ops/FPOs track the post-harvest process until sales and buyers eventually get complete traceability and journey of the food on the BLOCKCHAIN via a simple QR code.
2. Mention the geographic area where your solution is implemented and give us details of the intervention.
We currently have implementations of our solution in the state of Karnataka and 1 project going on in the state of Jharkhand. Some of the current implementations Case Studies are:
A. Case Study 1 : We are technology partners for a PPP-IAD (Public Private Partnership for
Integrated Agriculture Development) project in Belgaum dist. of Karnataka . The project is led by an NGO which works with the FPO (Over 1000 farmers) for aflatoxin free production of Maize. One of world's largest maize company is the Maize buyer in the PPP consortium.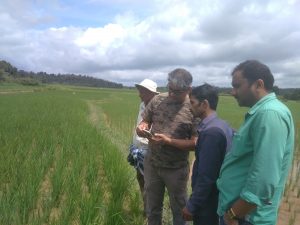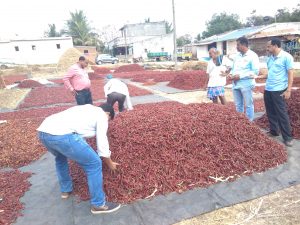 • FOODPRINT™ plays a critical role for digitization and helps in digitally tracking the journey of produce from source to buyer.
• No field level paper work as a result of data digitization – Reliable data about farmers and their land holdings, Crops, Production etc.
• Reliable data for produce estimation, production planning and market creation
• Crop stages monitoring, farmer advisory through the Package of Practices via the App
B. Case Study 2 : We are working with India's leading consumer brand for spices and readyto- eat food company in sustainable production and procurement of authentic, traceable Byadagi Chillies on our platform. We are the technology partner in the project where we work alongside them with an FPO in Dharwad dist. Of Karnataka.
• Ability to trace produce from the farm to factory up to the invoice and bag level
• Post-harvest quality acceptance management
• Real-time visibility for reliable data for better production and procurement planning
C. Similarly, in our other projects, we trace farm produces such as Paddy, Moringa, Tulasi,
Beet root, Carrots, Alfalfa etc on FOODPRINT™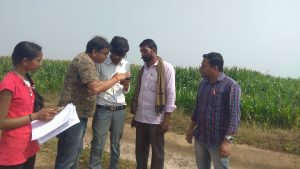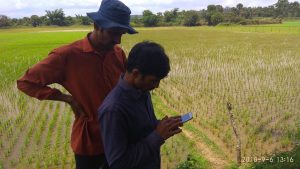 3. What was the objective of the project and how much of it was achieved?
The project started-off as an internal control system to ensure food safety and traceability for the procurements which Jivabhumi does from the farmers with-in our network. We put together the idea of leveraging Blockchain for produce aggregation, traceability and market linkages to Govt of Karnataka (GoK). We received a grant from GoK to build the MVP. The MVP was piloted with our own set of farmers. As the pilots started yielding results, it caught attention of other food corporations and FPOs for the adoption. We now offer FOODPRINT™ as an On-demand SaaS solution for our B2B customers and FPOs. We not only met our initial objective of the project but it also resulted being a product line generating additional revenues.
4. Give details of the cost of your solution and scope of scalability. 
Our model is primarily B2B2F. Our B2B enterprise pricing model is : Per Farmer Per Year FPO Pricing Model: Custom pricing model based on the group size The solution is highly scalable and has applicability both domestically and internationally across the entire agricultural enterprises such as Agri businesses, Seed Providers, Input Companies, Farm equipment providers, Food corporations, Agri financiers, Giovt and NGOs.
5. Are you looking for partners? Mention details of partnership.
Indeed we are. We see a potential partnership to collaborate with organization from the agri and agri allied businesses. We are also looking for partnerships with technology providers in the industrial IoT, AI, ML and so on.
---