Discussing agri data with Pak Regi Wahyu, HARA
I was privileged to have good discussions with Pak Regi Wahyu about how he is trying to solve biggest problem in AgTech today. Which is data. His company HARA connects rural smallholder farmers with banks, insurance companies and input producers through data, by simply sharing the usually hard to obtain data. Within this ecosystem, good information is the basis for inclusion. Moreover, the data is crowd sourced using blockchain based token system where everyone collecting data is rewarded.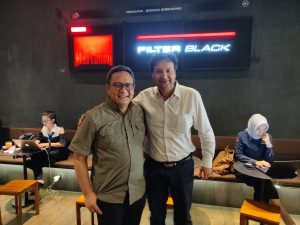 This has worked brilliantly in Indonesia, and other large countries like India who are struggling with good onground data, can learn from. I Also shared my views about how Indian AgTech ecosystem is evolving with companies like CropIn, AgroStar, NinjaCart and a DigiAgri. We strongly agreed AgTech from both countries must work together and collaborate to share best practices and evolving business models as there are lot of similarities in challenges faced by agriculture ecosystem.