ThinkAg Meetup 2019 – Key Takeaways
Two years back, ThinkAg agroup was set  up to inrease parternship between the startups and the corporates. Though that was the idea it was started with, the agenda has expanded. It now includes three distinct initiatives.
Aglab: A market-linked acceleration program to enable rapid scaling. It will do this through curating a platform where progressive corporates and mentors deeply engage with entrepreneurs
Aginvest: A steady pipeline of industry vetted investment ready innovations, access to experts in the industry and an in depth understanding of the sector to enable higher number of investments
Agconnect: Knowledge dissemination and thought leadership publications to further fuel innovations
The Thinkag annual meetup brings together about 50 stakeholders from the agri and food industry – startups, corporates, FMCG companies, banks, VC funds, industry bodies and more. Though I missed the first meetup, this year on Fenrary 14th, I attended the second one. Both the years, NABARD hosted the meetings at their office in Mumbai.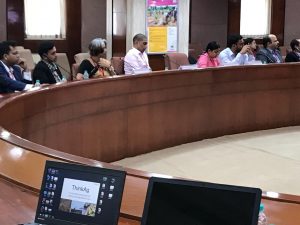 ThinkAg is not just a conference or a thought session. It seems it has already directly impacted the bottomline of a few startups that participated. Engaging corporates, traditional stakeholders as well as new tech entrants on the same forum is the only way to go and it is great to see it is already being done by ThinkAg. Best of all, NABARD playing an active role and taking such serious interest in agritech is a promising sign that the time to change the basics of Indian agri has come.
This year, among other things, 5 startups made presentations. They were:
See details of other attendees and agenda discussed in the attached file.
---