AI leading the IP creation wave for companies globally; India's innovation story is no different
Artificial Intelligence (AI) seems to be becoming synonymous with innovation in the technology arena. The concept of AI was first introduced in 1950s, notably it has picked up steam only in the last few years.
The Global Story
A recent study by WIPO (World Intellectual Property Organization) reported that more than 340,000 AI related patents have been filed across the globe between 1960 and early 2018, with over half of the identified inventions being published since 2013.
Patent publications in AI grew at an annual average rate of 28% between 2012-17, marking a significant growth over ~8% between 2006-2011

Source: WIPO
Furthermore, AI seems to be the key technology businesses are relying on to deliver value. Gartner estimates that artificial intelligence (AI) will contribute $3.9 trillion in business value by 2022.
Globally, IBM and Microsoft have the largest portfolio of AI patent applications with 8,290 and 5,930 applications, respectively.
Global business value derived from AI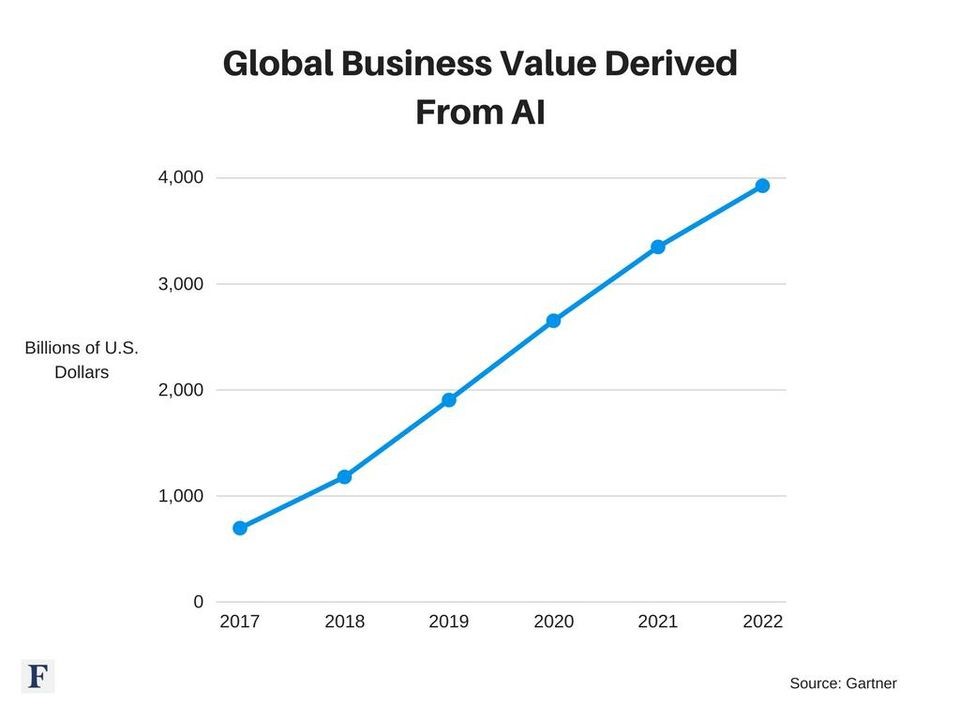 "AI is the new electricity. I can hardly imagine an industry which is not going to be transformed by AI"
Andrew Ng, Landing AI and deeplearning.ai
What's driving this focus towards AI is the plethora of data that organisations are juggling with, and AI is the only solution that could transform data into insights.
"Faced with a constant onslaught of data, we needed a new type of system that learns and adapts, and we now have that with AI. What was deemed impossible a few years ago is not only becoming possible, it's very quickly becoming necessary and expected."
Arvind Krishna, Senior Vice President of Hybrid Cloud and Director of IBM Research
Interestingly, within AI some technical and functional areas are growing faster than others, with Machine Learning and Computer Vision, leading the race.
Machine learning is the dominant AI technique, accounting for more than one-third of all identified AI inventions (134,777 patent documents). Further, filings of machine learning related AI patents have grown at an annual average rate of 28% in recent years reaching 20,195 patents filed in 2016 from 9,567 filings in 2013.
Patent families for top AI techniques by earliest priority year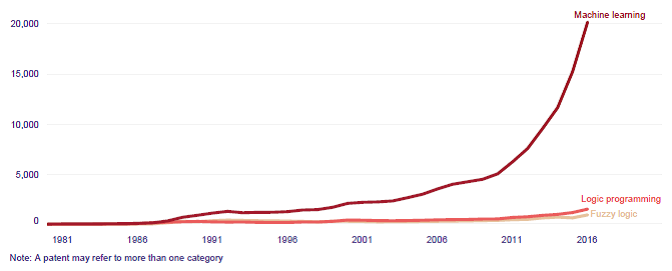 Source: WIPO
Among AI functional applications, Computer Vision (which includes image recognition) leads, and accounts for 49% of all AI-related patents (i.e. 167,038 patent documents). This category has grown at an annual average rate of 24% with 21,011 patent applications being filed in 2016.

Other key functional areas which have witnessed highest growth over 2013-16 period includes robotics and control methods, which both grew at an annual average rate of 55%.
Patent families for top AI functional applications by earliest priority year

                                                                                                                                                                                                                           Source: WIPO
The India story
As per the recent NASSCOM study "Emerging Technologies: Leading The Next Wave Of IP Creation For India", the share of emerging tech patents filed by India domiciled companies in the US have witnessed consistent growth crossing the 50% mark in 2017/18.
      Share of emerging tech patents in technology patents
                                                                                                               Source: NASSCOM's Emerging Technologies: Leading The Next Wave Of IP Creation For India
Interestingly, AI leads here as well with 330 patents filed over the 2015-2018 period, with machine learning being the leading sub category with 231 AI patents.
The Indian tech giants including TCS, Wipro, HCL and Infosys figure in the list top ten tech patent filers. Notably, TCS and Wipro filed over 900 patents in 2017-18 in emerging tech areas such as AI, cloud and IoT.
"We continue to invest and scale intellectual property via platforms, products, frameworks and solutions, enabled by innovative commercial constructs and delivered in an 'as-a-service' model, thus truly variabilising their costs in a risk-reward model (eg transaction-based, outcome-based pricing). Many of patents were in emerging technologies and serve as a foundation for our new technology platforms, including AI, IoT, connected devices, and autonomous vehicles."                                                                                                                                                                     Wipro Annual Report
Though, compared to the global counterparts US and China (who are currently leading the AI race), India has a huge gap to mend, efforts are being made towards a fast catch up.
India is emerging as the new target for patent filing. Most number of AI patent applications are filed in the patent offices of U.S. and China, followed by Japan, South Korea, Germany, Australia and India (WIPO).
Notably, according to WIPO's recent report, India ranks fourth in scientific publications related to AI (ahead of Japan), ranks third in fuzzy logic and fourth in machine learning related scientific publications; while it is eighth in patenting activity (based on number of AI patent applications by patent office). Thus, the report suggests that India has strengths in AI research that might become even more evident within the next few years in terms of patenting activity.