In The Spotlight: DronaMaps Executes Volumetric Assessments for Govt of Haryana's Mining Dept
Traditionally, volumetric analysis required workers to collect data manually by climbing on stockpiles with heavy and expensive equipment, which can be very risky. The workers have to make a trade off between collecting quality data and their own & equipment safety.
The potential of drones for the mining industry is to improve efficiency and cost. DronaMaps incubated at NASSCOM CoE Gurugram, did the survey for Bakhrija Stone Mine, Tehsil Narnaul, District. Mahendragarh for Department of Mines & Geology, Government of Haryana.
Using a quadcopter and 2 DGPS the survey was conducted in two phases. After the end of the survey, the captured data was brought to DronaMaps Lab for processing and desired imagery (3D, 2D and DSM) was generated. The change detection was done by mapping the same area at an interval of 30 days.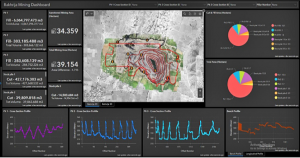 Impact: The stockpiles are spread over a large area and are of varying sizes & heights so surveying them with a UAV has numerous benefits:
Granularity: Since the drone driven imagery has better spatial resolution than the satellite driven imagery the user can identify the different features present in the area of interest like trucks, excavators, cranes, benches, weighing stations, checkpoints etc.
Time saving: Getting ground measurements, segregating the data and making the CAD models takes minimum 30-35 weeks for the current area of interest. However, it took 3 days for ground deployment, 7 days for data processing and 13 days for geospatial analysis & application development, thereby completing the same work in 20 days.
Ease for Authority: The analysed data can be easily accessed in PDF format, Web Application and Dashboard. The Web application has features such as overlaying all the vector & raster layers, performing measurements, Swiping between two layers, zooming in and out, searching & exporting the data.
The dashboard presents key data that needs to be monitored for the area of interest. Two crucial characteristics of the dashboard are it's visualisation capabilities and the way all the datapoints, however disparate, are integrated onto a single screen. The dashboard has features such as indicators that represent volume, Pie Charts that represents the relation between volume and its corresponding area, line graph that represents elevation profile etc.
Revenue: The volume estimated using GIS and the volume excavated (at actual mine) were cross verified by the authority. This technique not only helps Mines and Geology Department, Government of Haryana to increase its revenue but also in monitoring if any mining contractors are violating the mining boundary sanctioned to them.
In The Spotlight features NASSCOM CoE startups bringing new technologies to the fore and breaking new ground in innovation, every week. 
For more updates, follow NASSCOM CoE IoT-DSAI on LinkedIn, Twitter, Facebook, and Youtube