Industrial Internship Drive Led By NASSCOM CoE Gandhinagar To Foster Realtime Co-Creation & Innovation
At a time when talent with digital skills are growing in demand across industries, NASSCOM CoE Gandhinagar led a strategic industry-centric engagement to identify candidates for internship opportunities with leading companies and startups in Gujarat. 11 candidates were chosen from this exercise.
India produces at least 9 million graduates each year. It begs the question, how many of these 9 million aspiring professionals eventually end up working jobs that they are qualified to do, consequently playing a critical role in nation & capacity building?
The education sector in India is undergoing a massive change. With the influx of industries, opportunities have skyrocketed and there is a need for the nation's graduates to not just hold a valid educational certificate, but display prowess, capability and skill to excel in a field, and deliver value to an organisation.
Recently, the Union government has approved a sum of Rs 436 cr to skill 412,000 professionals in new technologies including AI, Virtual Reality, Big Data, Cybersecurity and Blockchain. This stems from a joint venture between MeitY and NASSCOM for Future Skills PRIME.
Moreover, with the advent of emerging technologies like IoT & AI, the need for digital skills is higher than ever. Industries and companies are now brainstorming innovative ways to ensure greater participation of academia and company resources to understand specific hiring needs and spot the right talent. A recent report by NASSCOM stated that technology startups alone created 60,000 direct jobs this year and the IT industry will be a "positive hirer" this year.
Against this backdrop, NASSCOM CoE IoT & AI Gandhinagar conducted a first of a kind Internship Recruitment Drive, with the main intention of making our talent industry-ready. As part of the NASSCOM-led recruitment drive, 25 candidates appeared for interviews led by companies like JK Lakshmi Cements Pvt Ltd, Photom and Alluvium. JK Lakshmi Cements Pvt Ltd selected SEVEN candidates, while Alluvium and Photom selected TWO each.
In this strategic month-long internship exercise, candidates will get to witness first-hand industry challenges and problem statements, and conceptualise solutions based on emerging technologies.
Here's what one of the startup-founder had to say:
"We are a technology focused company and it very important for us to do continuous research and technological advancements in our products. Thanks to NASSCOM CoE for organizing recruitment day at IIT Gandhinagar, we are excited to have top talent from IIT to work with us as interns on researching application of emerging technologies like IoT & AI to solve industry challenges."
Amit Saluja, Senior Director & Center Head, NASSCOM CoE Gandhinagar, said, "We are excited to see the success of this pilot initiative of bringing together leading organizations & upcoming startups, in a bid to provide talent the opportunity from IIT, to work on innovative industry applications. This is an advantage for all; startups get access to best of talent for short-term needs and students gain experience on implementing digital technologies for real world use cases. I hope several more startups and enterprises use this approach to make our talent industry-ready as soon as they graduate from college. We are happy to help companies willing to explore this model."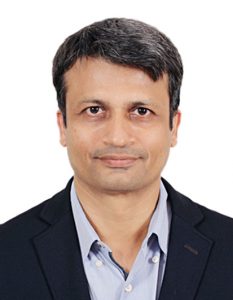 While the growth of the Indian startup movement is unparalleled, industry leaders now feel that solution providers must adopt a targeted approach to problem solving, and this can only happen when the industry and innovators exchange ideas. With this internship exercise, young professionals will get an authentic glimpse into industry challenges and develop solutions in line with a company's technology playbook.
For more details on curation & organisation of industry-specific initiatives in Gujarat, contact Amit Saluja (asaluja@nasscom.in)