Innovate2Transform: A Smart Toilet For Preserving One's Honour
Access to sanitation and safe drinking water was recognised as a basic human right by the United Nations in 2010. Almost a decade later, 730 million people in India lack access to a clean toilet. More than 60,000 children die of diarrhoea each year. Although the government's Swacch Bharat Abhiyan has ensured the availability of basic sanitation facilities in rural areas and metros, maintenance of public restrooms is subject to question.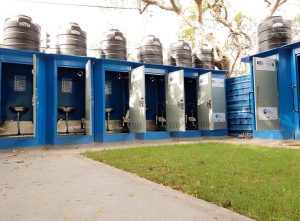 On the other hand, India has witnessed tremendous growth in the past five years as a technology and startups hub. The country continues to retain its position as the third largest startup ecosystem in the world. This year, more than 1,300 technology startups were added to the list, with a heightened impetus on emerging technologies such as IoT, AR/VR, AI, ML and deep learning.
While there have been several sanitation facilities developed and provided by NGOs and independent entities, entrepreneur Mayank Midha and his wife Megha Bhatnagar Midha presented a unique solution to a common Indian problem – sensor-based smart toilets.
GARV (which means pride or honour in Sanskrit) Toilets, founded in 2016 by the duo, is a smart design toilet meant for those who are economically underprivileged and lack access to basic sanitation facilities. The smart toilet design is integrated with RFID IoT, solar power, LED lights, sufficient ventilation through exhaust fans, sanitary pad vending machines, ramp access, handrails for the physically challenged, overhead water tanks, borewells & wastewater recycling units.
During his tenure in a major telecom company, Midha was part of several projects involving the installation of BTS units across the country, which got him thinking how a similar box-like model could be adapted and built into a toilet. The stainless-steel exterior makes it quite impenetrable and keeps vandals at bay, additionally allowing for integration of sensors to collect & analyse data such as usage times of the toilet, hygiene behavior and ways to enhance cost efficiency. Moreover, each unit requires no more than two liters of water for maintenance purposes.
In 2017, Mayank and Megha bagged a CSR project in Patna funded by Coca Cola. He went on to install 100 units as part of multiple CSR activities. By 2018, he installed 700 units, out of 358 were basic units without any electronic accompaniments. He has worked with government agencies in Nigeria, Ghana and Bhutan, and won an order from the Uttar Pradesh government to install smart toilets as part of the Swacch Bharat Mission. Recently, GARV Toilets signed an agreement to install smart toilets at various stations belonging to the New Delhi Metro.
They have several reputed awards as well – including the 2018 Unilever Young Entrepreneur Award and the Mohammad Bin Rashid Award for Global Prosperity (under the category of Sustainable Cities).
GARV Toilets is part of the virtual network of startups at NASSCOM Center of Excellence Gurugram. 
This is part of our ongoing series Innovate2Transform, where we bring to you the leaders of the industry talk about the latest in innovation, technology and trends in their industry sectors. 
If you want to contribute, write to sindhuja@nasscom.in. 
For more updates, follow NASSCOM CoE IoT-DSAI on LinkedIn, Twitter, Facebook, and Youtube