Make In India Comes To Life: A Day With Ravi Shankar Prasad, Union Minister for Law & Justice, Communications, Electronics & IT
Bangalore's NASSCOM 10,000 Startups Warehouse & Center of Excellence IoT & AI hosted Ravi Shankar Prasad, Union Minister for Law & Justice, Communications, Electronics & IT, Ajay Sawhney, Secretary of Ministry of Electronics & Information Technology (MeitY), and several representatives from NIC, STPI and other ecosystem organisations, where they got to witness firsthand the true impact of deeptech and innovation being nurtured.
True to its name and reputation as a leading product & innovation development center, the CoE welcomed the delegation with a robot named Mitri. Designed by Invento Robotics, Mitri is the second variant of its more famous counterpart Mitra, which shot to fame for welcoming Ivanka Trump and Prime Minister Narendra Modi at GES 2017.
Ms. Debjani Ghosh, President of NASSCOM along with other senior NASSCOM leaders accompanied the delegation across the facility and introduced them to various companies and startups on showcase with their products and solutions in agritech, healthcare, cybsecurity, smart cities, healthcare and fintech.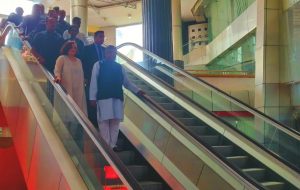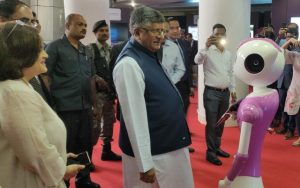 Experience The Power of Deeptech In Health
The event notably marked the launch of the Center of Excellence's Digital Wellness Experience Zone – a unique platform to showcase the latest digital health solutions. Companies that were part of the showcase included Artelus AI, Niramai, Radical Health and Tricog Health.
Artelus AI, led by Pradeep and Rajarajeshwari, uses deep learning solutions and AI to enable healthcare providers with better screening tools for diseases like cancer and tuberculosis. Niramai has developed a low-cost, non-invasive and non-painful breast cancer screening method at a much earlier stage. Radical Health Tech is building an Artificial Intelligence platform for non-invasive retinal imaging including diabetes, hypertension and cardiovascular diseases. Tricog Health is an award-winning company, whose solution can provide an instant ECG and decipher the results in a matter of minutes using AI and deep learning algorithms.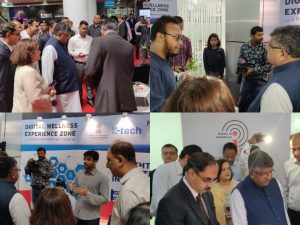 Tech For India:
One of the most significant programmes for technology propulsion among the grassroots level is Digital India, which was initiated by Prime Minister Narendra Modi in 2015. Since then, India has witnessed a surge in startups that are striving to create an impact in sectors like agriculture, health, education and smart cities. Some of the most innovative and high impact solutions with advanced technology offerings were showcased: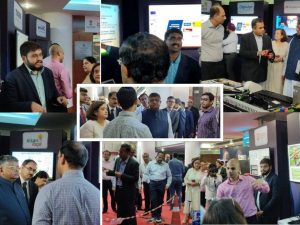 Fintech: The amalgamation of financial services and technology has huge implications for India, which is a massive market for both sectors. Globally, fintech adoption grew 64% with India and China leading the market trends. Now, there is an emerging need for financial innovation among fintechs as the needs and application grows drastically. The minister got to meet three cutting edge startups high on tech and innovation offerings for the financial services industry:
NIRA Finance: Run by two young individuals with a strong background in finance and a firsthand knowledge of the challenges of credit disbursement, NIRA aims to promote financial inclusion by developing simple products for everyone.
Loktra: This company uses advanced technologies like AI to manage client information and activity, in areas like banking, insurance and lending.
DigiLedge: Provides enterprise-graded blockchain solutions for banking, insurance and supply chain using IoT & AI.
Cybersecurity: Another billion dollar market in the making – cybersecurity has well and truly exceeded the monopoly of enterprises. While the big players in the space continue to serve the ever-growing needs of the industry on a large scale, a slew of startups have been making a mark in providing cybersecurity solutions of late. By 2023, the market will comfortably touch the $250bn mark, and throws the gauntlet open for innovators. With India stepping up the ante in providing digital-first services in almost every major industry today, cybersecurity too has grown in prominence. During the visit, the delegation got to interact with one major cybersecurity player called SecurelyShare, which is a platform built on patented technology for data security, data privacy and data enrichment enabling multiple fintech use cases including secure delivery of statements and documents while improving customer experience using AI.
Reform, Perform In Order To Transform: A Homegrown Success Story
The minister addressed the startups in the Bangalore 10,000 Startups warehouse as well.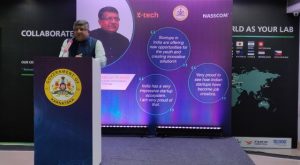 Listen to his speech on NASSCOM CoE IoT DSAI's YouTube channel: https://www.youtube.com/watch?v=x4rlcp3k__A
Roundtable on India's Product Market: Advancing Towards a One Trillion Economy
Following a rousing speech, the Minister participated in a roundtable comprising of representatives from India's product development community, to deliberate on measures and strategies to make India a trillion-dollar economy on the back of sound product development. Some of the participants at the roundtable were Cybage Software Pvt. Ltd., Data Xgen, Intel, Majesco, Manthan Software, Paytm, Persistent, Qikpod, Tally Solutions, Edgeverve and Avekshaa Technologies Pvt Ltd.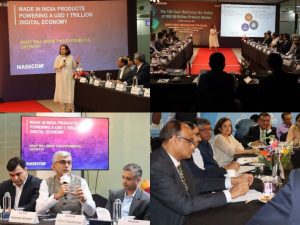 The visit was rounded off finally with the minister and his delegation visiting the NASSCOM Center of Excellence Innovation Lab.