TechVoice: How IBM Is Leading The New Era Of Innovation, Co-Creation & Digital Transformation in Manufacturing
Shefali Bansal leads IoT solutions for Manufacturing offerings at IBM – an exciting role at a time the nation is propelling itself into an ambitious growth trajectory thanks to technologies like IoT & AI among others. Now, IBM is harnessing the spirit of collaboration in addition to innovation & technological prowess to create new revenue streams in sectors like manufacturing.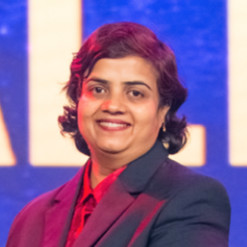 Tell us what you do at IBM as Program Director –Watson IoT Lab Leader & Global Practice Lead IoT4Manufacturing & IOT4Buildings
As the Program Director and Global Practice Leader for IoT for Manufacturing offerings in Watson IoT Labs in IBM India, I am responsible for driving the growth of IBM's IoT solutions for Manufacturing sector. This includes – driving collaboration with local and global teams across areas including building the business strategy, revenue, development of Go-To-Market channels and enhance delivery capabilities. Additionally, together with my team, I work closely with Sales, Business Partners, Product Development, Offering Management and Support teams for successful solutions deployments. I also focus on defining and creating repeatable services related offerings to accelerate seamless solution deployment for clients and thereby reducing time to market.
Today, it is imperative for corporates to sustain innovation – how is IBM driving this piece? 
IBM has a long history of sustained innovation and we continue to drive strong innovation in the manufacturing space both through in-house research as well as with clients. In 2018, IBM invested more than $5 billion in research and development which produced thousands of breakthrough innovations. IBM employee inventors received a record number of 9,100 patents, marking the company's 26th consecutive year of the US patent leadership. IBM also led the industry in the number of AI, cloud computing, security and quantum computing-related patent grants, with more than 4,000 patents, IBM inventors from India received over 800 of patents, the second highest contributor to the global record tally.
We also co-innovate with our clients by applying design thinking and Garage methodology to drive industry and technology centric innovations. In addition, we continue to lead the open source innovation agenda for the industry. Our recent acquisition of Red Hat also gives us the opportunity to bring more open source innovations to a broader set of clients who want to embark on a hybrid multi-cloud journey.
A growing trend is co-creation, and more start-ups are successfully bagging PoCs from large scale enterprises/corporates. What do you think are the challenges & opportunities present in this trend? 
Globally and in India, start-ups offer niche skills to clients. However, when it comes to scalability, they often cannot meet client's expectation as deployments turn extremely complex. Scalability requires enterprise-level scalable offerings and deployments. IBM recently announced a collaboration with Software Technology Parks of India (STPI) as a technology provider to incubate start-ups in India. Start-up with IBM program is a testament of our commitment to the growth of the Indian IT industry by providing start-ups access to enterprise-grade IBM Cloud and other technologies to help solve real world problems with agility and at scale
One of the strengths of manufacturing firms is the wide range of data – how can industry leaders like IBM help work capitalise this data? 
Data is the next biggest resource. With IBM's deep expertise and capabilities in Data, AI and Cloud, we enable our clients to accelerate their journey to AI with a prescriptive approach, which is both secure and scalable. We do this in a phased manner, known as the AI Ladder which comprises of 5 stages – modernize, collect, organize, analyse and infuse to get the data ready for AI. So while we work with clients to help them get deep insights from their existing data, we also help them in capturing dark data through Operational Technology – Information Technology integration, installation & embedding of  new sensors and edge devices working with client partners which opens up whole new datasets on which insights can be derived.
Name five major trends you think will dominate manufacturing in IoT in the next few years? 
We are doing some interesting work in this area from enterprise asset management to agriculture. Some of our leading engagements include Kone, Sandvik, L'oreal etc. Based on our work with these clients, here are some of the trends that we are witnessing:
Business investments towards 5G & Edge & Focus on Data & AI driven manufacturing will continue to grow.
Digital twin driven by IoT & AI/ML routines would drive OPEX savings
Manufacturing companies will start to treat their assets & high value equipment's as critical value provider, leading to substantial reduction in asset downtime
Intelligent Robotic Process Automation would be leveraged by manufactures to  address the growing industry talent shortages
Blockchain with AI & IoT will be leveraged by manufacturers for increased requirements for sustainability & audit efficiencies
Manufacturers would adopt cloud-based innovation platforms and marketplaces for cross-industry and customer co-development leading to new products, solutions and services
Due to its intrinsic nature, IoT plays a critical role in each of the above areas at varied levels. We are already seeing the demand and implementation of some of the above trends in the marketplace.
Tell us a bit about your engagement/involvement with product/deeptech startups and why is this imperative to IBM? 
Since 2017, I have been engaged with startups focusing on the manufacturing domain. Previously, I was a jury member and a mentor for startups in this domain. Over a period of time, my role has evolved into helping these startups and ecosystem partners in improving their last mile capabilities which include connecting and collecting the data from different systems and bringing it onto enterprise platform. This is a critical aspect to build a robust IoT solution which provides actionable insights on clients data. Currently, we continue to engage with the start-ups to provide and integrate domain specific capabilities which addresses niche client requirements.
Your thoughts on how NASSCOM CoE is accelerating innovation in India. 
NASSCOM CoE is doing an exceptional job by bringing the industry, academia, startups and government together onto one platform to drive the IoT ecosystem forward in India through combination of technology expertise, varied skills and exchange of best practices through common forums.  In addition, the CoE is working closely with standards organisations like BIS, IIC (Industrial Internet Consortium), which play a very important role in the acceleration and adoption of IoT.  The CoE has also been instrumental in driving the skills agenda in collaboration with MHRD, along with the academia and industry.
This interview is part of our ongoing series TechVoice, where we bring to you the leaders of the industry talk about the latest in innovation, technology and trends in their industry sectors. If you want to contribute, write to sindhuja@nasscom.in
For more updates, follow NASSCOM CoE IoT-DSAI on LinkedIn, Twitter, Facebook, and Youtube