Transportation and Telecommunications lead the global IP creation in Artificial Intelligence
AI is finding application across sectors, varying from traditional segments like transportation and telecommunications to new age areas such as e-commerce and cyber security.
According to WIPO (World Intellectual Property Organisation) Technology Trends 2019, maximum AI patents filed till date were in the area of telecommunications and transportation (each area was mentioned in 15% of all identified patent documents).
This was followed by life and medical sciences (12%), and personal devices, computing and human–computer interaction (HCI) (11%)
Patent families for top application field categories by earliest priority year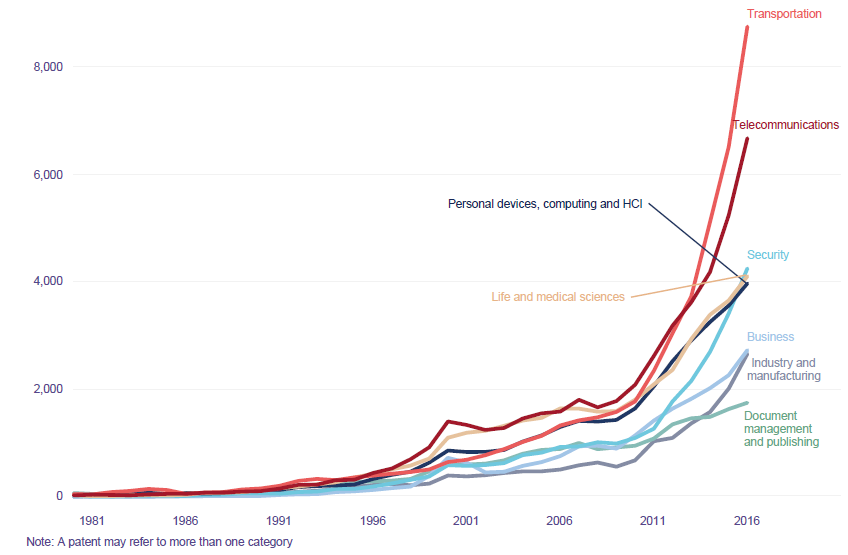 Notably, transportation also reported the highest growth rates in AI-related patent applications, with a 33% annual growth between 2013 and 2016 (8,764 filings in 2016)

Key growing sub-categories under transportation are aerospace/avionics which reported an annual growth of 67% during 2013-16 (with 1,813 filings in 2016); and autonomous vehicles which grew at an annual growth rate of 42%, with 5,569 filings in 2016.
Patent families for transportation sub-categories by earliest priority year

This growth trend is also reflected in the fact that the share of transportation patents in total patents filed increased from 20% in 2006 to nearly one-third in 2016.
Computer vision and speech processing were the key sub-technology areas which found most co-occurrence with Transportation.
Patent families by co-occurrence of application fields with machine learning and functional applications

Interestingly, technology innovation in transportation has taken a lead globally with many emerging technologies such as AI, IoT and data analytics being used to develop new solutions. Indian companies both large companies like Wipro as well as start-ups, are also part of this journey with their new innovations across a range of transportation and related areas such as navigation, safety, vehicle management etc.
According to Emerging Technologies: Leading the next wave of IP Creation for India, among the tech patents filed by Indian companies in the US, Navigation lead the growth with a CAGR of 75.8% over 2015 to 2017/18 period.
Also, a lot of Indian start-ups have launched innovative transportation and related solutions, and have either filed a patent or have a granted patent in their name
         Navigation
Accord Software & Systems Pvt – The Company has filed a patent related to the concept of generating navigation data using simplified frame structure so as to reduce the transmission time of the data frame to a navigation receiver.
Wipro – Wipro has filed a patent application related to generating a safe navigation path for navigating a driverless vehicle.
       Safety
Accialert – It is an app which automatically detects impact encountered by the vehicle in various axis. If the impact is beyond a pre-set level, the hardware fixed to the vehicle gets activated and starts to produce beeping sound & red light glows in switch fitted in car dashboard. It will automatically send voice calls & SMS via connected App on the registered mobile numbers unless cancelled by user in time.
Sixth sensor technology – It's a product that warns drivers with alarms in a potentially dangerous situation, and automatically brakes in case no action is taken by the driver.
NASSCOM has featured more such start-ups who are doing commendable innovations in the field of mobility through the NIPP Mobility Challenge, and more technology solutions to solve the urban mobility challenges in India are covered in NASSCOM's report "Making Urban Mobility – Seamless, Sustainable and Safe".