India on the World Map: Engineering & Research as India's North Star
In the last 30 years, India has strongly established itself as the IT hub of the world, garnering nearly 55% market share of the global services business (as of 2017-18), exports at $137 billion in FY19, and employment doubling in a decade to 18 million by 2018. All through these golden years, India's academia and talent have consciously aligned itself to this rapid growth and seized opportunities. Even talent from other engineering disciplines such as biotechnology or mechanical oriented towards IT.
But here is the most pertinent question, "what about the next 30 years?"
The next 30 years cannot be imagined linearly – soon it will not be about revenues reaching $200+ billion or adding 30 million more people to the industry.
The "Law of Accelerating Returns" proposed by renowned American Inventor and Futurist, Ray Kurzweil states technology change is exponential! Kurzweil suggests that the progress of the entire 20th century could be achieved only in seven years from 2014. The rate of progress will change by the convergence of hitherto unimagined trends such as:
Sentient Robots, Autonomous Cars, Nanotechnology, Genetic Engineering (all active areas of research)
Non-IT services including ER&D, Hardware, and Software Products, which already contribute to 50% of the industry's revenue
From these trends, one can predict the emergence of a powerful union between human sciences, machines, engineering, and software, which has the propensity to change how all industries operate, and how the whole of humanity operates.
If India needs to be at the centre of the talent and capability world, it needs to have Engineering & Research as its North Star. India will need to transform into an Engineering R&D powerhouse by:
nurturing advanced skills including functional skills around hardware, software, user experience, and data analysis as well as social skills such as empathy
aligning industry and academia from a research perspective to further the applicability of machines and software
encouraging more industry-start up collaborations to spur faster innovations.
It is important to remember that just like science, technology is not for the obedient. It favours innovators and disruptors who will create the new normal. So, are we ready to innovate and disrupt?
ABOUT THE AUTHOR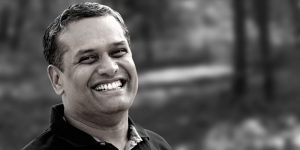 Madhavan Satagopan
EVP & Head of Non-linear Business Strategies, Virtusa Consulting Services Private Limited