Reimagining Manufacturing through Smart Ecosystems
Industry 4.0 is set to redefine manufacturing over the next decade. Today, the industry is at a crossroads with manufacturing companies adopting new technologies and streamlining their processes to welcome this inevitable, digitally connected future.
Considering the need for integrity and reliability in aerospace manufacturing, the industry has always been an early adopter of advanced technologies. Aerospace players must align their business goals to make digitization a top priority.
Building a 'smart ecosystem'
Aerospace customers have dynamic requirements with drastically reduced timelines. Digitization has enabled companies to provide end-to-end integrated solutions from design to manufacturing by dramatically increasing the pace of operations and accelerating both process and product-based innovation.
The shop floor is the bedrock for any manufacturing company; undoubtedly, digitization must start at this grassroots level. Technologies like Flexible Manufacturing Systems (FMS), and sophisticated ERP solutions help streamline operations, and ensure real-time access to accurate data. Live machine monitoring and predictive methodologies are also equipping manufacturers with the ability to avoid disruptions by minimizing, if not eliminating, equipment downtimes. Adopting these integrated digital solutions will fuel operational excellence while driving down costs. This high degree of integration will further empower an optimized workforce and enhance productivity and operational efficiency. From the shop floor to the end customer, digitization effectively eliminates silos by unifying the global value chain.
In this new age, operations and digitization become inseparable to create a 'smart ecosystem' which impacts the entire value chain. Aerospace manufacturing can involve an extended series of interconnected processes such as forging, machining, sheet metal fabrication, surface treatment and assembly to produce an end product. This ecosystem must be agile, responsive, and enable global elements and communicate and exchange data seamlessly. Data integrity becomes an automated, machine-enabled function by minimizing the need for human intervention, virtually eliminating data latency and error.
By leveraging this 'smart ecosystem' concept, OEMs can make business operations more responsive and efficient, reducing time to market.
ENTERPRISE-WIDE COLLABORATION
Cross organizational end-to-end supply chain culture
Better understand the needs of OEM's
Vertical integration to reduce operational costs
Agility to respond to changes in product specifications
Become Risk Sharing Partners (RSP)
Future of smart ecosystems
Smart ecosystems are still at a nascent stage but are continually evolving with more manufacturers understanding the significance of digitization and its impact on their business goals. Technologies such as block chain, RFID tags, cloud-based integration, and AI/machine learning, if leveraged effectively in an interconnected platform, provide countless possibilities to improve manufacturing processes and create foundations and key elements of future-ready supply chain ecosystems.
ABOUT THE AUTHOR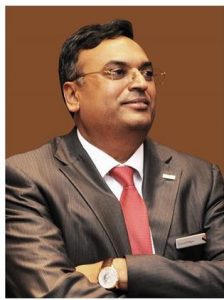 Aravind Melligeri, Chairman & CEO, Aequs