Technology Can Be Your Next Organ Donor
Medical science has been at the forefront of adopting the benefits of 3D printing technology. The first reason for this uptake is the ability of 3D printing to provide personalized instruments, implants and even artificial organs as per a patient's requirements. The second reason is the advancement in software based rapid prototyping which can incorporate specific inputs of the medical practitioner treating the patient while devising a treatment plan.
The combination of these two factors has allowed medical practitioners to innovate with technology, right from early stage diagnostics to post-operative regenerative procedures.
Customization of Medical Implants and Instruments
Imaging technology made it possible for medical practitioners to accurately diagnose patients and pinpoint problem areas. 3D printing is now enabling them to take better actions based on diagnosis. In fact, the healthcare industry is already the largest user of the Additive Manufacturing used in 3D printing to produce patient specific implants and instruments. These are delivering much better post-operative results and helping patients recover faster.
Dr. V. Anand Naik, Senior Consultant, Bone and Joint Institute at Medanta – The Medicity, gives a unique example of reconstructive surgery on patients who was paralyzed due to spinal cord damage. The entire spinal cord was reconstructed digitally and a custom-designed replacement was 3D printed. This implant enabled the patient to return to normalcy. Costs of these kinds of implants and surgeries are steadily reducing and are already much lower in India as compared to the west.
Custom printed implants have already become popular in dentistry. Rapid prototyping and segmented printing processes are transforming dental treatment. Detailed 3D imaging is "sliced" to create high accuracy models which are printed using high precision materials and printers for a perfect fit. From the manufacturers and material supplier's perspective, these technologies open multiple business opportunities as smaller medical setups will be able to offer high-value medical services.
Augmentation of Medical Use Cases
3D printing has advanced beyond orthopedics into organ replacements. The key technologies furthering this progress are 3D software modelling and bionics. While the former helps construct and test alternatives, the latter provides options to customize materials to specific medical requirements.
Tissue re-engineering and regenerative medicine have benefited the most from new bio-ink technology. Bio-ink made with a combination of live cells and polymers are being used to print complex structures specific to organ and patient types. These digitally designed cell level bio-structures are custom printed and then injected or implanted in the patient. Once inside the patient's body, they attract healthy live cells and help them propagate and fast track the regenerative process.
Scientists at IIT Guwahati recently announced the development of a bio-ink using proteins from Muga silk. This can be fused with live stem cells of the patient to 3D print the required tissue, which can then be matured in a laboratory before replacing the damaged body part. The scientists are targeting to carry this forward to printing whole organs subsequently as this technology promises to drastically reduce costs.
3D printing applications in healthcare is poised to create an entirely new ecosystem around non-standard, personalized medical treatment which promises to be more efficient and broad-based than current practices. Practitioners, scientists, academia, startups and large manufacturers in India are coalescing these new technologies to provide solutions for unique issues. It can be a paradigm shift for the medical fraternity in India which can benefit from homegrown and customized solutions instead of relying on standardized imports.
Source:
About The Author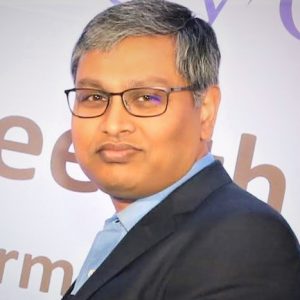 Achyuta Ghosh
Head of Research, NASSCOM