Time to Drop Anchor as Indian Innovation for the World has Arrived!
Indian engineering R&D is emerging from the shadows, with improvisations making way for innovations. Constraints and lack of resources were the locks on the inside, preventing innovations in a nation famous for head spinning improvisations. These improvisations or jugaad, often created solutions that overshadowed purpose built solutions. It is time to move beyond make-do, and the stereotypical outsourced services, into the next level of innovation.
A comprehensive study by the Royal Academy of Engineering clearly establishes a link between engineering excellence and economic development. This explains the fast-paced progress of Japan and Germany, synonymous with engineering. It also makes out a case for India to not just emulate, but to excel, given the interplay of various factors available for technological change.
Channelize the Demographic Dividend Advantage to Spearhead Innovation
With engineering driving econometrics and development in nations, it is time for India to shift to overdrive with solutions that tame the markets. Innovation hubs and centers in India need to create novel solutions that support the engineering growth of nations in pole position—Japan and Germany. The demographic dividend is India's biggest asset, and it will be the change maker driving the consolidation phase. The next wave of Engineering, Research &Development belongs to digital technologies and we are poised to dominate the sector. Annually, graduates from various disciplines of engineering add to the talented English-speaking workforce, preferred by global businesses. Interestingly, the talent mix sets the stage for R&D efforts—50% of the graduates possess software engineering knowledge, 25% possess digital ready skills while the remaining 25% focus on roles in the service sectors. (One-half of the graduates are skilled software engineers, while the other half is equally divided between engineers with digital ready skills and professionals for the services sector). This availability of skilled engineers makes India the ideal destination for ER&D activities. The need of the hour is to incentivize talent development, which will help the sector benefit from technology spin-offs. By incentivizing and upskilling employees, India can attract substantial investments from Japan and Germany for ER&D centers.
The transition from delivery centers to innovation hubs is long overdue, considering the start-up ecosystem and technologies at disposal. Advanced technologies—AI, robotics, automation will redesign the role of human employees, improving the value and importance of contribution. This will open up new opportunities. Talent building in India needs to create work-ready workforces to take on 'new collar' jobs. Post Y2K, India became the hottest destination for IT, courtesy trained manpower with command over English. However, Eastern Europe became a strong contender as a preferred destination, due to the pricing advantage. India needs to move out of this category as a destination for offshore delivery centers. It is time to re-invent ourselves as a destination for innovative solutions that support engineering at a different level.
Limitless Capabilities of Innovative Minds in the Technology Ecosystem
India is home to groundbreaking innovations that are future oriented. Young innovators who drive the startups are aware where the shoe pinches, bringing out innovations that address problems. For instance, the BVBaura, a concept two-wheeler runs on compressed air. The brainchild of alumni of a college in Karnataka, the cold exhaust of the bike is harmless to the environment. The limitless capabilities of innovative minds have created breathtaking solutions that have impressed established industries. Boeing's BUILD Program 2019 saw more than 850 inspiring ideas from India, including Vertical Take Off and Landing Drones for long-range inspection and robotics solutions for maintenance of Solar PV plants that are growing exponentially in India. This can make an impact that is not just economical, but also ecological. The concept has come at the right time, when the focus of the automotive sector is on electric vehicles. It is therefore not surprising that we have one fourth of Asia's innovation centers within our borders. The Bangalore R&D facility of Texas Instruments has developed 225 IPRs, while the Pune R&D lab of TCS continues to develop solutions in AI, ML, and Process Engineering. Similarly, ER&D efforts of companies including Wipro, HCL, Cyient, and eInfochips are primarily out of Indian centers. India is expected to rake in $38 billion in global ER&D by 2020, a clear indication of our progress.
An investment friendly climate, with policies that are free from uncertainties and any sting in the tail, will help attract investments. We need companies and nations that are high on the ladder of engineering driven economic development to invest in India. Far shoring, near-shoring, offshoring and on-shoring have been upended by digital technologies. Outsourcing of IT solutions and services is now more of a binary decision. Destinations are chosen based on value addition and quality of services. High-speed connectivity has enabled delivery of services from any global location, hassle-free within outsourcing.
Disruptions and innovations are not rare anymore, and the way forward is to embrace this change. Technology and talent are interrelated dimensions, driving the success of organizations. Growth trajectory in an intensely competitive market can only be sustained by talent and technology. On a positive note, the C suite of leaders in Indian enterprise have become the champions of this change. The push for greater investments in R&D, is driving the change with visible business outcomes. India is now becoming the destination for the next level of innovation and collaboration in global R&D. Innovation centers, and collaborations involving premier educational institutions spark innovation at various levels.
Jugaad is Inspiring, but Jhakas is the Real Econometrics
While jugaad served its purpose, meeting the requirements of specific use cases, the solution is often hard to replicate elsewhere. The lack of resources, necessitated improvisations in the early 90's. However, India is on a roll, with the resources and the ability to create solutions that are no more improvisations. The bridge from jugaad to jhakas is strong R&D that will bring about economic development intrinsically linked to engineering excellence. Clearly, we are moving away from jugaad, which despite being awe-inspiring, had limited outcomes. It is time to move into the era of jhakas, where solutions will have positive impact with transformative outcomes.
India is enroute to becoming an R&D superpower, and it is time to hail the era of jhakas.
ABOUT THE AUTHOR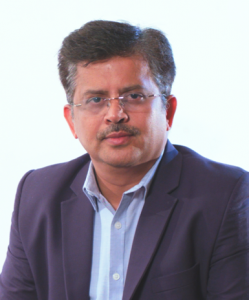 KARTHIKEYAN NATARAJAN
Global Head – Engineering, IOT and Enterprise Mobility, Tech Mahindra
Karthik has around 27 years of professional experience in Product Development, Globalization and digital transformation strategies. He has successfully implemented global engineering strategies for several Fortune 500 clients and has built global development centers across the regions. Karthik has been responsible for building market expansion strategies, partnerships, domain expertise and capabilities across the engineering industry verticals including Digital business transformation. Karthik is Co-Chair of Engineering Services Forum at NASSCOM. Karthik was recently recognized at World CSR Day as one of the 51 Most Impactful Smart Cities Leaders, an annual list that recognizes global leaders who are transformational agents for social change.