LHIF Healthcare Insurance Roundtable: Transformation Through Digital Innovation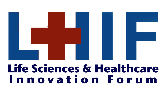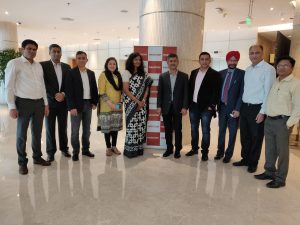 Participants (from Left to Right)
Surendra Tiwari, General Manager – Operations, National Health Authority
Rajagopal Rudraraju, Sr VP and Product Head-Health & Health Claims, Tata AIG
Deepak Bharadwaj, Director – Technology, Legato Health Technologies
Jayshree Mapari, Manager Market Access, AstraZeneca
Anuradha Sriram, Appointed Actuary, Aditya Birla
Raghuram Janapareddy, Director – Lifesciences & Healthcare, NASSCOM Center of Excellence
Rupesh Mehta, Chief Technology Officer, Reliance Health Insurance
Gurdeep Singh Batra, VP, Health Underwriting, Bajaj Allianz
Sanjeev Malhotra, CEO, NASSCOM Center of Excellence
Suresh Rao Rane, Manager, NASSCOM Regional Office – West
Raghuram Janapareddy, NASSCOM Center of Excellence
Health Insurance Industry is at an inflection point.  The opportunities for growth are quite evident from various government initiatives to cover majority of citizens under health insurance. There is also an increased awareness amongst the individuals to opt for personal health insurance, increasing the retail business.  But the industry is also plagued by inherent challenges in terms of fraudulent claims, lack of visibility on healthcare profiles of the customers, increase in cost-heavy interventions etc. Technology can play a significant role in helping the industry steer clear from these challenges. The Health Insurance companies are sensing these opportunities and embarking upon digital transformation initiatives. But the journey is not so easy and needs right strategy and right partners.
The Key Challenges for the Industry
New Diseases/epidemics surfacing more often and there is no benchmark for Treatment Costs
Health Insurance is unable to ascertain the Risk Exposure from the Customers
Lack of Historical Data on Customers is not allowing for customization of differentiated products
Increasing Healthcare Delivery Costs is leading to unfavourable claims ratio
Lack of regulatory framework at Hospital Side Procedures, is not allowing the Insurance companies to validate the procedures adopted by each hospital
Continuous Switching of Customers leading to offer extremely competitive pricing in customer acquisition, impacting the profitability.
There is no clarity yet on Day Procedures, which could reduce the cost of treatments.
But there are new trends, opening up further opportunities
Collaboration between Hospital Chains and Insurance Companies providing seamless experience and faster claims processing
Increasing Awareness on need for Health Insurance from average individuals
Digital Solutions in this sector are on upswing. Multiple Startups and Tech Companies are seizing the opportunities to come up focused solutions for the industry, especially using AI
Focus on Wellness increasing. Insurance companies are looking at preventive health.
Aggregated Health Insurance Schemes for larger group of people in un-organised sectors and Small and Medium Enterprises is going to open up newer opportunities.
There are multiple tech solutions across the value chain of health insurance sector. NASSCOM CoE can act as catalyst for the industry in realizing the benefits of these innovations through collaborating partnerships.
Surendra Tiwari, National Health Authority
Use of technology in adoption of national level schemes such as PM-JAY is the need of the hour. Prevention of Fraud and Misuse is of utmost importance, to ensure the benefits of the schemes reach the deserving population. 5 international reputed data analytics firms are working with NHA on POC (proof of concept) basis and applying their learning tools and search engines on PM-JAY data to have meaningful view of fraud & other patterns. NHA has a fully functional NAFU (National Anti-Fraud Unit), and SAFU (State Anti-Fraud Units) are being established in states for fraud prevention, detection and deterrence. For the PM-JAY to be more successful, a robust technology framework is needed to address the challenges in scaling up, making it more open for participation of different solution providers, hence NHA is already working on PM-JAY 2.0. wherein National Health Claims Processing platform is being developed to provide more flexibility to insurance companies & TPAs.
Learning from the past experiences from the schemes such as The Rashtriya Swasthya Bima Yojana, PM-JAY is trying to approach the implementation and monitoring very differently, mainly by building capacity development for states involved.
On IT, there are three operational platforms:
Beneficiary Identification system (BIS) – This is used to issue card to a beneficiary. Through the tie up with CSC (Common Service Centre), PM-JAY cards are being issued by VLE (Village Level Entrepreneur) at the village level.
Hospital Empanelment Model (HEM) – This platform provides online empanelment module to all the hospitals who are willing to participate in PM-JAY. Entire process of application & selection is paperless. Presently, the mix of network hospitals is 50-50 by govt and pvt. Hospitals participating in the scheme.
Transaction Management System (TMS) – This is the main transactional platform wherein claims are being handled both at pre-auth & payment levels. PM-JAY scheme's objective is to make payment in 15 days so that hospitals are incentivized by receiving timely payments. Currently, approximately 90% payments are being released in a month.
INSIGHT team provides real-time dashboards on operations, claims, pre-auth etc.
There are 1393 national level common insurance packages for all member states. States have choice to opt for Insurance model, trust model or Hybrid model. The teams are available up to district level for effective implementation of the scheme. There is an IMPACT team (Insurer Monitoring & Performance Analysis Core Team), for monitoring of performance of insurance companies and TPAs and provide insights to the states.
NHA is very keen to interact with the Health Insurance Industry leaders to continuously learn and calibrate its schemes for better services to the Industry and the Public.
Anuradha Sriram, Aditya Birla
Today, the quality of data matters deeply from a policy-building perspective. With the PMJAY mandate, there is an opportunity for patients to walk into a hospital of their choice for treatment and avail continuum of care. Payment isn't the only objective, but it is very important. There should be a minimum barrier for performance by the hospitals. The current challenge from a hospital and payer perspective is how can the process provide a seamless digital experience? What the country needs is leveraging the scale benefits through partnerships and understanding the economies of health insurance industry.
Jayshree Mapari, Astra Zeneca 
The merge of pharma and insurance is highly beneficial. One such area is 'prevention & wellness'. There are many Screening programs currently underway, but majority do not have diligent follow up mechanisms to track or monitor the at-risk or diagnosed cases. This would only catapult the expenses later, hence we need to appropriately invest in preventive health. We should explore the benefits of Pharma and Health Insurance companies coming together in promoting wellness.
Rupesh Mehta, Reliance Health Insurance
Today, people are happier to share data for better services. Despite staying within the boundaries of data collection, there are smart ways to play with the data and use them for purpose that can provide better services to customers with their consent.  Also Key role of technology today is increasing and trick is to ask as less information as possible directly to customer, reduce the pain of providing information to customer and replace that with technology by collecting information's through various means and enable decision making, off course all this has to be done within the compliance. More initiatives towards building common data exchange platform will ease out this kind of process and lead to automation, which intern will benefit end customer and service provider both.
Rajagopal Rudraraju, TATA AIG
There is a need to learn from the successes and failures of the past schemes introduced by both Central and State Governments. Tech adoption in government schemes is higher than in retail/corporate health business. There are many routine and mundane activities which are still performed by the industry, and the same can be easily automated, with right technology framework. With the Industry pegged at Rs.40,000 crores, it is imperative for the Insurance Industry to adopt technologies for better performance.
Gurdeep Singh Batra, Bajaj Allianz
In the process of improving the speed of service, many times the Industry is compelled to overlook the quality of the data collected. The quality of data capture should be improved, during the customer acquisition process.   Large data carriers like NHA, should look at sharing summary data points for benefit of insurers  so as to look at emerging trends in eco-system.
Deepak Bharadwaj, Legato Health Technologies
There are some experiences India can learn from the developed countries from Europe and US. While the scenarios in India could be different from these countries, the technology adoption use cases from them could be useful in Indian context as well. With shortage of people in the Health Insurance Industry, India should explore the possibility of engaging with Academia with special courses. Also, the country should explore the Health Insurance sector engaging with wellness part of Ayushman Bharat Scheme. Government and Industry should also evaluate year on year metrics to measure the well-being of the people (like National Health Index). Focus should be on holistic well-being rather than proving insurance coverage as it may promote bad behaviors like in developed countries.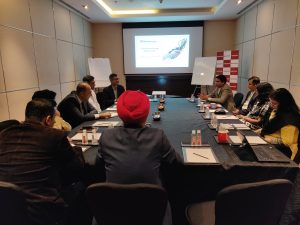 Summary
Every Health Insurance Company is focusing on digitization but need the tech industry's support.
Companies are now moving towards Tier 2/3 cities for sustainability of their business. Technology is the need of the hour to integrate the business models.
Health Insurance Industry is capable of handling larger populations. But the efficiencies can be achieved by using right tools and technologies
It is important to strengthen existing business pillars in health insurance using technology and focus on tertiary care optimization.
The Industry should come together with possible collaboration for data sharing. Data is a huge goldmine. Common platform serves a social purpose. Anonymous data aggregates will help the industry in improving their operations.
Focus on analytics in healthcare insurance for better monitoring and offering cost-effective premiums.
NHA is also planning to come up with shared resources for research, information, possible business opportunities
Talent pool available in India – tap the talent early in the game at the level of academia. Let them build platforms, not tools, so that we will have industry ready talent.
Conclusion
The Round Table Unanimously concluded that NASSCOM should regularly bring the Industry eco-system together through LHIF – Lifesciences & Healthcare Innovation Forum, as these forums create an opportunities to continuously learn about newer technologies entering into the market, to enhance tech adoption and work on a sustained engagement with technology innovators. There is a lot of opportunities for discussions on policy making, between the industry and government through these forums.
For more details please write to:  LHIF@nasscom.in                        Visit our Website: www.coe-iot.com