Redefining The Healthcare Landscape Today With Digital Technologies: A Sneak Peek Into LHIF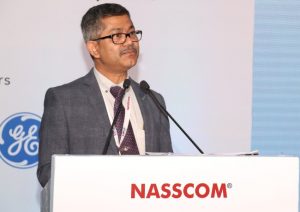 This piece has been authored by Raghuram Janapareddy, Director, Lifesciences & Healthcare, NASSCOM Center of Excellence
The LifeSciences & Healthcare Innovation Forum (LHIF) is NASSCOM's flagship initiative to enable India's healthcare ecosystem, and a federated platform to unify the biggest players in the sector for technology adoption, implementation and proliferation in healthcare today.
The Indian healthcare industry is a behemoth – it is expected to reach $280 billion by next year, and $382 billion by 2022. The industry is growing and evolving due to a variety of reasons that include the rising population, range of illnesses and conditions that need immediate attention; versatility & experience of medical professionals in India; growth of pharmaceuticals, med-tech companies, technology companies with a focus on healthcare; and most importantly, the government's keen interest in addressing healthcare challenges. India's most ambitious healthcare programme, and the world's largest public healthcare initiative Ayushman Bharat too is heavily reliant on technology to mobilize & expand its reach to every corner in India.
These factors have also led to the growth of healthcare and health-tech startups in India. Traxcn data suggests that there are close to 3,000 health-tech startups in India today, addressing a range of challenges that include wellness, facilitating online appointments, quick online consultations, medical screenings and tests using analytics, and more.
Recognizing the myriad opportunities available, NASSCOM decided to mobilize the potential and took on the mammoth task of developing a single, collaborative platform for all these ecosystem builders. That idea was LHIF, and today, is a robust, fast-growing healthcare platform that is working to ensure greater participation to solve challenges and problems in healthcare.
Today, LHIF works extensively with members of the industry, government, academia, enterprises and startups to recognize ideas, provide opportunities for collaboration, deliberate high-level policy discussions and facilitate networking and thought leadership exchange.
One of the most coveted events of the year, the 6th edition of the NASSCOM CoE IoT LifeSciences & Healthcare Innovation Forum will be held in The Leela Palace, Bangalore on 19th September, 2019.
Confirmed attendees include Shri Pankaj Kumar Pandey IAS, Commissioner Health, Govt. of Karnataka, Dr. Devi Shetty of Narayana Health, Mr.Gagan Singh Bedi, MD AstraZeneca Pharma India, Mr.Nalinikanth Gollagunta, MD Wipro GE Healthcare, Mr. Niclas Jacobson, Deputy Director – Ministry of Health and Social Affairs, Govt. of Sweden, and many more stalwarts from the Industry.
Please click here for more details. You can also view the program agenda below. 
The Digital Shift in Healthcare Is Here. Come and Be Part of It.
Write to lhif@nasscom.in if you want to be a part of this path-breaking initiative.
Follow NASSCOM CoE IoT DSAI on LinkedIn, Twitter, Facebook, and Youtube
---