Shouldering The Legacy of Yesterday: Flashback to Healthcare in 2019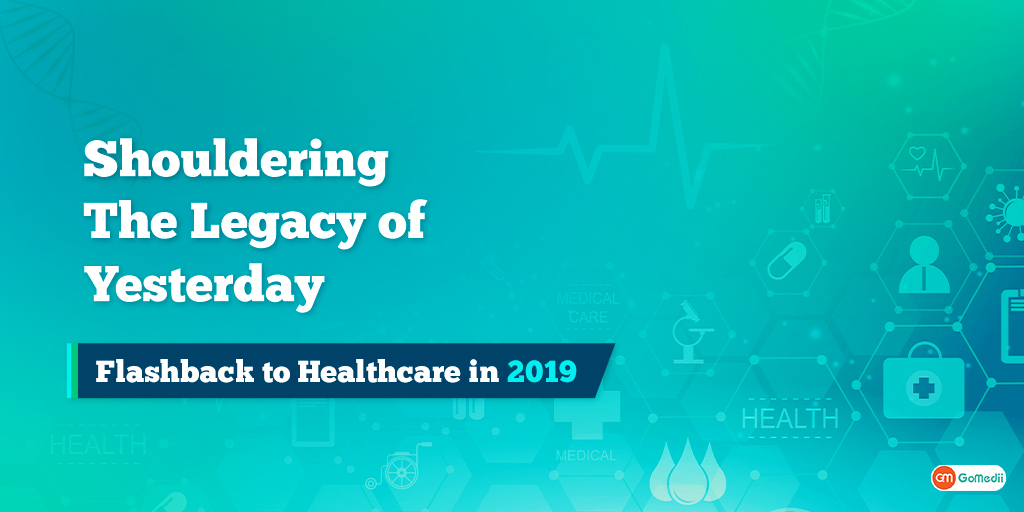 With the start of the new decade, it becomes imperative to analyze, what has the last decade given us in the field of healthcare. Understanding about aspects we dealt with, in 2010, and things we achieved in 2019, play an important role in defining the next 10 years. Speculations regarding technology and a step ahead in healthcare ended when the concepts like Hybrid Model surfaced in the healthcare sector in India.
2019 saw some exceptional changes that did not confine themselves to the boundaries of geographical constraint, but spread across the natural habitats. We must appreciate the efforts that went under, in establishing a sound system of better connectivity and approach to new horizons of healthcare in India.
According to Forbes, the top 8 predictions that were made for 2019 regarding healthcare, most of them have to some extent profoundly come to exist and will further be inherited in 2020. India and the healthcare position, do not subdue to the challenges that it has faced. There has been advancement and the entire system has now moved to a more value-based Hybrid model.
In India, the booming industry of healthcare has been predicted to reach a mammoth number of Rs 19, 56,920 crore (US$ 280 billion) by 2020. The idea that drives this optimism is the developments from the previous decade (2010-2019). There has been overwhelming support from the private and public sectors. This new zeal is fueled through rising income levels, greater health awareness, increased precedence of lifestyle diseases and improved access to insurance which would be the key contributors to growth. Health insurance is also gaining momentum in India.
Particularly talking about Health Insurance, which would further build up the spine to the accessibility of the services has seen positive results in 2019. Gross direct premium income underwritten by health insurance grew by 17.5 percent that is counted to Rs 20,274.11 crore (US$ 2.90 billion) in FY20 (up to August 2019).
The strength of any establishment lies in the commitment of the ownership. Hence, if healthcare in India as seen in 2019 and all over the past decade, has to be telescoped through the government lenses.
While there have been great initiatives, some of them have made remarkable progress to create a hybrid, virtual and plausible environment for the growth of healthcare in India. The National AYUSH Mission intends to build on India's unmatched heritage represented by its ancient systems of medicine like Ayurveda, Sidhha, Unani & Homeopathy (ASU&H) which are a treasure house of knowledge for preventive and promotive healthcare. The positive features of the Indian systems of medicine namely their diversity and flexibility; accessibility; affordability, a broad acceptance by a large section of the general public; comparatively lesser cost and growing economic value, have great potential to make them providers of healthcare that the large sections of our people need.
Bringing more dynamics in the healthcare system, the government launches the National Health Portal. It has been estimated to be the World's largest government-funded healthcare program. Along with these, emergence of telemedicine, and government initiatives like e-health married with tax benefits and incentives are driving healthcare market in India.
What is next? Along with the sailing of the plans to improve healthcare, the idea has been put into force of more skilled labor. After all, Healthcare too is an industry that does not only require skill in operation but implementation. In this regard, people related and professing in the medical sector have to be well placed in the industry.
2019 saw this plan suitably finding its space and working in a more and more refined format.  An estimation has been put in this regard to increase the man-force in the sector up to 1 million. This giant number is a meticulous work of the yesteryears and the growing knowledge in the sector.
One cannot really pull their hands off the technological advancement that is sweeping through the fields and sectors of industries across the globe. Where and how has Indian been doing over this issue? The answer is, fairly well! The investments from within and outside the country have seen many prospects in the healthcare industry.
In the month of April, the records of investment showed a great hike. Japan-based venture capital firm and a subsidiary of the SBI Group, SBI Investment has invested $ 17.2 mn in Bengaluru – based health – tech AI startup.
One has to give credit to the growing startup culture. This took shape and speed on another level in 2019, with the advent of options like Artificial Intelligence, Telemedicine, and many more.
One that has been widely influenced the young and old alike in the year 2019, is the mobile and wearable health-tracking devices. India is emerging as a strong market for wearable, with approximately 2 million units sold in 2019, expected to reach 129 million units in 2030. It is providing another edge to healthcare in India.
The world is playing with data and information. In each field, everyone is trying to get a safety vault where they can store information. Hence, it becomes important, that new methods are adopted to eventually achieve this aspect even in Healthcare.
2019 has brought in new horizons and one of them has been the data collection. One of the most impressive aspects has been "High-end clinical domain information systems for effective healthcare delivery"
In simpler terms, this incorporates and promotes the idea of "Electronic Health Record." The Electronic Health Record (EHR) provides doctors with a quick, reliable, secure, real-time and user-friendly source of all relevant patient data. The system has used a lot of technologies to fill in new technologies in maintaining the system.
While this has been the side which benefits both the doctors and patients alike, Online medicine pharmacies have helped the patients and customers relish a new style of healthcare. As compared to 2010, the ways and procurement of medicine in 2019 have completely revolutionized.  Adding to this is the Robotic Surgeries.
India's surgical robotics market is estimated to expand at a CAGR of 20% (2017-25) to hit the size of $350 mn by 2025. The primary care industry is currently valued at $13 bn. The share of the organized sector is practically negligible in this case.
There must not be any surprise over the issue. Given the fact that, Public healthcare institutions in India continue to be the major source of healthcare in both rural and urban areas.
The reorientation of hospitals in 2019, helped to achieve life expectancy as high as 70 years. Along with this, the health coverage has helped a total of 20% of the population to receive high-quality medical assistance in the past year.
New concepts have been inculcated in the fabric of healthcare in India. With the United Nations SDGs, India has now started working with a whole new set of ideologies. It instills fostering new technologies for last-mile delivery and continuum of care.
Digital health has emerged as a game-changer in achieving UHC goals. India has taken rapid strides here and digital health is bringing healthcare within reach of 70% of our population residing in rural and remote areas. The testimony to this achievement has been the 58th rank of India in the World Economic Forum's Global Competitiveness Index 2018.
Medical Tourism is now a thing being explored. It is a platform where India is sought heavily around the world. The Indian Medical Tourism market is expected to grow from its current size of $3 bn to $7-8 bn by 2020. The diagnostics industry in India is currently valued at $4 bn. The share of the organized sector is almost 25% in this segment, with a share of 15% in labs and 10% in radiology.
Looking back at the achievements and the recap of what the journey of 2019 was, we can very well say that a bright future for the healthcare sector is soon to emerge. At GoMedii,  the year, 2019 has had its own saga of new and improved methods to contribute to the dream of a successful system and pattern of healthcare in India.
The advent and polished technology has enabled virtual healthcare and prescription pads which we have brought in 2019. We have successfully enabled a mechanism to manage Chronic Illness. As the country is moving forward policies like The National Medical Commission (NMC) 2019 Bill, recognizes the much-needed reforms in medical education. However, the challenge lies in building capacity for training people in a short time. Yet, there is no doubt that a better and stable future of Indian healthcare lies ahead, and each must work to make better things possible.
References:
International Journal of Health-System and Disaster Management
Press Information Bureau Government of India Cabinet
MoHFW Launches National Health Portal (NHP)
Health Issues in India
National Health Policy Ministry of Health
Invest India: National Investment and Promotion and Facilitation Agency
Forbes India.