Apprising with the vogue of 2020 – NTLF 2020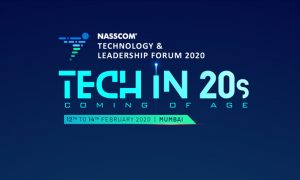 28th edition of Nasscom Technology and Leadership Forum (2020) was organized at Grand Hyatt Mumbai between 12th – 14th February 2020 Keeping in mind the importance of  "entrepreneur and the Big- Data" in today's world, theme for the event was 'Tech In '20s: Coming of Age'. Where the repertoire of knowledge was filled with the thoughts of eminent speakers Like Abhiraj Singh Bhal, Co-Founder, UrbanClap who closed the session on an optimistic note by saying "India will change during the coming 10 years as data-enabled life evolves making it imperative to pick short term goals first."
Privacy being in question Brittany Kaiser Own Your Data Foundation stated: "We need to understand ethical & moral compliances when we talk about data being used by companies." She raised the concern for regulation not being practised conscientiously.
Keeping pace with Artificial intelligence which has engulfed everything in today's era. The future of consumerism can be seen as the real transformation from the real world to the virtual world.
Three stalwarts from the Indian IT industry – Wipro Chairman Rishad Premji, Infosys MD and CEO Salil Parekh, and TCS MD and CEO Rajesh Gopinathan broached their opinions on sectors and roads in the panel discussion.
The event also highlighted the role of a fast-growing emphasis on innovation as the base of any organization in the coming decade. With the advent of AI, the Internet of things and various technological advances in this era, it becomes important for each organization to cope up with the change and to make the employees as well as consumers comfortable with the changes. Digital transformation plays an exciting role in driving changes taking place around the world.
Wipro Chairman Rishad Premji brought into picture the philosophical change related to the idea of Indian companies versus global companies. Premji emphasized the expansion of Multinational companies as the philosophical change in the above idea. Thus, these cannot be two separate entities now in the world of globalization where the cultural mix is the phenomenon.
The topic for one of the panel discussion Technology and Talent beguiled the audience.
Where TCS MD and CEO Rajesh Gopinathan stated, " Indian IT sector has built an enviable talent pool, what industrialization did to Europe, technology is doing that to India." Indian IT is the originator of the change in automation and is no longer playing catch-up.
Nasscom has been acknowledged by all the stalwarts presented there, for their 20 years of participation. NTLF provided the platform where not only thoughts were shared but the audience was also acquainted with the real-life stories, leaving no corner of the corporate concepts. The platform covered all the topics prevailing in this vogue like:- Cloud Computing, Big Data and Analytics, Cybersecurity, Agenda for 5 trillion Indian economies, Artificial Intelligence, Internet of Things, health care sector, Organisational change, IT sector, 3D Printing etc.
---