Technology – The Ultimate Driver in Ecommerce and Logistics Efficiencies
The force of technology is growing significantly, and the commercial world is witnessing massive paradigm shifts. E-commerce is driving innovative business forms and will continue to be a forcer à compter avec (a force to reckon with). And logistics will continue to be the support service giving wind to the ecommerce wings. Growth in logistics under the digital era, may follow and be a reflection of the growing ecommerce curve, but in essence the efficacy of the supply chain, with its timely deliveries and efficient pickups, is a major factor in boosting consumer confidence in the idea that is ecommerce.
And in turn, it is the advanced technology which is powering the efficiencies in logistics. Whether it is optimum material flow and inventory management or cost effectiveness due to shortened delivery lags and flawless job assignments – all are driven by advanced AI powered technological solutions. Blockchain is another tech marvel that empowers supply chain industry with significant reduction of bureaucracy and paperwork by providing an automated process of storing information in digital format. It ensures a transparent and precise end-to-end tracking in the supply chain helping the organizations to digitize physical assets, create impeccable records of all the transactions, making it feasible to track assets from production to delivery or use by ultimate consumer.
A delivery business must have the technology, resource and logistical competence to prepare and manage the overall activities involved in the planning, sourcing, acquiring, storage and distribution of inventory and goods right to the customer delivery or return – ensuring a delightful customer experience in the process. The rise of the e-commerce industry has challenged the conventional last-mile delivery logistics. Its pace and authenticity are critical for e-commerce companies to deliver and maintain consistent customer experience and swift innovative solutions in logistics are a key to keep up the speed with the heightened customer expectations.
ABOUT THE AUTHOR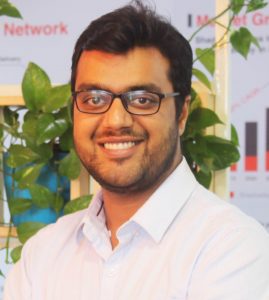 Abhishek Bansal, Co-founder & CEO, Shadowfax
The registrations for 28th NASSCOM Technology & Leadership Forum (#NTLF2020) are open. Visit https://www.nasscom.in/ntlf/ to see how the event is shaping up. Register Today at https://www.nasscom.in/ntlf/register.html
We have special offers running for SMEs, Start-ups and Women in Tech, contact us at ntlf@nasscom.in to know more.