Leader Talk: Interview with Ritesh Agarwal, Founder & Group CEO, OYO Hotels and Homes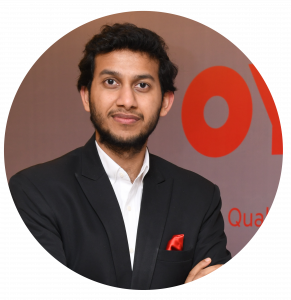 1. The whole idea of a tech startup disrupting the hospitality sector – how did it come about? Were there any early signs that there is a great business model which strengthened your resolve?
It's also important to ensure a consistent and controlled experience end-to-end for customers. Since I loved exploring new cities and cultures, I spent most of my 'me time' traveling all over the country and during such trips, discovered the disconnect between demand and supply of quality living spaces.
While I was travelling across India on a shoestring budget and had to lodge in some of the not so great guest houses, I realized that I was looking at the wrong end of the rope. The problem wasn't the lack of availability of budget hospitality options; it was that the majority of unbranded hotels lacked the minimum baseline standards of quality and service delivery. This meant that the solution wasn't merely aggregating hotels on a website; it was to consolidate and upgrade the fragmented segment and ensure the delivery of predictable, standardized and affordable stay experiences for travellers across price points. I wanted to fix this problem by using technology and talent. That's how OYO was launched in 2013, with the promise of delivering predictable, affordable, anytime-available stay experiences for travelers – a 100% 'Made-in-India' business model and the first-of-its-kind worldwide. Unlike a booking platform or a hotel room aggregator or an online travel aggregator, OYO Hotels & Homes is a chain of leased and franchised hotels just like all the other hotel chains world over including the Taj, Oberoi, Marriott etc.
Today, OYO Hotels & Homes is South Asia's largest, China's second largest, world's sixth largest and fastest-growing hotel chain of leased and franchised hotels, homes & living spaces. I would like to state that OYO is not a room aggregatorOYO is not an online travel agency. OYO is not a certification company. OYO is not a marketplace. OYO is a hotel chain. OYO's mission is to upgrade all forms of real estate and thereby provide quality living spaces to travelers around the world. OYO today host guests from around the world in over 20,000 franchised and leased hotels and over 700,000 rooms, and more than 45,000-holiday homes, adding over 70,000 rooms every month, globally. With the @Leisure Group joining the chain, OYO today has footprints in more than 800 cities across 85 countries including UK, US, India, China, Malaysia, Nepal, the UK, UAE, Indonesia, Saudi Arabia, the Philippines and more recently Japan. Every night almost 450,000 heads rest on a pillow in an OYO, a testament to the impact we are creating globally.
We'd like you to please share your thoughts on the lifecycle of data. Data – collection, filtering, processing, maintaining quality, drawing insights, privacy etc. What kind of best practices do you have?
The way we look at it is that business and data privacy must go hand in hand. It's not about choosing one over the other. Companies in India have realized the growing importance of data privacy and the evolving regulatory environment around it. Things can only get better as greater clarity emerges on the regulatory front.
Incidentally, I am also the Chairman of the CII National Committee on e-commerce and the committee comprising 70+ members from across the spectrum shared some important suggestions wrt data privacy, localisation, etc with a view towards ensuring we are able to encourage innovation and industry while establishing the necessary safeguards when it comes to all things technology.
From a customer standpoint, data science and analytics help us improve the guest experience at every step. Through AI and machine learning, we look at multiple metrics from time of the day, weather, location to local events in order to be able to learn more about what kind of a room a customer prefers, and what are the search results the customer is most likely to appreciate.
Data science and machine learning help us understand guest behaviour – both preferences and implicit behaviour, how they interact with our search results and app and the interactions they carry out while staying at our hotels. For eg, if you prefer a certain kind of hotel and amenities, relevant hotels matching previous preferences will appear on top of the search results.
3. Data tells a certain story. At times it may go against the common wisdom. How do you galvanize resources and act? Especially, if there's resistance.
At OYO Hotels, I call myself the chief clarity officer. Which means that my job is to share what to do and advise on what not to do. More important is, what not to do than what to do. So setting out the principles which enable everybody to decide how they can run their jobs. I always keep myself in the customer's shoes and ask if it will add value to their experience. That makes it very easy for people to focus, and that focus has the means of creating value for customers and asset owners alike. At the core of it, we have to be solving a problem in a sustainable and scalable manner.
4. Funding – your advice to young entrepreneurs. Especially on seeking Patient Capital.
While you are in the process of coming up with a truly innovative solution, it is essential to keep an open mind. One should accept failure, and be willing to learn, unlearn and relearn again. I have always believed that an overnight success story is backed by at least five years of dedicated hard work and perseverance. Often, it is not the most complex solution, but the most creative one that can help solve a problem. The importance of innovation cannot be overstated. For any business and start-ups, in particular, it is vital to inculcate the spirit of curiosity and lateral
thinking to succeed in the long run.
At times, we tend to get carried away by what we think are good ideas, but in reality, they may not serve the customer's purpose in any way. It is crucial that we understand the customers' requirements and direct our efforts towards providing the best possible solution to their requirements.
5. Managing phenomenal growth. Your success has now acquired legendary status but behind all this glamour there must be a definitive strategy which works perfectly. As organizations grow in size, how do you manage scale and yet retain its soul?
The biggest differentiating attribute is OYO's technology driven approach to building efficiency in the hospitality space with its full-stack fulfilment led model. We are investing heavily on strengthening our capabilities both in the form of technology, talent and network, while creating an ecosystem of efficiency through which we are able to deliver higher yields for our asset owners. We have invested thousands of crores in capex, appointed hundreds of GMs to oversee operations and customer experience, created job opportunities for over 100,000 people in India alone and set up 26+ OYO Skill institutes for hospitality enthusiasts.
On an average, over 75% of hotel owners associated with OYO Hotels has seen an increase of 20-30% in occupancy, a 2.5X jump in RevPar and significant jump in profit, for every asset operating as an OYO branded building. Also, currently 1 out of 6 asset owners has more than 1 asset with OYO – this is a testimony to the confidence of our asset owner community on the brand. The churn rate we see is less than 1% on an average annually which is by far the highest retention rate in the hospitality industry. In the last five years, we have seen a 4.3X Y-O-Y growth with realised value run-rate of $ 1.8 billion (annualised). We have made this possible by investing in four key competencies in the last five years:
1. Sophisticated onboarding process:
At OYO, we have developed the ability to scientifically identify and onboard strategic buildings within a shorter time period (vs. others). The approach and strategy of our Business Development team is powered by an app that builds efficiency and transparency in the system. The app is equipped with multiple features including route planning, meeting management, deal prediction and learning and Quiz Sections to continuous disseminate knowledge and upgrade the skills of our BD managers.
2.Best-in-class renovation capabilities:
Our deep renovation capabilities have empowered us to ad d 65,000 exclusive keys to our chain every month at a global level. We have set a new benchmark in transforming and renovating assets in a record time of within 14 days – a stark contrast to the industry standard of upto 90 days. We also have a 1,200 OYOpreneur-strong team of civil engineers and designers in India, China and other international markets, We utilize AI-led design approach while evaluating guest feedback and identifying their most-preferred designs. Our efforts are supported by in-house design labs – OYOXDesign and Townhouse Design Team . Our full-scale, capability-led model allows us to undertake a 360-degree transformation and renovation while upgrading the existing structure of an asset – from flooring, plumbing, air conditioning, painting, electrical fixtures to utilities upgrade.
3. Hotel Operations:
We focus heavily on service quality and invest in it, both in the form of technology to help run day to day operations through multiple apps like Keep, Property Manager etc and talent. We also have over 26 OYO Skill Institutes where we train hundreds of hospitality enthusiasts every month.
4. Higher yields for asset owners:
All the above mentioned facets come together and create an ecosystem of efficiency through which we are able to deliver higher yields for our asset owners. Every hotel or asset that becomes a part of OYO's chain, witnesses an increase in average occupancy from 25% to 65% in a brief span of three months. We have a team of revenue managers who are able to derive and drive the best pricing mechanism in the industry with the help of advanced machine learning and AI tools, so as to optimise for best outcomes for customers and hotel owners alike.

6. Compliance & Regulatory – your views. What kind of a regulatory environment would you
want for Digital India – please can you share your specific thoughts.
What we are currently witnessing in terms of the startup ecosystem in India is phenomenal. The country is right at the cusp of a seismic offline to online shift, especially in tier two and three markets. There is a tremendous young demographic with a potential to impact and transform these opportunities. We have young people who are looking to build their own products and companies than just aiming for job-security. India is a great place for budding entrepreneurs. The market size is enormous; significant problems waiting to be solved. The start-up environment here is exciting and transformational. Our Government is committed to supporting the start-up ecosystem through funding, regulatory and logistical assistance. There are incubators, venture capital firms, and even mentors who dedicate their time and resources to help aspiring entrepreneurs reach their goals.
At the same time, we should further aim to build a concrete foundation for the youth by making them self-sufficient. Schools should look at providing students with opportunities to identify real-life problems, provide them with vocational training to expand their horizons. Encouraging them to think out-of-the-box, supporting innovative ideas and solutions through formal funding or recognition platforms are just a few ways to create an entrepreneurial culture from an early stage in education. Being fearless opens unexplored horizons, and that's what students should
learn at a first stage.
7. What's passion? Can it be developed or is it an in-born quality? How do young entrepreneurs manage to remain in a constant state of energetic living 24/7/365? Is there anything at all called a work-life balance?
Having a passionate team and being surrounded by individuals who embrace your passion as theirs is extremely important when it comes to building a company that sustains itself for years to come. I believe it is essential to develop and sustain a mission-driven organization where the passion and interest of employees stay intact as the company grows and diversifies. I am an ardent believer that the culture of an organization is the foundation for the success of the company. It is crucial that you create an ecosystem where the employee's passion, innovation, and perseverance find a home and take them ahead on the career trajectory. It's sacrosanct that both the employees and company grow at the same pace and touch greater heights. At OYO, what I have observed is that our employees who we call OYOpreneurs therefore, predominantly millennials, don't just want to work for two square meals a day, but wish to be self-starters and trendsetters. They want the freedom to execute and seek the trust of the organization in their judgment.
8. You are an inspiration to millions of people – who has been your inspiration and why?
The Thiel Fellowship is a school of learning like no other. I was the first resident Asian to be selected and graduate from the Theil Fellowship and was mentored by Peter Theil himself along with other visionaries.
I learnt so much from spending time with a number of US-based start-ups, famed Silicon Valley entrepreneurs, investors, thinkers and visionaries. The mentorship I received and the quality of ideas I was exposed to were easily at par with the best business schools. I got to learn everything while actually pursuing my dream. Learning by doing, that's what Peter Thiel wanted each of us to focus on. Building and scaling a disruptive start-up, while simultaneously pursuing the fellowship program, were two intertwined journeys that were also life-defining experiences for me. Some of my biggest learnings were –
● Start small, nail it and then make it big
● Be humble, be focused and have grit
● Focus on your organisation's culture, recruit only the best
● Look for details and keep the big picture in sight
● Stay agile, but always remember your mission
● Set processes early on, challenge the status quo
● Work with investors you respect
● Gun for a great product, everything else will follow
The most important learning however was understanding how to think big and scale a business, and the importance of believing in my ability to create an impact. As entrepreneurs, we are wired to take risks, we are eternal optimists and I learned how to channelise this in the right direction.
9. Your leadership mantra and big bets for the future.
I learn something new from my teams every day, and their conviction, hard work, and innovative thinking help me in enhancing my own skills and achieving the business goals. Every day we are tirelessly working towards changing the way people stay away from home by creating beautiful living spaces.
Each one of us at OYO profoundly understands the value of hard work and that there's no shortcut or substitute to it. We are believers in the power of passion, perseverance, and conviction. For me success is elusive, and it's crucial to keep setting benchmarks in whatever you are doing. It is not the end of the road once you achieve your goal. I like to keep challenging myself. Once the goal is achieved, the next step isn't to stop but to aim higher. In the line of
hospitality, looking at the positive feedback from customers as well as the happiness of the employees and asset owners is what gives me the most satisfaction. Also, I aim to keep innovating for my customers. Learning to unlearn and learn again is my mantra of success.
Looking back over the last 5+ years, I believe our passion, perseverance, and grit helped us pivot to where we are today. We have now emerged as South Asia's largest, China's second largest, world's sixth largest and fastest-growing hotel chain with over 20,000 properties having 700,000 rooms across 24 countries, and there is a lot more to achieve. I am confident that we'll be the largest hotel chain in the world by 2023.
10. Hypothetically speaking, if there's one area that you want to make a massive difference – from a CSR standpoint.
I am happy to share that we have recently launched OYO Reach which is our CSR programme for promoting sustainable tourism. The programme has commenced from Shimla where 83% of OYO hotels in the hill station have been equipped with rainwater harvesting systems. Implementation of this technique will lead to enormous savings of 81,000 litres of water approx. in the hill station. We have also recently donated essential supplies as a company to those affected by Cyclone Fani in Odisha. Through OYO Reach – our CSR assistance program, we are aiming to provide necessary technical and financial assistance to OYO partners and stakeholders across the nation, in a wide variety of projects and activities. We will also be focusing on skill development, economic opportunity creation along with sustainable tourism.