Leader Talk: Interview with Sujata Sahu, Founder, 17000 ft Foundation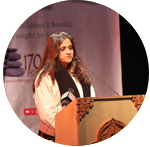 Sujata Sahu
Founder, Director, 17000 ft Foundation
Sujata Sahu founded 17000 ft Foundation, a not for profit that is dedicated to go to the remotest villages of Ladakh, in areas that are ignored and forgotten and help build an eco system of growth and opportunity, for its children and its people. 17000 ft works in over 200 village schools today, to improve education via digital intervention, create opportunities and transform lives.
1. How did the idea of taking digital education to remote schools in Ladakh come about?
The region of Ladakh is possibly one of the toughest inhabited regions in the world, with high altitudes, extreme weather, tough terrains and remote and sparsely populated settlements scattered across the mountains. The challenging terrains and inclement weather make travel and administration difficult, leading to remote villages with very poor infrastructure, limited connectivity and a community that remains disconnected from the rest of the world for months in a year. Given the isolation faced by the people of this region, education therefore is seen as the only way to gain exposure and consequently, economic independence. This desperation leads parents to send their children to faraway cities to private schools, despite the presence of hundreds of small, functioning Government Schools, often dependent on the help and charitable donations of relatives or complete strangers. Though Govt. Schools are well staffed with qualified teachers, they lack good infrastructure and are seen as the poorer cousins of private schools. The teachers themselves lack exposure and training and use older methodologies to teach. With limited access to the outside world, bare minimum infrastructure and resources as well as lack of timely support, turning to digital education to bridge the exposure and learning gaps seemed just the logical thing to do.
2. What was it like to think of creating a "Digital Ladakh"? What were your challenges?
Each time we discussed the idea of using digital technology in the schools of Ladakh, we would be faced with a number of difficulties, making even the discussion process challenging. 17000 ft Foundation works across the two districts of Ladakh, namely Leh and Kargil, covering over 200 schools. Over 90% of these schools are located in remote villages, without electricity, phone connectivity, and in some cases, not even roads. While reaching any of these schools is anywhere from a 3 hour to a 2-day journey, with no two schools being in the same village, there are even some that remain shut for 6 months in a year due to extreme winters and heavy snowfall.
First, it was clear that we could not think of any digital intervention without a dependable source of electricity and connectivity for our schools. Our solution therefore had to provide even the basic infrastructure needed to work.
Second, our system needed to be fully functional off-line, since many of their villages did not even have mobile connectivity. However, besides being fully functional offline, they also needed a dependable way to communicate critical content and data with a central monitoring authority.
Third, our systems would have to be robust enough to be carried over rough terrain, last the -50 degree winters for long months, and be pilfer proof, limiting usage to just the schools it is intended for.
Fourth, most of the Digital Content available was not suited to the Jammu & Kashmir Board and had language content not easily comprehensible by rural students.
Lastly, with distances being prohibitive, and with the lack of any skilled support available at the villages, the solution would have to be one that was simple, easy to use and easier to maintain.
3. What digital solutions did you use? How much of it was off-the-shelf and how much did you need to customise?
None of the solutions in the market fit our needs, or even addressed our constraints. All existing solutions were either expensive, bulky, power hungry, required connectivity, or available as separate, unconnected solutions. We realized that Ladakh needed a truly customized solution that would not pre-suppose existence of any infrastructure, and work even in the most challenging of situations.
We called our solution the "DigiLab".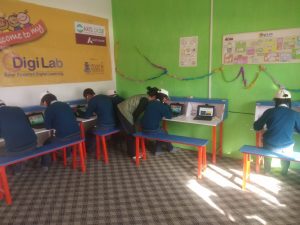 The Solution –
The DigiLab is a Solar Powered customized, personalized and adaptive Digital Learning Solution for use in remote off-the-grid schools without even electricity or mobile connectivity, built as locally networked systems in schools and connected to a Cloud with last mile connectivity provided through a mobile "Connector App".
Within the school, The DigiLab is designed to be a Teacher's Aid to support in the teaching process and also a learning space for children where they learn at their own pace in a personalized digital learning platform. To facilitate this, each school is provided a 200 W Solar Panel and Gel Battery, a local Networking and Data Analytics Server (Raspberry Pi/Other), multiple 10" Lenovo Android Tablets (or Android Laptops) and a 12 v LED T.V in a furnished lab. The Digital Content is fully personalized and customized to the J&K Board, enabling individual learning journeys for each child and with technology enabled Data Analytics stored in the server to drive real-time monitoring and actions.
Each in-School system is connected to a cloud via a last mile "Connector or Facilitator App" which is managed by travelling 17000ft Facilitators who travel periodically to schools, conduct workshops and training sessions and gather data to be synced to the cloud when in connectivity.
Customizations –
The Solar Solution, provided by our Solar Partners, Simpa Energy, was custom built to a 12v Solution to power up just the DigiLab (Tablets and 12v LED TV) and hence minimize chances of the system being taken for personal use in homes. The Gel Battery, the only battery available in India that can charge at -50 degrees, along with the entire charging unit is encased in a special customized box provided with foam insulation. The Personalized Digital Learning Platform, was built by our Ed Tech Partner Convegenius, who customized their existing online product the CG-Slate to make it a truly off-the-grid solution for Ladakh. The content was curated specifically for the Jammu and Kashmir board and also includes other non academic content like Art, General Knowledge, Nursery Rhymes etc. aimed at increasing exposure of children who otherwise remain isolated and do not have any access to the outside world.
4. How did you manage the setup of these DigiLabs in such tough terrain?
In our first installation of this project, we chose 110 schools, all of which have been adopted by AXIS Bank as a part of their CSR. These 110 schools were chosen from all the remotest areas across Leh, Kargil and Zanskar covering the entire 60,000 sq. kms of the region. This is by far, is one of the most ambitious installations that we have ever done and completed entirely by our Field Staff in the region. Most of our field staff are young Ladakhis from the very region that we impact. Consisting of young men and women, many from rural villages, our team was trained by our partners to handle the installations and maintenance of each of the components of the DigiLab. We now have a dynamic team of Solar Technicians and Electricians, Product Technology Consultants, Digital Learning Consultants and Customer Support Executives in our office.
The installation itself was a massive logistics exercise with 4 trips to each school. In the first trip, batteries, solar poles, panels, desks and benches were dropped off in each school. Village Sarpanches and teachers were then trained on the installation of the pole and the panel, giving each school 2 weeks to complete the pole installation. In the second visit, the team completed the setup of the battery and the wiring in each of the schools, testing the power supply to each of the points. The third visit was to install the electronics and configure the Digital Learning System. In this visit, Tablets, the LED TV and the networking server were installed and configured, student and teacher IDs were created and training given to all teachers. The fourth visit to the schools was a final inauguration of the DigiLab with the local administration, village dignitaries, parents and even our sponsors who travelled from Mumbai and Delhi to be a part of the process.
Our team pulled off this entire exercise of installations in just under 45 days, a fact that we are particularly proud of.
5. How have the children responded to technology?
We had been quite nervous about introducing technology into such remote schools, not just because of the sheer difficulties in installing and maintaining, but also because most children in these villages have never been exposed to such technology. We were concerned that the children and teachers would not know how to use them. Our fears however were completely unfounded. The children were extremely delighted with interactivity of all the content and took to the tablets immediately. The platform is so intuitive that the children hardly needed much training and learnt quickly from each other and by observing. Our platform also has games that the children earn time to play. The more they learn, the more time they get to play. Within just a month of installation, children have been coming to school early to go to the DigiLab or are requesting extra time, with the result that they have to be forcefully sent home after school. Many schools re-opened the DigiLab during winter break so that the children could learn even during the long breaks.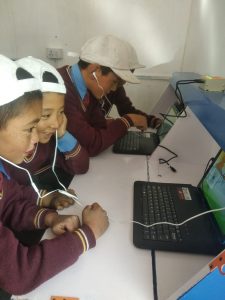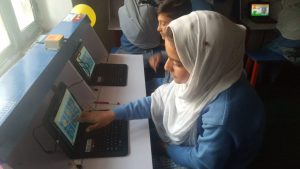 Though it has been less than 8 months since we installed our first set of DigiLabs, children are actively using the labs and scoring on their tests, which is clearly visible through our performance monitoring dashboards. This Academic year, many parents have pulled out children from private schools and are enrolling them into our Govt. Schools.
6. Tell us about the MapMySchool project. Was this is the first time schools in Ladakh being geo-mapped? What were the benefits?
The founding team of 17000 ft consists of die-hard trekkers who have trekked the length and breadth of Ladakh extensively for over 40 years. However, when we started work in Ladakh, we realized how little we really knew about the schools in the areas and the state of the education system in the region. Ladakh being a popular tourist attraction, much of what is known about the region pertains to tourist attractions and popular treks. We realized that if we or other trekkers had enough knowledge about the schools in the region, we would be in a position to offer help on treks. This is what gave rise to the MapMySchool platform, which put all the schools of Ladakh onto a map and encourages travelers to contribute to schools on their way. Most of the villages of Ladakh had never been geo-mapped before and it took us over 6 months to find, map and put these schools on our platform. MapMySchool is now being used as a planning tool for our interventions and is also used to structure volunteer programs across hundreds of schools.
7. What are different sorts of technologies that you are being used in your digital education initiatives? Who are the most prominent technology partners/contributors?
Mostly answered in the previous questions.
We have depended heavily on technology at 17000ft from the days of its inception. The MapMySchool platform itself helped to put all the schools of Ladakh on a map, helping us sort and plan the work at schools based on need. It also helped draw in donors and volunteers from outside to aid in our work. Today, most of our processes are automated, or in the process of being automated into an MIS which help in planning. We use digital technology (Tablets) to gather data from the field even in remote areas, and sync it to our servers when in connectivity.
8. You were a techie yourself. How much that helped in becoming an entrepreneur?
Entrepreneurship is not in my blood. My family comes from a long line of loyal and patriotic Govt. Employees. I, on the other hand, have been a Techie and have worked in Corporate for over 15 years. I have worked in multiple countries, across varied industries and have led teams of different nationalities. Though I have enjoyed my corporate experiences, I was never motivated to become an entrepreneur. Becoming an entrepreneur was borne out of a desperate need that I saw in a system, and a result of months of trying, giving up and then being faced with no options.
Being a techie, however, helped tremendously. It helped me breakdown the challenges posed by the difficult terrain that is Ladakh into more manageable chunks. It helps in the way I run my organization. Technology is the backbone of everything that we do at 17000 ft. The work of our team is planned, managed and monitored largely by systems and processes that are very technology driven.
9. What's the road ahead for 17000ft?
There are 110 DigiLabs in Ladakh today, and they have already passed their first test of extreme winter temperatures. Every DigiLab was re-opened after the severe winter vacation with no casualties or interruptions in the children's learnings. We are extremely thrilled to have pulled this off in arguably the toughest inhabited terrains in the world today. These 110 schools of Ladakh have been a pilot for us and we are already conducting assessments to evaluate Learning Outcomes of the DigiLab. The DigiLab is a unique off-the-grid solution that has been built for regions which could otherwise never have dreamt of bringing technology into their classrooms. However, as a solution, this will work in any remote and rural area with intermittent electricity and poor connectivity, making sure that no child is deprived of an opportunity of better learning. We hope to taking the DigiLab to other remote Himalayan Mountain villages of the country and beyond.