#LeaderTalk: In Conversation with Mr. Jaya Jayakumar, VP & Managing Director, Sabre GDC, Bangalore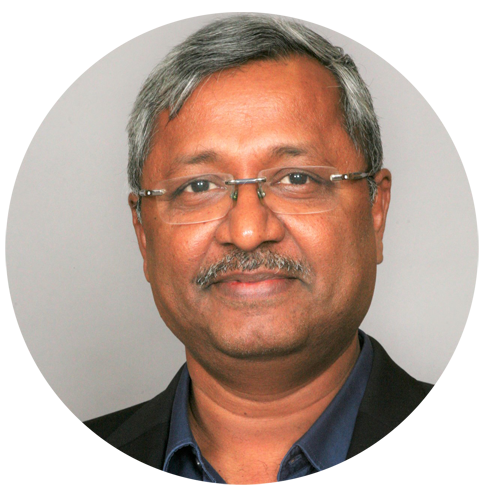 1. How is Sabre re-imagining the business of travel?
Sabre's model is B2B. In the travel value chain, we have positioned ourselves within the traveler and travel supplier construct, which primarily comprises of the railways, airlines, hotels, etc. Our software and technology solutions enable seamless travel experiences for travelers, through bespoke offerings that are personalized to meet the traveler's needs.
In keeping with IATA's New Distribution Capability (NDC) program, we provide several solutions to travel suppliers to help them develop new airline retailing capabilities, which delivers more Intelligent and personalized offers to travelers. For instance, airlines can create smart offers based on the ancillary services availed by the traveler, thinking beyond the basic seat pricing. Along similar lines, in addition to the basic room reservation, hotels can offer their customers personalized packages that includes additional services which caters to the customer's needs, like a day at the spa, or the inclusion of a dinner buffet. The 'travel package', as is the common parlance, is personalized with a high degree of price elasticity.
We use ML (Machine Learning) and AI (Artificial Inetlligence) tools to analyze and gather insights that allow us to architect solutions for our travel suppliers. Our ultimate objective is to deliver a unified experience to the traveler, across devices and touchpoints, irrespective of where they are. But this is challenging, because a business traveler's needs may be different from someone who's holidaying. This is where our intelligent pricing solutions come into play – it helps customize deals and prices based on the traveler's preferences. I'd like to highlight here that this approach is in stark contrast to a one-size-fits-all solution that the industry has been used to thus far.
It is our constant endeavor to reimagine the future of travel for every traveler and personalize their experience. To this end, Sabre has carried out extensive studies to map travelers' behaviors, preferences, and their interactions with various stakeholders in the travel ecosystem. By leveraging our technology capabilities, we are in a stronger position to understand even the unstated needs of travelers. This helps us to understand and pre-empt the travelers needs in a better way.
2. In the age of platformaization and leveraging networks, please tell us about your own experience? Do you foresee any challenges in the future?
Our travel marketplace, the Sabre Global Distribution System (GDS), is the world's largest and first such system, that fetches travel content from airline companies and makes it available to travel suppliers. Our GDS provides data pertaining to schedules, availability, pricing, policies, amongst others. Over 12 billion dollars worth of transactions is processed through our engine, each year. In our line of business, stability is a critical attribute. The opposite -unpredictability, in a travel business can prove to be catastrophic. Sabre has fortified its IT systems using a combination of Mainframe, Cloud, and Open-systems to run critical operations.
It is our constant endeavor to ensure that our partners leverage our platform optimally, to provide the best experience possible to the traveler. The platformization approach to business which has now become a rage is something we figured out very early on, through our open-platforms which leveraged the power of networks to the hilt. We only see more opportunities in this space going forward, and Sabre intends to lead from the front when it comes to innovating and setting the course for the future.
3. A Global Development Center (GDC) often works in a matrix-like structure. Please share your learnings in working in such an environment – management style, delivery and even conflict resolution in case of dotted line reporting?
Yes, when it comes to 2-dimensional management structures, it is possible that conflicts may arise. However at Sabre, we have adopted a transparent approach to communication, which is clear and categorical about roles and responsibilities.
We take great pains to ensure that there are minimal conflicts and that it doesn't get in the way of our decision-making. Communication lines with the central leadership team and other site offices are always kept open, so that we are on the same page. Moreover, we always strive to nurture a culture of collaboration and empathy within Sabre, which allows each GDC to remain dynamic, while working in cross-functional and cross-geographic teams.
4. You must be dealing with copious amounts of data. Please share your data strategy and how do you ensure the supply chain is not compromised.
We have access to 15 petabytes of data. On an everday basis, Sabre systems handle approximately 750 million pricing requests and 77 billion passenger itineraries. As you can see, our business is built around real-time data. You can imagine the extent of the impact that a disruption in service or a data-breach will have on our customers, partners, and travelers.
We are extremely meticulous in the way we handle data. For one, we are GDPR compliant and information is shared only on a need-to-know basis (with clearly defined access-levels) even within our organization. Secondly, controls are embedded in the software and the processes itself, to ensure that they are tamper-proof. And on our GDS platform, only the market-level analysis and organization-specific information are made available.
5. Your specific initiatives to ensure talent is future-ready.
Sabre attracts best-in-class talent and offers them a career path that does justice to their capabilities, and fulfills their ambitions as well. In a GDC set-up, employees have the opportunity to engage in collaborative learning, and to learn from peers through best-practices and other knowledge-sharing initiatives. In addition to this, Sabre has invested heavily in L&D and organizational development programs like providing free LinkedIn Learning access to all employees, partnering with leading e-learning platforms to offer online courses, and providing access to book-rental platforms.
Our industry partnerships, like the one with Google, also offers our employees an opportunity to work alongside some of the world's best engineers. Our employees are empowered to create meaningful solutions for the future, that won't just benfit our customers, but the travel industry as a whole.
Even our interns are very passionate and enthusiastic, and they take to technology, like ducks take to water. They bring in fresh perspectives and an entrepreneurial drive. We give them a platform to hone their skills and an opportunity to create an impact.
6. India as a region – unique attributes that it can offer in comparison to other global developmental centres.
The sheer number of young talented individuals that we have in our country is incredible! No other country can match upto the large talent pool that we have in India. The Indian IT sector has had a large role to play in building this large talent base, and NASSCOM has been a strong advocate of this change over the past few decades. Many people of Indian origin who have been educated in India, have gone on to assume leadership positions in global MNCs. This is testimony to the robust and advanced education infrastructure that we have in our country.
Young people in India today have the skills and the opportunity, which can leapfrog them into positions of power and strength. Even our managerial talent has come of age, which bodes well for Indians and the future of business in India. Our diverse, multi-cultural, and multi-linguistic economy has contributed immeasurably to our acceptance of globalization. This is what gives us an edge over other global development centres across the world.
7. Your pivots for the future and Leadership Mantra, please.
Managing exigencies is a key focus area for us, especially in the current business climate, with the COVID-19 having a deeper impact on the travel industry.
But putting that aside, we are also pivoting in a big way into the areas of AI and ML. At Sabre Labs, we are focussed on building next-gen solutions that can help the travel and hospitality industries digitally transform themselves.
Our leadership mantra is about influence and persuasion. The job of leaders today is to bring capabilities together from cross-functional and diverse teams to catalyze fast-paced growth. This can be made possible when diverse voices are encouraged to speak up and options are weighed meaningfully. That's a major step forward towards building greater engagement with our stakholders and employees.