eCommerce effect – Shopping then and now!
eCommerce effect – Shopping then and now!
 Growth of eCommerce
Online shopping is not new to the Indian context. It has gained exponential growth in the country due to benefits such as convenience of shopping from home, easy payments, delivery and returns, wide range of products available at competitive prices, and deals and discounts being offered by eCommerce players. According to NASSCOM, the overall Indian eCommerce market grew ~24% in 2018, with strong growth across all segments, to reach USD43 billion. It is expected to grow ~2.5 folds to reach USD106 billion by 2020.
eCommerce growth by segment (2018E)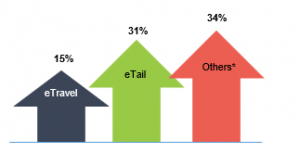 * Others includes financial services, consumer services and digital content
Source: Strategic Review: IT-BPM Sector in India 2019: Decoding Digital
 What has changed for consumers?
All this sounds really good, but how do I feel as a consumer? Despite changes in shopping channel, how has my style of shopping changed? I don't think it has changed a lot except it lacks human touch points, in fact the only touch point while shopping online is during delivery/return of the product.
Back in those days I used to hop from shop to shop, looking for best options, preferred brands, best price, etc. I still do the same, however, the only difference is that now I look-up for a product on different websites, compare prices, look for best deals, before I finally order. In old days, I used to ask my friends and relatives about their opinion about the products. Now I have the world telling me not only about product but also their overall shopping, payment and delivery experience. There were times when I used to wait for monsoon, end of season sales to buy a product. Thanks to the marketplace model we get most of the products at discounted prices throughout the year and on top of it special discount days and festive season sale are like icing on the cake. It is evident by 64% growth in overall gross merchandise value during festive sales in 2018, led by categories such as fashion, smartphones and consumer electronics.
Overall GMV During Festive Sales (USD billion)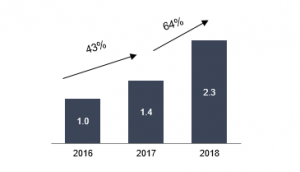 Source: Strategic Review: IT-BPM Sector in India 2019: Decoding Digital
 Role of technology
Who would have thought that advancements in immersive media would enable people to try out eyewear without stepping out of their homes. It is possible now, in fact well mastered by companies such as Lenskart. I could have never imagined that I could talk to a device through apps such as Flipkart and Amazon, like a real person and get all the options in front of me in fraction of the second.
Technological advancements have played a pivotal role in the growth of eCommerce by providing required tools and infrastructure such as smartphones, mobile internet, consumer data, etc., thus paving way for digital technology-led social shopping, mobile commerce, voice commerce, immersive media-enabled experience, AI and ML assisted eCommerce, etc. In addition, innovative push strategies adopted by players such as private labels, same day and next day delivery, subscription-based models and loyalty programmes, are resulting in customer stickiness and cross-selling across categories.
Way forward
According to me eCommerce is definitely here to stay, especially in Tier 1 cities, further expanding into Tier 2, Tier 3 cities and beyond, thanks to advent of vernacular technologies allowing consumers to use local languages for shopping. It would further be boosted by growing digital maturity, improved infrastructure and increasing business investment.
Online Shoppers Metro/Tier 1 vs Tier 2 and Beyond (million)

Source: Strategic Review: IT-BPM Sector in India 2019: Decoding Digital
---