What I Learnt from Social Networking! – Driving employee engagement & collaboration at the workplace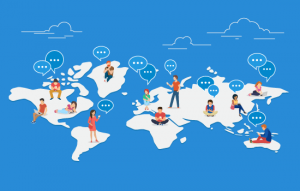 All of us have a need for a sense of belonging, and we assemble ourselves in specific tribes based our ideas, hobbies, likes and even dislikes. In large organizations, hundreds of employees enter their workplace every morning, run into random people during breaks, eat lunch, and leave work around the same time, but only really engage and collaborate with a few team members. It is not that we are dealing with an age of introverts, as these same employees may be connected to thousands of people on social networks; unknowingly some of them may be people they work with. This sense of belonging can only be created when people are motivated to share, collaborate and engage on ideas, issues, and situations they may have in common with each other.
Increased collaboration and engagement among teams not only builds a great working culture, but also is known to drive productivity, increase retention and create a sense of purpose. How come we so freely engage, connect and share with people on social networks like Instagram, but keep to ourselves even among hundreds of people we work with every day?
The secret is in the way these social networks help people to connect. We connect with 'friends' based on common interests, likes and hobbies. Sometimes, we may never even physically meet our social networking 'friends', but yet, we seem to know so much about them and engage with them regularly. The power of connections cannot be based solely on one common thread, like working in the same organization, but has to be based on various threads, commonalities and like-minded behavior that create these digital tribes. Through learning from the power of connections, organizations can help create bonds and increase engagement across cross-functional resources within an organization.
Employees predominantly engage with other employees they work with, live near or are connected with due to common work stacks and times of required teamwork. By using insights from social networks, enterprises can help employees connect with each other more authentically. Enterprises can help to build these authentic bonds by creating groups at the workplace connected by non-work likes, hobbies and interests. This could take the form of creating groups for pet owners, kids of elderly parents, new parents, sports lovers, and more. It is interesting to see that these unrelated, non-work groups actually propel a great sense of belonging at the workplace, and many times all an organization needs to do is start the process. The creation, on-boarding of new members and engagements of the group happen automatically – how they happen on social networks!
The real impact of these interactions is not only to drive engagement and push internal collaboration metrics, but towards a much higher purpose: that of inclusion and diversity. These employee resource groups help bring people together who in the regular role of working may have never got a chance to interact. Some of these interactions could lead to life-long bonds, and some of them could lead to improved collaboration at work. All of them will lead towards innovation. This is where collaboration not only impacts and influences culture, but also directly benefits the business. It has been proven that different perspectives lead to disruptive solutions for the future and creating an environment of inclusion and diversity creates the right ingredients for this to happen. Maybe, employee engagement and collaboration at the workplace have nothing to do with the workplace at all.
– The author of the article is Sumit Sabharwal, Sr. Director – HR, Asia/ India/ Costa Rica – Cluster, Fujitsu Global Delivery Centers