NASSCOM DeepTech Club Meetup & Enterprise/ Investor Connects | 22nd May 2019 | Bangalore
Enabling DeepTech Ecosystem
A day prior to the announcement of most awaited results from the 17th General Elections in India, NASSCOM DeepTech Club organized DTC Meetup & Investor/Enterprise connect session in Bangalore. This full-day event took place at Hotel Leela Palace and with close to 300 one-to-one meetings and one roundtable connecting over 131 highly curated attendees comprising of 33 startups, 18 enterprises, 17 investors and 9 mentors and DTC Roundtable, became the largest ever event of this nature by NASSCOM.
DTC Roundtable witnessed a significant presence from NASSCOM Leadership included- R Chandrashekhar (Former-President, NASSCOM, Member of Chairmen's Council and a subject-matter expert mentor of DTC), Harish Mehta (founder member and former chairman of NASSCOM), KS Vishwanathan (Vice President, NASSCOM), Govt. included Shri Srivatsa Krishna, IAS (Chairman, Chief Executive Officer & Secretary, Coffee Board of India & Joint Secretary, Ministry of Commerce & Industry, Government of India), Deeptech mentors – Atul Batra (Product Council Chair, NASSCOM), Milind Hanchinmani (Co-lead), Anupam Saronwala (Co-lead), Narendra Bhandari, Muralidharan Chandra, Avnish Sabarwal, Nishant Chandra, Somu Vadali, Hasit Trivedi, Anil Gandharve, Ravi Chandrasekaran along with industry dignitaries included Pradeep KS, Technology Lead, Infosys, Krishnan Ramaswami, Lead Search Scientist, Tesco, Kaustubh Patekar, Co-founder & CEO, Advott and Binu Shankar, Assistant Director, Ernst & Young  in addition to Industry Champions, and start-ups from NASSCOM DeepTech club.
Focused on improving the DeepTech Club offering and industry engagement, some of the salient suggestions that were made during the roundtable included exploring linkages with hardware manufacturing facilities for hardware startups, enablement session and professional expertise on protection of IP and Trademarks and need of a mechanism that can channelize inputs from startups for policy recommendations. DTC mentees from batch 1 & 2 also shared their experiences & learnings from the program.
"There is a huge potential for disruptive technology, both in India and overseas. The potential is far greater than what is accomplished to date. DeepTech Club is a great idea to bring together different stakeholder who can actually make the achievement mirror the potential like the creators of product and originator of technology, mentors, enterprises which constitute the market and all other stakeholders from different domains who represent the demand side of the equation. I am thrilled and excited to be a part of this club. It will make a big difference in the days to come," Said R Chandrashekhar, Former-President, NASSCOM, and Member of Chairmen Council.
Mr. Srivatsa Krishna emphasized the relevance of DeepTech ecosystem In India and role of NASSCOM said, "By 2030, India will become the second largest economy on the planet overtaking the United States. We will have a consumer spent over $ 5.7 trillion with 77% of our population under 44. I can't think of a better ecosystem on the planet with these confluences coming together for a deep tech ecosystem to take off. It is perfectly timed for NASSCOM, laying roadmap forward for the deep tech ecosystem to develop."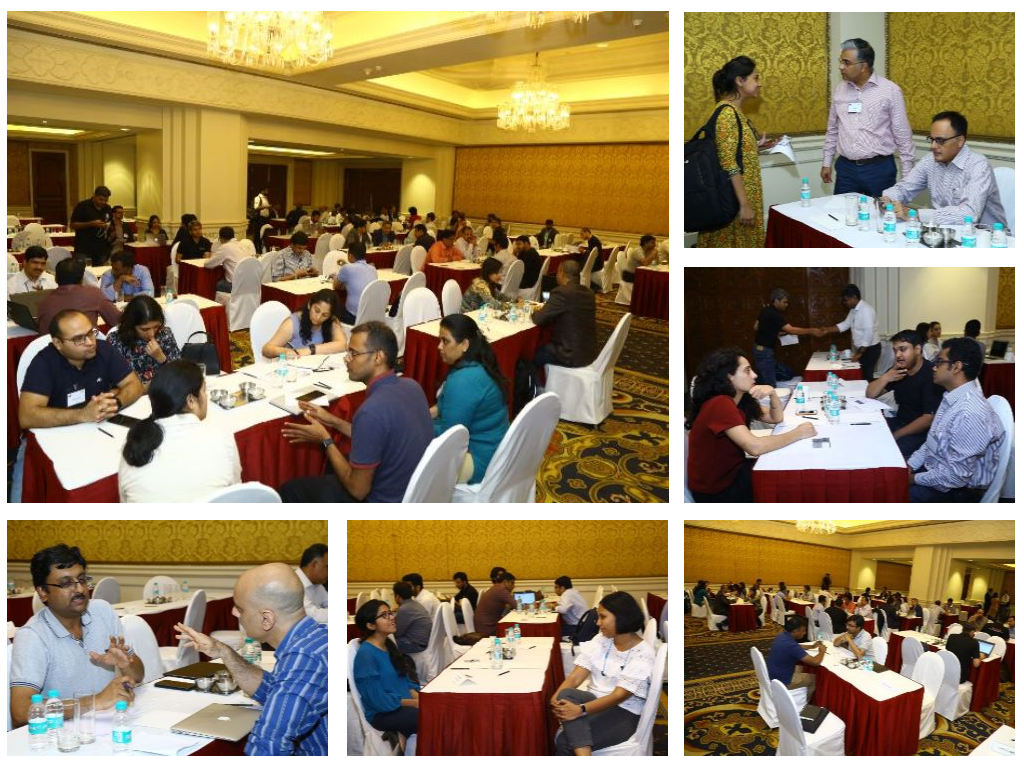 The roundtable was followed by the Investor Connect & Enterprise Connect sessions. Meetings were curated to meet the expectations of investors and enterprises respectively. An impressive list of invited start-ups from NASSCOM DeepTech club, Emerge 50, CoE IoT, CoE DS&AI and NASSCOM 10,000 Startups program met the investors including Accel Partners, Bharat Fund, Blume Ventures, Chiratae Ventures (formerly IDG), IAN, 1Crowd, Ideaspring Capital, Infosys Innovation Fund, Inventus, Let's Venture, Nexus India, Pi Ventures, Prime Venture Partners, Qualcomm Ventures, Rebright Partners, Sri Capital, Stellaris Venture Partners, Unitus VC and Ventureast teams.
The enterprise connect session, which was conducted in partnership with NIPP team was attended by innovation teams and business units from Accenture, Aditya Birla, Diageo, Future Group, Fidelity Investments, GE Healthcare, HDFC Bank, Infosys – AI Unit, Infosys – Startup Innovation, Intel, Kotak, Nipun Mehrotra, Pay U Money, Shoppers Stop, Tata Communications, Tata Steel, TCS, Tech Mahindra, Unilever and Wipro.
Manish Mittal, Chief Omnichannel and Digital, Shoppers Stop speaking about his experience and expectations from DTC connect session said, "It was a very useful session where I could connect with a large number of startups in a very short period of time. I really liked the speed-dating format which allowed me to meet up with many entrepreneurs, get a sense of things they are bringing to the table and get a quick sense of value they can add to our businesses to enable further connects. Overall, the list of startups was very impressive and we were able to identify few with whom we will extend our discussions. Going forward, we would love to be a part of these sessions."
While talking about his experience and learnings for the mentorship program, Hemanth Satyanarayana, Founder and CEO, Imaginate and DTC Cohort 2 mentee shared, "We are glad to be a part of NASSCOM DTC Cohort 2. We got connected with our mentor Anupam who helped us in refining the pitch deck. It was crucial for us as we had just started talking to the investors for the next funding round. In addition, we were able to benefit from investor connects, enterprise connects, participation at important events and other B2B meetings that took place under the DTC program. We look forward to furthering engagement with the club."