NASSCOM Reskilling Series – EXL's Journey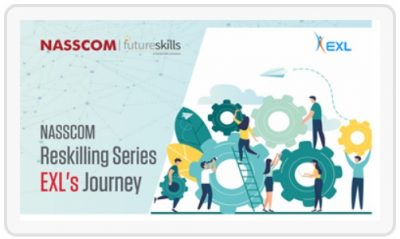 Through this Reskilling Series, NASSCOM explores, how EXL Service, a leading operations management and analytics company is driving workforce reskilling in the digitally transforming world.
How EXL navigates Digital Transformation
Acquiring and developing the talent that companies will need if they are to win, has become a defining issue for business leaders in the digital era.
While hiring and acquisitions are important options, constant capability development at scale is a key part of EXL's talent strategy. "What is the skill
set of tomorrow?" is a perpetual question and constant learning is inbuilt into organizational DNA. Employees at all levels are encouraged to take an active role in their own development, not just waiting for formal company-driven programs. Employees are encouraged to demonstrate learning agility to first achieve transformation within, to successfully drive transformation for its clients.
Over the last couple of years, as digital intelligence grew into EXL's primary value proposition to its clients, it took a hard look at what domain capability really means for them. It comprises:
Industry & Client Expertise
Digital
Process & Product Knowledge
A focused development Approach on Digital
To be a strategic digital transformation partner for its clients, EXL has prioritized capability development on
The digital dimensions of Digital Leadership
Digital Technologies and Methodologies and
Digital culture & mindset
Key capability development initiatives at EXL
As part of their learning portfolio, EXL leverages a wide range of capability development mechanisms such as workshops and online trainings, blogs,
communities of practice, action learning projects, MOOCs, Webinars and other new capability development platforms. The digitally savvy workforce today is energetic and busy, highly driven, craves technology, is pragmatic and wants learning at their fingertips. To keep up with their learning needs, EXL ensures that learning can be accessed from anywhere, is available on demand, is self-directed and people can collaborate while learning. Naturally, EXL ensures that a differentiated digital capability development approach is aligned to the specific needs of different audience segments.
Conclusion:
To be Digitally Mature, you have to disrupt your Capability DNA. The mantra that EXL has crafted on its digital transformation journey is 'Employing digital for catalysing business transformation; Driving digital maturity through a focused development approach on digital; and redefining domain in the light of digital'.
To read more Click here: