'Build n Buy'- Mantra by organizations to meet talent needs
In today's rapidly changing digital landscape, organisations that understand their talent needs and know how to meet them have a competitive edge. The Indian technology industry is adopting a multi-pronged strategy for fulfilling talent needs. In order to address the increasing skill gap, organisations are leveraging various mechanisms, including focusing on both 'build' and 'buy' approaches, acqui-hiring, and leveraging alternate workforce.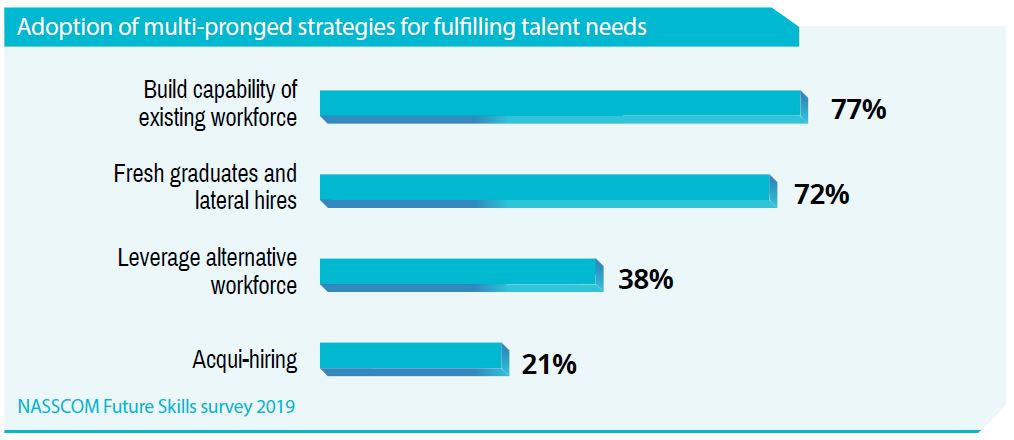 Deploying a mix of 'build' and 'buy' approaches
Organisations have found it conducive to use a mix of 'build' and 'buy' to fulfil their talent needs. Discussions with industry leaders highlighted that organisations equally prefer building capability of their existing workforce and hiring fresh graduates and lateral hires to fulfil evolving business requirements. However, the decision to 'build' or 'buy' is usually based on the demand of the skill the organisation requires. If a particular skill is needed to fulfil long-term business goals and is easy to scale, organisations usually prefer building the competency internally. However, when demand is short term, organisations prefer buying or acquiring trained talent from outside. Further, for niche technologies and those in the nascent stage, companies are 'buying' talent and using freelancers or gig workers. As it moves into the mainstream and demand increases, scalable learning models and platforms are used to 'build' capability.
Leveraging alternate workforce arrangements
The increasing demand-supply gap in digital technologies has also transformed the definition of 'workforce'. Earlier only full-time employees on organisations' payroll were considered a part of the workforce, which is not the case anymore. Organisations are now exploring alternate workforce arrangements, such as engaging with freelancers, gig workers, and crowd sourcing work solutions, to fulfil their requirements. There is increasing awareness around employing gig workers and freelancers, although their integration into mainstream work arrangements is still at nascent stages. Despite the increased awareness about gig economy, the reason for the lower adoption of gig workers and freelancers is typical challenges and risks associated with managing this work arrangement. Our discussions with industry leaders highlighted the following challenges:
Legal, security, and privacy concerns
Client apprehensions
Limited oversight and control over their ways of working
Integration with other talent arrangements
Adjustment in organisations' values and culture
Acqui-hiring − Route to get access to tech and talent
Acqui-hiring is increasingly becoming a successful way to hire talent, and get access to technology and domain expertise in the sector. It has emerged as a smart way of enhancing parent organisations' talent pool, adding skill sets to create a fully functional team. The biggest advantage is that this workforce is unlikely to require any immediate training and is already exposed to working on required tools, technologies, and frameworks. This approach is primarily popular when skills in emerging technologies are required where large organisations usually acqui-hire start-ups working in niche domains. It enables them to shore up on the high-quality talent available in the country to build new products and services. As an example, Swiggy acquired AI start-up Kint.io in February 2019 to boost its computer vision technology and enhance consumer experience.
Read full report: Future Skilling for the Digital Economy