NASSCOM Virtual Masterclass: Industry 4.0 for the enterprise series
July 15 @ 4:00 pm

to

5:00 pm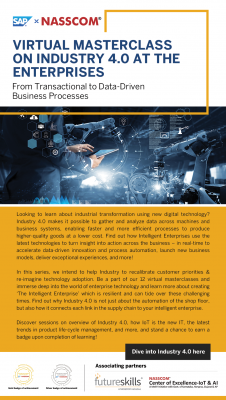 NASSCOM ER&D invites you for our Virtual Masterclass, a 12 part webinar series on Industry 4.0 at the Enterprises in collaboration with SAP, CoE IoT & FutureSkills.
The objective of the masterclass is to accelerate digital adoption inline to the changing customer expectation by creating awareness and knowhow at all levels.
The current series will cover the complete spectrum of IoT-  Industry 4.0 overview || IoT- Device connectivity, Digital twin, Contextualize sensor data, Rules and Action-driven business integration, Shop floor integration​ || Big data analytics-  Data Driven Intelligence/ Data Ingestion based Analytics​ || Edge computing & mobility || Networks || Cyber security || Applications areas
The series will be starting from 15th July 2020 between 4pm to 5pm. For more details and registration https://www.nasscom.in/virtual-masterclass-series-for-industry-4.0/
Look forward for your participation!